Application of Mechatronics in Advanced Manufacturing
As the human civilization makes great strides in technological advancements, the manufacturing industry has experienced a big boost with the introduction of a new automation concept. Mechatronics is fast becoming a popular way for companies to produce goods with the quality and speed modern consumers have come to expect. Let's take a look at mechatronics examples in advanced manufacturing and how you can become part of this process!
What Is Mechatronics?
Basically, mechatronics is a technology that combines mechanical and electronics technology into a harmonized system with the aim of boosting automation in manufacturing plants. You'll notice that mechatronics is closely related to other engineering technology fields.
That's true. In fact, the term mechatronics is a fusion of mechanical and electronics engineering. That tells you that this kind of technology entails integration of both mechanical and electronics engineering concepts into a compact system.
The Role Of Mechatronics In Advanced Manufacturing
 Below are some of its most notable uses and benefits:
Saving time: An integrated production line is much faster in operation as compared to a system with different engineering concepts detached from each other. It saves a lot of time when products are imaged, sorted, measured, and recorded as they move in a belt as opposed to doing it in different stages and locations.
Increase in output: A fast system means a good uptick in the production capacity. Mechatronics has made it easy to manufacture mass amounts of products.
It's more cost-effective: When you have an automated production line at work, it means that you have used less manpower. That translates into savings in terms of labor costs. Besides that, an automated system is more efficient in operation, with less technical and input errors.
Applications Of Mechatronics
You might be wondering about how exactly mechatronics is applied in advanced manufacturing. Here are some good examples:
Production line automation: A manufacturing setting is designed as a chain process whereby one stage leads to the next. Most such systems use belts to move products and materials during the process. Mechatronics makes it possible to automate the process by incorporating devices like barcode readers, imaging and sound processors along the line. For example, a packaged product can have its manufacture and expiry dates stamped in and recorded while on the belt.
Measuring devices: A manufacturing process is only good if the end products come out in the right shapes, sizes, weight, and quality. In that case, installing intelligent sensors, testing and calibration systems at the required points goes a long way in ensuring that. All this falls within the realm of mechatronics.
Control systems: In any effective manufacturing line, there must be measures put in place to ensure that the installation operates at its optimum level. That makes dealing with factors like pressure and temperature a priority. Thanks to mechatronics, this can be done very easily through sensors and response mechanisms that work to monitor and maintain the desired operating conditions. For example, a sensor can trigger the turn on of the cooling system when the temperature builds to a certain degree.
How Do You Get Into This Field?
Any successful professional always starts out somewhere. It's no different when you want to step into the world of mechatronics. Here are some tips to get you started:
Be smart and curious: For you to want to plunge into a career field, you must first nurture your interest in it. When it's about mechatronics, you need to have a special interest systems engineering technology. You also need the dedication that makes it possible for you to understand the concepts surrounding the integration of various engineering ideas into a single functional system.
Get a degree: You see, you can only get passionate about a career field for so long. Making a move to study it is what makes the difference between a pipe dream and an actual future in the field. Studying this field would help you understand the simulation techs employed in mechatronics and how to optimize the resulting systems.
Build your resume: While in school you have to start turning yourself into a hireable employee. Gain hands-on experience with mechatronics during class, intern or extern where you can gain even more experience, see if there are any additional certifications or specialized classes you'd be interested in taking. Also, work on your soft skills to make sure when you get called for an interview, you are able to land the job.
Are you interested in the field of mechatronics? If you'd like to earn a Bachelor of Science in Electronics Engineering Technology with a concentration in Mechatronics, consider ECPI University for your education. With an accelerated schedule and year-round classes, you could earn your degree faster and start looking for work sooner. For more information, connect with a friendly admissions advisor today.
It could be the Best Decision You Ever Make!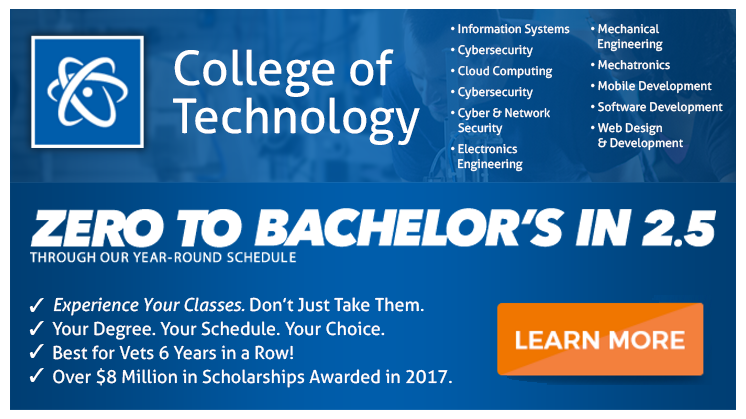 DISCLAIMER – ECPI University makes no claim, warranty, or guarantee as to actual employability or earning potential to current, past or future students or graduates of any educational program we offer. The ECPI University website is published for informational purposes only. Every effort is made to ensure the accuracy of information contained on the ECPI.edu domain; however, no warranty of accuracy is made. No contractual rights, either expressed or implied, are created by its content.
Gainful Employment Information – Mechatronics - Bachelor's
For more information about ECPI University or any of our programs click here: http://www.ecpi.edu/ or http://ow.ly/Ca1ya.