Cloud Computing: You Could Earn a Degree Online!
In the last decade, a relatively new term entered the lexicon of the IT industry, and it was "cloud computing". Cloud computing or cloud services describes the task of offering customers the option of storing data in a network of computers, as opposed to a local server. It blew open a wide new world of services that companies could offer to customers.
Ever since it took root, it has become one of the fastest growing segments of the IT industry. For those of you who are thinking about entering the IT field, it could be well worth getting a degree, especially an online degree in cloud computing.

The Wide World of Cloud Computing
Even though cloud computing refers to a single service, the work behind it is varied. It takes a lot of different people with different skills to make it happen. However, a degree in cloud computing sciences usually encompasses different materials.
This is because you will be expected to have knowledge in several areas of cloud computing, even if you pick a specialty. Degrees that specialize in cloud computing will include all these subjects. If you cannot attend a brick-and-mortar college to take classes, you can always take the online route.
Getting a Bachelor's Degree Online
Nowadays, more and more people are discovering the convenience of getting an online degree. This is especially true for people who need to hold down a job while doing so. Most technical degrees can now be done 100% online, including a bachelor's degree in cloud computing. The main advantages of attending an online school are:
Deciding your own study hours
No need to commute to classes
Be able to re-watch lectures and access material at any time
Complete assignments online
Greater work flexibility 
Variety of programs available
Improve technical skills with regular computer usage
Less intimidating for those who might be shy in class
Availability of accredited courses
When you take online classes, a whole new world of opportunities could open up. Therefore, everyone from stay-at-home parents to people who want to work but want to get a degree at the same time, can sign up for online classes.
When you sign up for classroom lectures you will have to organize your life around school. Whereas with online classes, it is just the opposite. In fact, the convenience of flexibility is the biggest reason why people sign up for online education, regardless of their background.
However, this does not mean you can procrastinate. It just means you can take a little longer to complete homework, and "attend" lectures based on your time. In fact, as long as you have a computer and internet connection, you can do the courses from virtually anywhere. However, there will be deadlines and penalties for work submitted after they have passed.
Get Your Head into the Clouds with ECPI University
If you want to study cloud computing and earn a Bachelor of Science Degree in Computer and Information Science with a Major in Cyber and Network Security - Cloud Computing Track, ECPI University offers this program completely online and at an accelerated pace. For more information about this exciting opportunity, connect with a helpful admissions advisor today.
It could be the Best Decision You Ever Make!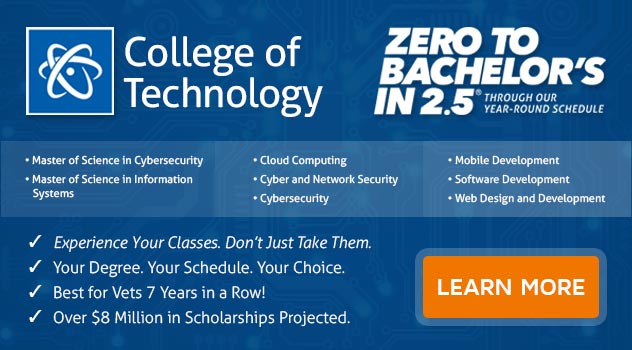 DISCLAIMER – ECPI University makes no claim, warranty, or guarantee as to actual employability or earning potential to current, past or future students or graduates of any educational program we offer. The ECPI University website is published for informational purposes only. Every effort is made to ensure the accuracy of information contained on the ECPI.edu domain; however, no warranty of accuracy is made. No contractual rights, either expressed or implied, are created by its content.
For more information about ECPI University or any of our programs click here: http://www.ecpi.edu/ or http://ow.ly/Ca1ya.