Baking and Pastry Arts: What Will I Learn from Formal Education?
Pastry chefs are bakers that specialize in creating tempting treats that satisfy their customer's need for sweet comfort foods. Do you have a talent for baking sweet delights? Your natural talent for pastries is enough to wow your friends and family, but it may not be enough to earn you a spot in a professional bakery. To achieve your highest potential as a pastry chef, you need a formal education.
The Science of Baking
Baking is much more than mixing tasty ingredients together. While finding the right combinations of flavors and textures is important, creating a high-quality pastry involves real science.

Baked goods are created through a series of controlled chemical reactions. Yeast, flour, egg, and other ingredients combined together may look harmless. However, applying heat and humidity activates food enzymes. Knowing how to control the activity of these enzymes can make the difference between a crispy crust and a soggy mess. Bakers need to consider several factors when deciding how to heat their culinary creations.
Conduction – Glass, metal, and ceramic dishes conduct heat in different ways. A baker must know what material will work best for their purposes.
Convection – The way heat moves through cooking food affects taste, texture, and consistency. A baker knows how to use this scientific fact to their best advantage.
Radiation – Radiation describes the way heat moves away from its source. Knowing the rules of radiation helps bakers create the right thickness and consistency in their products.
Heat also influences the rate of water evaporation in a baker's recipe. The proper control of heat and humidity effects dough fermentation, proofing, and even flavor.
A formal training program teaches aspiring pastry chefs how to use different temperatures and levels of humidity to produce their desired results. Students also learn ways of measuring and controlling these important factors.
Kitchen Management
Baking tarts and pies for your friends at home is not enough to prepare you for the rigors of a pastry chef career. Working in a commercial kitchen requires skills that are best learned from an experienced teacher.
Sanitation – More than washing your hands, food safety and sanitation mean keeping ingredients sealed and separated, surfaces and equipment cleaned, and stocks properly rotated.
Organization – Bakers use a large variety of tools in their daily work. In a hands-on training program, keeping your tools organized and in good condition becomes a habit that will serve you throughout your career.
Food cost control – Wasted ingredients and products eat away at profits and can quickly ruin a food service business. Bakery education includes instruction on buying, storing, and protecting your shop's biggest investment.
Recipes and Ingredients
Most home-taught bakers only have a few recipes that they can confidently present. Expand your knowledge of confection creation in a formal training program.
Design and artistry – Before the first bite, the look of your pastries needs to attract a potential buyer's eye. A formal education in bakery science will teach you how to top your tasty treats with attention-getting colors and designs.
Alternative recipes and ingredients – People with food allergies and special diets love baked goods too. However, using specialty ingredients like gluten-free flours, vegan flavorings, or nutritional supplements can be tricky. A training program will introduce you to new ingredients while teaching you how to use them.
Other confectionery techniques – Bakers do more than making donuts and bread. Make yourself a more valuable job applicant by learning to make chocolates, candies, custards, and other delicate treats.
A formal training program is not a requirement for most pastry chef positions. However, completing a program will give you skills and knowledge that makes you more valuable than a home-trained chef. Training will help you qualify for higher-paying opportunities without spending years in entry-level positions.
Would you like to know more about how a formal training program can kick-start your pastry chef career? ECPI University's Culinary Institute of Virginia offers a Diploma in Baking and Pastry Arts at an accelerated pace. For more information on this innovative program, be sure to connect with a helpful admissions counselor today.
It could be the Best Decision You Ever Make!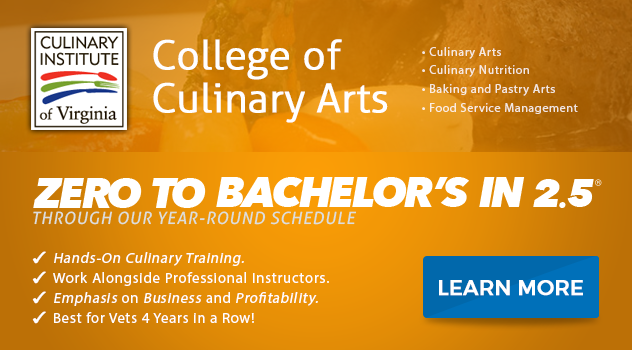 DISCLAIMER – ECPI University makes no claim, warranty, or guarantee as to actual employability or earning potential to current, past or future students or graduates of any educational program we offer. The ECPI University website is published for informational purposes only. Every effort is made to ensure the accuracy of information contained on the ECPI.edu domain; however, no warranty of accuracy is made. No contractual rights, either expressed or implied, are created by its content.
Gainful Employment Information – Baking & Pastry Arts - Diploma
For more information about ECPI University or any of our programs click here: http://www.ecpi.edu/ or http://ow.ly/Ca1ya.