Good baking and pastry artists are adept at choosing the best sweet tooth fixes for the season. In winter, this often means breaking out those traditional pies fresh from the oven and hot apple crisp. But during the hot days of summer, the best fitting deserts feature fruits and no-bake recipes designed to cool down the tongue and leave the patron's sweet craving well satisfied. 
Need some inspiration? Here are a few of our favorite no-bake deserts that are perfect for summer: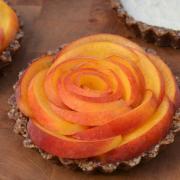 This desert gets high marks across the board for being vegan, delicious, and oven-free.
You'll be able to throw the crust together with just a food processor and a couple minutes. Once the crust ingredients are properly mixed together, press it into small tart pans and either refrigerate for four hours or freeze for two. Next, whisk the cream filling together until smooth and spread the mixture amongst the chilled crusts. Use thinly sliced peaches drizzled with lemon juice to top off the tarts.
Ingredients:
Crust: 
1/3 cup ground flax seeds
2/3 cup sunflower seeds
1/8 teaspoon salt
2/3 cup chopped pitted dates
1/2 cup shredded and unsweetened coconut
2 teaspoons grated ginger
Cream Filling:
1/4 coconut butter
1 teaspoon ginger juice
2 tablespoons non-dairy milk
Topping:
3 or 4 peaches at peak ripeness
lemon juice as desired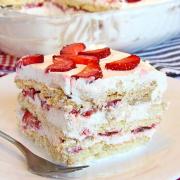 Strawberry shortcake has long been a summer staple and a recipe must for every would-be pastry chef. However, just because it is a classic doesn't mean you shouldn't add your own twist. Maybe add a couple lines of chocolate sauce on top, or experiment with adding more graham crackers for an extra crunch.
For the basics, whip your cream with the powdered sugar, salt, and vanilla with a whisk until semi-firm. Spread this mixture in the bottom of your pan and layer in six or seven graham crackers. Add a second layer on top before topping with crackers. Repeat until you're out of material and refrigerate for at least four hours before serving.
Ingredients:
20 ounces of graham crackers
2 pounds of fresh strawberries for the cream and extra for garnishment as desired
1/2 cup powdered sugar
2 teaspoons vanilla
1/4 teaspoon salt
3 1/2 cups of heavy cream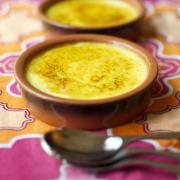 This is a lighter Spanish version of the popular French desert, the crème brûlée. The big difference? Crema Catalana relies on milk and not crème.
Begin by pouring the milk into a pan, add 4 tablespoons of sugar and the citrus zest and bring it up to a boil. Beat the egg yolks with the remaining 2 tablespoons of sugar and the potato starch. Slowly stir in the hot milk and pour the concoction back into the pan and let it simmer for 5 minutes or until thick. Strain it immediately into desired serving dishes and refrigerate for a minimum of one hour. Sprinkle just a touch of sugar on top and use a blowtorch for the popular caramelizing effect immediately before serving. 
Ingredients:
4 cups of milk
1 1/2 to 2 tablespoons of potato starch
8 egg yolks
2/3 cup of superfine sugar
Superfinely grated zest from a lemon (or experiment with other citrus fruits such as oranges or limes)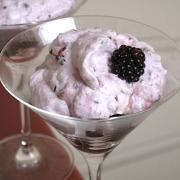 Blackberries are at their peak towards the end of the summer months, and so what better way to end our list of the top no-bake deserts than with the Blackberry Fool? This simple summer favorite includes just four ingredients, but be sure not to skimp on the Calvados, as it's the boozy bitterness of this apple brandy that adds the perfect balance to the sweetness of the other ingredients.
Begin by spreading 4 cups of blackberries at the bottom of a shallow glass disk. Then add the Calvados, being sure to stir the blackberries around to get them well coated in the brandy. Place the dish in the refrigerator overnight (if possible, you'll want to stir a few more times during this period). The following day, combine the last 4 cups of blackberries with 1 tablespoon of the refrigerated concoction into a food processor and pulse until pureed. Whip the cream and sugar in another bowl and slowly pour over the pureed blackberries and blend. Finish by scooping the refrigerated mixture into serving glasses and topping with the blackberry whipped cream.
Ingredients: 
1/2 cup of sugar
2 cups of heavy cream
8 cups of blackberries
1 cup of Calvados 
Baking and pastry (@ Culinary Institute of Virginia - ECPI University School of Culinary Arts) http://t.co/SnVWvc1V

— Katie Reams (@kataytastic) March 8, 2012
Put Your Skills to the Test with a Baking & Pastry Arts Degree!
If you loved these recipes and are excited about both trying them out and putting your own unique touch on them, then a Baking and Pastry Arts diploma might be just the thing for you! To learn more about the program, contact ECPI University's College of Culinary Arts today. It could be the Best Decision You Ever Make!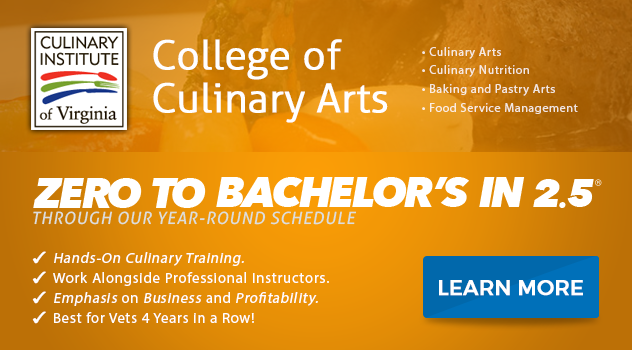 DISCLAIMER – ECPI University makes no claim, warranty or guarantee as to actual employability or earning potential to current, past or future students or graduates of any educational program we offer. The ECPI University website is published for informational purposes only. Every effort is made to ensure the accuracy of information contained on the ECPI.edu domain; however, no warranty of accuracy is made. No contractual rights, either expressed or implied, are created by its content.
Gainful Employment Information
For more information about ECPI University or any of our programs click here: http://www.ecpi.edu/ or http://ow.ly/Ca1ya.