Becoming a Nurse Practitioner at 50: Am I Ready to Move Forward?
Not only are older students returning to college in record numbers, going back to college after 50 is "the new normal." If you are a career professional in the healthcare industry, you've seen many changes – many evolutions – in healthcare.
Physician and nursing roles have undergone a tremendous transformation in the U.S. This is due in part to aging Baby Boomers and to meet our ever-changing but increasingly complex healthcare demands.

Reasons Why Adults Over 50 Return to School
You thought at this age you'd be winding down; thinking about retirement. Your kids are leading their own lives and you have more working years ahead. Why not make them the best years? Some of the reasons adults over 50 return to school are:
It's a good time to try something new – Some people retire from one job and find themselves doing something completely different, career-wise. Very few healthcare professionals find themselves or their skills obsolete; in fact, the opposite is true. Maybe it's a good time to take your career to another level.
It's time for personal development and challenges – Some nurses are comfortable doing exactly what they were trained to do. Others reach a point where learning new things and facing new challenges would be interesting and invigorating.
More money wouldn't hurt – When you opt for a career upgrade, your income increases proportionately.
You have knowledge and experience to share – Rather than feel competitive about newer, younger co-workers, you feel a need to mentor them. The opportunity to advance your career and help other young professionals appeals to your caregiving nature.
NPs are Changing the Way We Think About Healthcare
Today, Nurse Practitioners (NPs) "are becoming the health partner for millions of Americans," according to AANP (American Association of Nurse Practitioners). It makes sense.
Nurse practitioners bring a more comprehensive knowledge and experience to healthcare. They have clinical expertise and experience in diagnosing and treating medical conditions in a healthcare setting. Nurse practitioners are knowledgeable sources for health management and disease prevention.
Advantages to Becoming a NP
Your previous education and years of experience are what make you a perfect candidate for continuing education. When you earn a Master of Science in Nursing, your concentrations could include Nursing Education and Family Nurse Practitioner: two in-demand healthcare professions.
FNP-managed healthcare facilities in the U.S. are predicted to increase as well as "convenient care" centers in retail and pharmaceutical settings. The industry is looking to nurse practitioners to oversee these facilities.
The reasons nurses in their 50s are seeking higher education can include:
This is your chance to work how and where you want to, work – the way you want to – because you are a professional within an in-demand field of healthcare. Growth in the nurse practitioner industry is faster than most other professions. You may even be able to set your own hours. The need for educated NPs is that great.
Some employers are actually paying the costs for NP education. Don't be shy. If your company has that need and you've proven yourself to be a valuable part of their team, they may consider paying much or all of your master's degree expenses.
While NPs are population-oriented, hands-on patient care continues to be the essence of your profession. Doctors may spend a great deal of time working behind-the-scenes to evaluate disease cause, prevention, and cure. You'll continue to work directly with people.
Would you like to make a difference in your state, country, or even internationally? Healthcare reform is at the top of legislation at every level, and spokespeople are needed. Your input will be valued.
You can become a valuable asset to any community. If making a difference is something you've always wanted, as an FNP you'll not only heal the hurting, you'll promote preventive care. You can work with all ages, ethnicities, genders, and know that your profession is helping others live longer, healthier, and happier lives.
You can choose your workplace. Perhaps you've been working in a big-city hospital, or in ER, where the dynamics are constantly changing and always busy. Maybe you'd like to work in a suburban area or rural community. As an NP, you aren't limited by geography.
You can earn your NP degree while working full-time. Online options have never been more abundant.
You work in diagnostics and prevention – like a doctor – but you won't lose your ability to empathize and feel compassion for patients. You'll have more responsibility as an FNP than as an RN (registered nurse), but your master's degree training can prepare you for new accountabilities.
You're Over 50? Age-Perfect!
You're past the angst of the 20s, family-focused 30s, and wage-earning 40s. You'll find as an older student it's probably even easier to earn your Masters of Science in Nursing with a concentration in Nursing Education or Family Nurse Practitioner. If you want to get started today, connect with a helpful admissions advisor at ECPI University for more information on this exciting program!
It could be the Best Decision You Ever Make!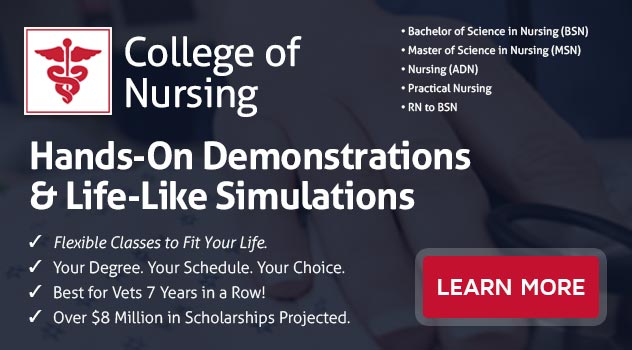 DISCLAIMER – ECPI University makes no claim, warranty, or guarantee as to actual employability or earning potential to current, past or future students or graduates of any educational program we offer. The ECPI University website is published for informational purposes only. Every effort is made to ensure the accuracy of information contained on the ECPI.edu domain; however, no warranty of accuracy is made. No contractual rights, either expressed or implied, are created by its content.
Gainful Employment Information – Master of Science in Nursing
For more information about ECPI University or any of our programs click here: http://www.ecpi.edu/ or http://ow.ly/Ca1ya.