Running the kitchen of a busy restaurant can be a fun, exciting, and fulfilling career choice. The pace is fast, friendships develop quickly, and there are many times when you'll get to push yourself to create a dish that will keep the customers begging for more. And in this day and age of networks and television shows dedicated to food and the celebrity chef, having your own restaurant is kind of the equivalent of being a rock star!
Most people that pursue a career in the restaurant industry have plans to eventually run their own kitchen. But whether it's in the corporate world, a catering company, school, hospital, sports arena, or even ultimately owning your own restaurant, running a successful kitchen doesn't only mean that you have to put out good food. There are many other business aspects of a restaurant's kitchen that a good food service manager needs to know.
What skills do you need to run a profitable kitchen?
There are three main skills you need to acquire. You'll need to have a strong understanding of financial management; solid leadership skills; and an in-depth understanding of operational management. 
What does it mean to be financially responsible when you're a Food Service Manager? 
Whether you realize it or not, even though you're operating a kitchen and dealing with food and menus, you are ultimately responsible for the largest financial part of a restaurant. Being financially responsible for your kitchen means you have a deep understanding of how each and every decision you make will affect the budgets and revenue for the whole restaurant. To do this successfully, you'll need to develop your accounting, budgeting, forecasting, and cost control acumen. You'll even need to develop a little bit of design skill in order to set the kitchen up so that it runs effectively and efficiently. 
How are Leadership Skills important to a Food Service Manager?
Understanding how to be a leader is probably the most important skill to develop in order to run a profitable kitchen. Leaders inspire, innovate, and motivate, creating trust with those they work alongside. Managers create a team by becoming familiar with the personalities and abilities of those working for them, and by putting those people in the right places.
Depending on the size of your operation, you may have a large kitchen brigade or a small one. No matter the size, you'll need the ability to create and communicate your goals, and to motivate your team to achieve them. All of this needs to be done while offering guidance, support, and discipline, if necessary. A good leader and manager will also understand how to maintain quality and control while working with a diverse group. 
What exactly is Operational Management?
This is where having a degree in food service management becomes useful. Operational management has to do with the everyday tasks and the hands-on duties. It deals with how the food is prepared, how well it is prepared, and how efficiently it is prepared. It combines your financial understanding of the kitchen with your leadership and management skills, allowing you to create the best possible product for your customers.  
To successfully manage the actual operations, you'll need to know how each and every detail of the kitchen works; how each item is prepared and how every piece of equipment works. You'll need strong menu development skills, strong service skills, and an open and creative mind. 
Congrats @chefbryanthk13 CIV Graduate Makes Final 2 in Hells Kitchen! http://t.co/bKKPJV9KkY via @ECPIUniversity #HellsKitchen

— Mike Glover (@Inbound_Mike) January 8, 2015
Are you ready to become a Food Service Rock Star?
With the world of food service becoming ever more enticing, challenging, and competitive, now is the time to start your education in Food Service Management. Contact ECPI University's College of Culinary Arts to learn how you could earn your Bachelor of Science in Food Service Management degree in as little as 2.5 years through our year-round program! It could be the Best Decision You Ever Make!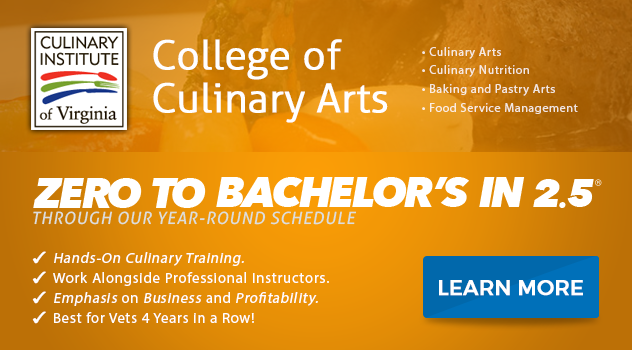 DISCLAIMER – ECPI University makes no claim, warranty or guarantee as to actual employability or earning potential to current, past or future students or graduates of any educational program we offer. The ECPI University website is published for informational purposes only. Every effort is made to ensure the accuracy of information contained on the ECPI.edu domain; however, no warranty of accuracy is made. No contractual rights, either expressed or implied, are created by its content.
Gainful Employment Information
For more information about ECPI University or any of our programs click here: http://www.ecpi.edu/ or http://ow.ly/Ca1ya.