Cloud Computing and Security Risks: How Do You Get the Education You Need?
Are you considering working in the cloud computing industry? Good choice! From the varying roles to the high demand, there are several reasons why you should focus on this industry. Cloud computing has changed the way companies do business.
Government and commercial agencies have become consumers of cloud services as it enables them to offer a myriad of services to their customers. The cloud has also changed lives, and it is a great opportunity for the next technological innovation and business careers.

Reasons to Work in the Cloud Computing Industry
High Demand
Cloud computing is, in fact, the fastest growing IT career choice. As more and more companies switch to cloud-based services, cloud-computing jobs will continue increasing. This is great news for those venturing into this career, as they will be in high demand for cloud computing jobs.
Varying Roles
There are a variety of specialisms and positions within cloud computing. You can choose to work as a cloud architect or security analyst. However, other positions in less-technical areas such as marketing, recruitment, and sales are on the rise.
Well-Paying Jobs
With the high demand for skilled and qualified cloud computing experts, you can bank in the right cloud computing role. The Bureau of Labor Statistics calculated the median annual salary for a cloud computing employee to be $104,650. However, the amount can vary between location, roles, experience and the company.
According to Forbes, the cloud computing market is projected to reach $411 billion by the year 2020. Cloud computing has several benefits among them low cost and increased employee performance. However, security of data in the cloud is a major concern among several businesses, and it has slowed down its adoption.
The recent high-profile breaches of cloud platforms such as Adobe Creative Cloud, Evernote, LastPass, and Slack have led to concerns by IT departments. The LastPass breach was more concerning because the service also stores the client's website and cloud service passwords. This means that a cybercriminal who gets access to administrator passwords can launch a devastating attack.
Inherent Risks in Cloud Computing
Theft or Loss of Intellectual Property
Companies store sensitive data in the cloud. According to a recent analysis by Skyhigh, it was discovered that over 20 percent of files uploaded to cloud sharing services contain sensitive data that may even include intellectual property. This means that after a cloud service breach, a cyber-attacker can access sensitive data.
Limited Control over End User Actions
Because companies are in the dark about the actions of their workers or employees, these workers can do anything and no one would discover their activities until it's too late. For example, sales employees who know that they want to resign can download reports of all client contacts and upload the data to a cloud storage service to access it later after they are employed by a competitor.
Potential Malware Infections
Cybercriminals can use cloud services as vectors for data exfiltration. There is a great deal of data exfiltration techniques used by cybercriminals where attackers encode data into video files and then upload them to YouTube.
How Can You Help to Ensure that the Cloud and Information in it is Safe?
As a cloud-computing expert, there are various schematics and techniques that you can use to minimize unauthorized access and sharing. Keep in mind that the number of attacks on the cloud will increase because there is a huge payload of sensitive data. To help secure information, you should evaluate different security architectures by conducting the following:
Vigilant monitoring of the infrastructure and employees
Disk encryption and data encryption
Configure all systems to delete any encryption keys or temporary files after ending a session.
Provision the ability to detect any rogue virtual machines
Regularly conduct both internal and external vulnerability analysis and assessment
Ensure that compliance and privacy requirements of your customers aren't breached
Conduct daily audits because the network is dynamic
Carefully manage and prompt the destruction of all system snapshots that are taken by system administrators
Make regular backups
Regularly run antivirus software to protect data against viruses
Use write-protecting disks to avoid accidental deletion of files
Only allow authorized employees into certain computer areas
Very few technologies are as revolutionary as the cloud. Data storage and computing resources are now widely available to the public and private businesses. However, one of the major challenges in this industry is the lack of cloud skills. The changes in technology come with certain risks and only those that have received cloud-computing education can understand the problem domain and provide an effective solution.
Are you interested in the world of cloud computing? If you want to earn a Bachelor of Science Degree in Computer and Information Science with a Major in Cyber and Network Security - Cloud Computing Track, ECPI University offers this program at an accelerated rate. ECPI University is also designated a Center of Academic Excellence in Cyber Defense Education (CAE-CDE) by the NSA and the DHS. For more information on the exciting program, connect with a friendly admissions advisor today.
It could be the Best Decision You Ever Make!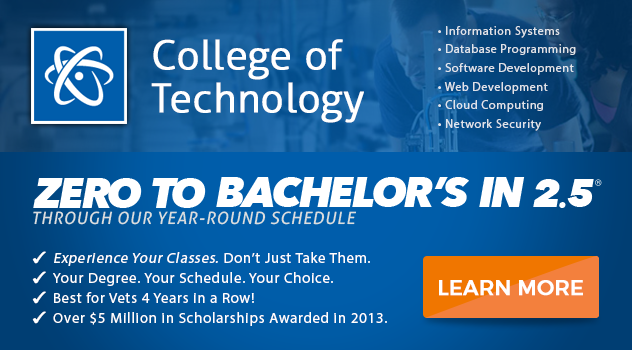 DISCLAIMER – ECPI University makes no claim, warranty, or guarantee as to actual employability or earning potential to current, past or future students or graduates of any educational program we offer. The ECPI University website is published for informational purposes only. Every effort is made to ensure the accuracy of information contained on the ECPI.edu domain; however, no warranty of accuracy is made. No contractual rights, either expressed or implied, are created by its content.
Gainful Employment Information – Cloud Computing Track - Bachelor's
For more information about ECPI University or any of our programs click here: http://www.ecpi.edu/ or http://ow.ly/Ca1ya.