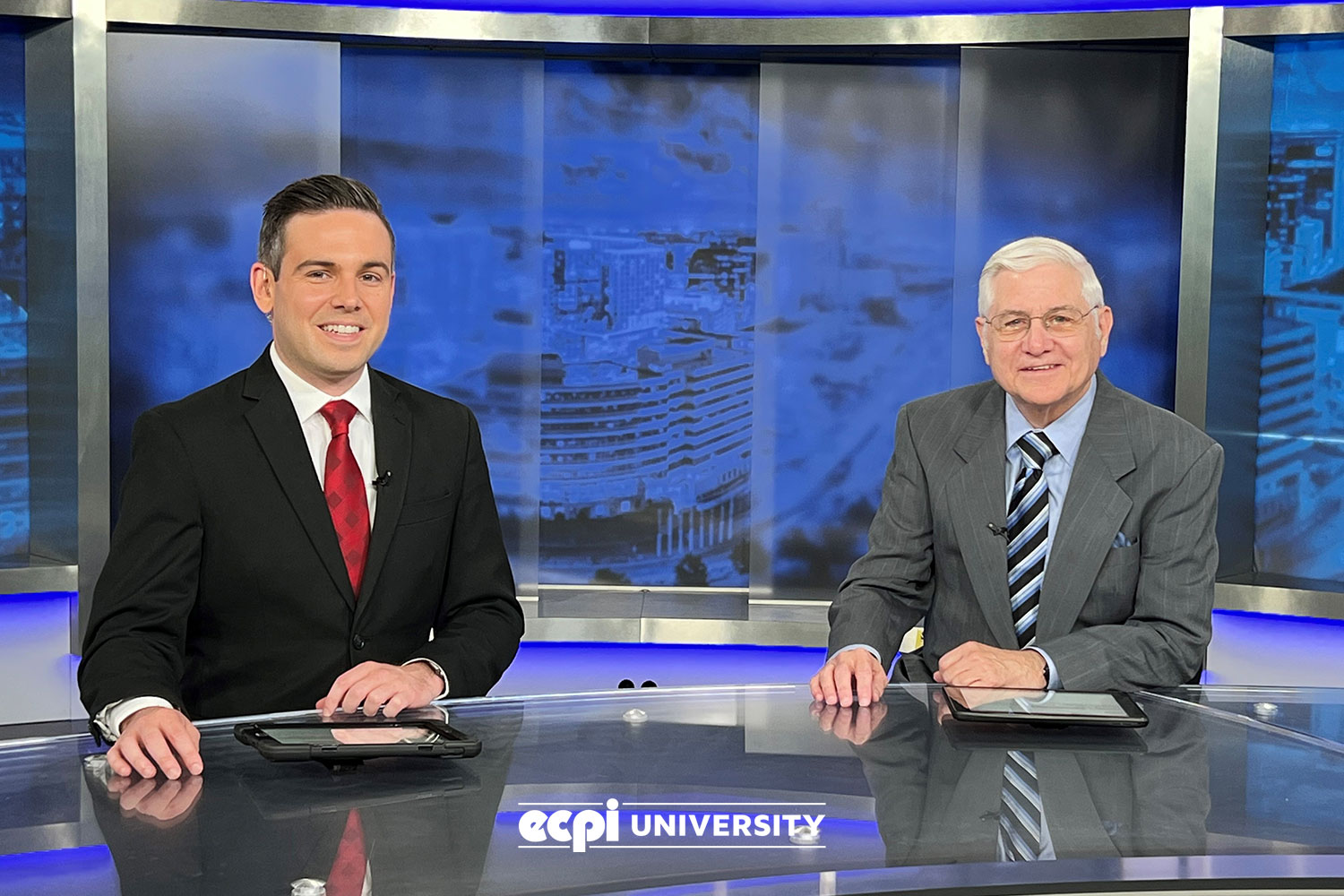 The Corillos: A Communications Legacy at ECPI University
Dr. Glenn Corillo has been teaching Communications at ECPI University for 18 years.
But teaching is not his only passion.
In 1976 he began his career as a late-night radio DJ for WTAR Radio. After two years Glenn had risen through the ranks to become the on-air morning news anchor for WTAR-TV.
You may remember him as Glenn Corey. He changed his last name because in those days, a unique last name and a phone book meant everyone knew how to contact you.
Glenn Corey, Reporting Live
For 20 years, Hampton Roads residents invited Glenn Corey into their homes as their most trusted news source. Five days a week, Glenn would wake at 2:30 am and drive to the TV station on Boush Street in Norfolk.
"I absolutely loved it," Glenn says. "Being an anchor is a fabulous way to make a living."
As his career progressed, so did his personal life. Glenn was married with two children (Keith and Scott) until tragedy struck and his wife passed away from cancer in 1985. His coworker volunteered to help the news anchor with his new role as a single parent.
"She was absolutely the best live director I've ever had," Glenn says with a smile.
Her prowess with the Grass Valley studio equipment extended to home life, and she quickly became a part of the family. The two married in 1987 and welcomed two additional children (Todd and Chad).
Dr. Glenn Corillo at ECPI University
When he officially retired from anchoring in 1998, Glenn knew he wasn't quite finished with his professional goals.
"When I was an undergraduate," says Glenn, "several of my communications instructors had never even been inside a radio or TV station. I decided then that when I retired, I would teach at the college level. Give 'em the straight scoop!"
Glenn decided to teach at a modern institution, one for people looking to transform their lives with practical, hands-on career training. He selected ECPI University and has been happily engaged as a popular Communications professor here since 2004.
A dedicated family man, Glenn raised all four sons to be Eagle Scouts, college graduates, and to find work that makes them happy. However, one child seemed destined to follow especially close in his footsteps.
Todd Corillo, Reporting Live
Third-born Todd Corillo grew up a curious and questioning child. He applied for a newsroom internship the moment he was of age. He moved and spent a few years working as a reporter-videographer after graduation, only to return to Hampton Roads for a new challenge.
Todd scored the exact same dream job as his father in 2012, fourteen years after Glenn's final sign-off.
"How cool that is, to be sitting in the chair that dad pioneered in his market," Tod says now. "I am literally alive because of this place: Mom & Dad met while both working at WTKR."
For ten years, Todd has been reporting the afternoon news to the same Hampton Roads residents—and now their children—as his father did, from the same TV station on Boush Street in Norfolk.
But news reporting is not his only passion.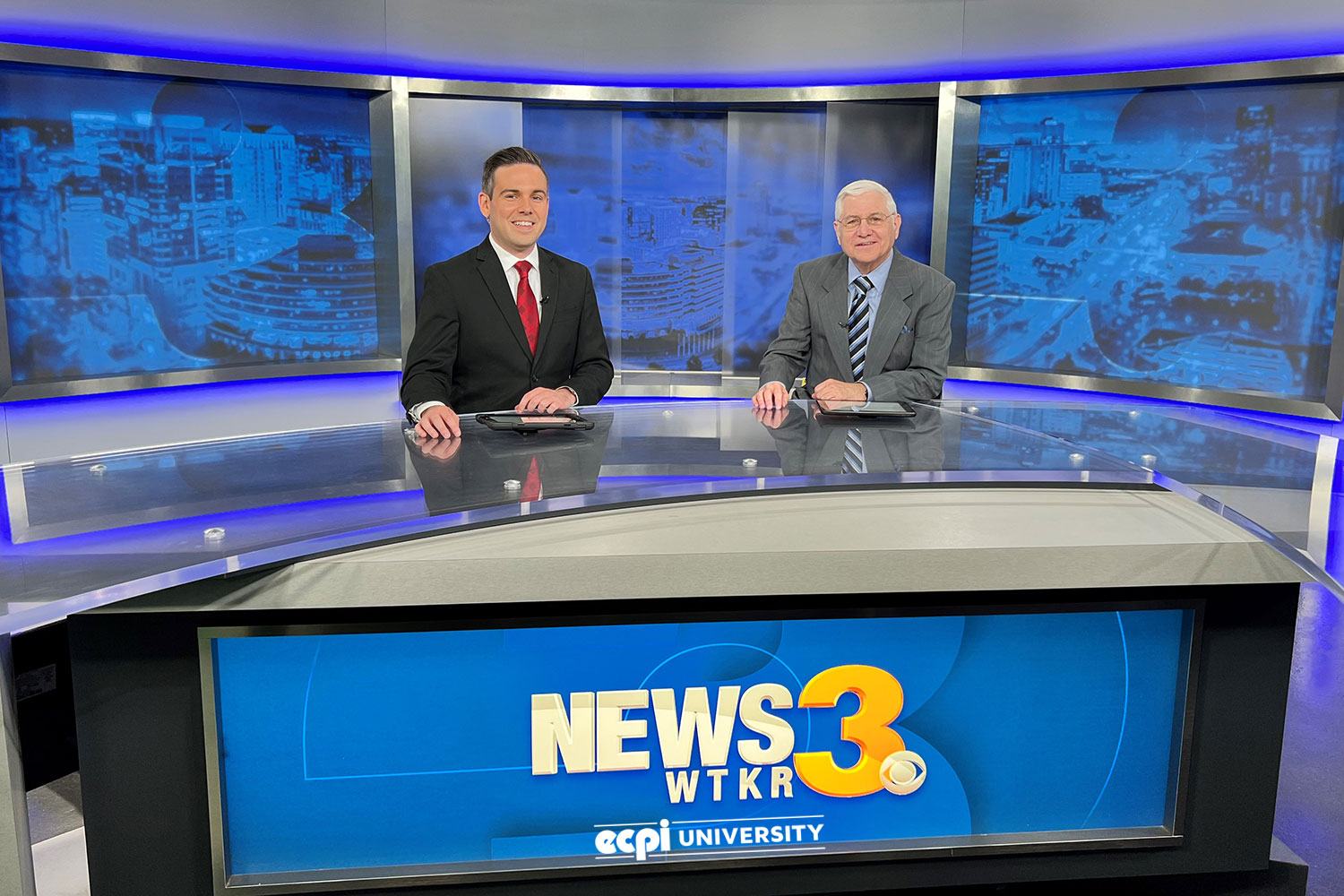 Todd Corillo at ECPI University
This ambitious father and son duo have even more in common than meets the eye. As Dr. Glenn Corillo instructs the next generation of communications professionals from his classroom at ECPI University, his son Todd has just graduated summa cum laude from the same school's MBA program in 2020.
Todd Corillo selected ECPI University for his MBA because the accelerated schedule enabled him to continue working while studying. Although his father was a professor on campus, the pair never shared a classroom lecture. Todd preferred to take his studies online, learning when and where it was convenient for him—another reason he chose ECPI University.
Todd recently announced his impending departure from WTKR, seeking a new path in life.
"Spring is a time for new beginnings," he posted on his social media in mid-April 2022. "After 10 years, I've made the tough decision to step away from the anchor desk and team here at WTKR News 3."
The Corillo Duo, Reporting Live
Now fulfilling a promise he made when hired 10 years ago, Todd's final broadcast will feature a very special guest: his father, inspiration, and predecessor, Glenn!
Father and son will be live on Friday, April 22nd on News Channel 3 at Noon and 4pm, as Todd says his goodbyes and Glenn gives an exclusive interview. We wish the 31-year-old broadcast professional and ECPI University graduate the best of luck in his next adventure.
Who knows?
Maybe someday we will see two Dr. Corillos sharing their passions with students at ECPI University!