Cruise Ship Nursing Jobs: What Are They Like?
How would you feel about a job that provided free room, board, and food—and you wouldn't even have to commute to work? Working on a cruise ship could be the life for you! You would spend most of your time on duty, but there would be time to kick back, relax and enjoy all the benefits of a life at sea including traveling to faraway places, swimming in the sea (or on-deck pool), and many more amenities. 
Nursing at sea is not all sunshine and smoothies. You may have to be away from home for weeks or months at a time, and the work will not always be glamorous. Earning your spot on a cruise ship can be difficult, but there are ways to stand out from the crowd sea of competitors. If you are bilingual or have experience in a multi-cultural environment, you could have an advantage. Cruise ships are often filled with employees and guests from around the world. 

Cruise Ship Nursing
The number of people on a cruise ship can be anywhere from 1,000 to 2,000 crew and between 3,500 and 5,000 passengers. It's up to you and your team to take care of all of them. Once the ship sets sail, you're working in a doctor's office, emergency room, and intensive care unit all rolled into one.
If someone becomes seriously ill and you can't provide the type of care they need on board, the captain has limited options. He or she can turn the ship around (not always an easy or desirable option), or steer the ship close enough to land so that a helicopter can be summoned to transport the patient to a local hospital. You may even be called upon to accompany said patient from a temporary mooring in the Atlantic or Pacific Ocean to the roof of a hospital in South America.
What are your duties as a nurse on a cruise ship?
Because of all the pitching and rolling at sea, some of the most common medical situations aboard a cruise ship are trips and falls. Most cruise ship nurses are therefore trained to perform simple radiological procedures. You might also be expected to perform tasks that are typically accomplished by support staff, who may not be employed on a cruise ship.
You could find yourself sterilizing instruments or performing routine laboratory tests. Some ships have 24-hour telemedicine facilities so that one of the physicians on your team can consult with a specialist at any time of the day or night.
How do you prepare for life as a seafaring nurse?
As with any nursing job, you will need a license to practice, and you will be expected to have at least two or three years' nursing experience. According to one cruise line, you must have "current registration and licensing with appropriate governmental or provincial regulatory agencies." Additionally, all cruise ship nurses must have a certificate in advanced cardiac life support.
Earning a nursing degree involves taking classes in anatomy and physiology, college-level algebra, English composition, culture and diversity, and introductory psychology. At the more advanced level, you will study acute care, medical-surgical nursing, pharmacology, pathophysiology, dosage calculations, maternal and newborn nursing, microbiology, nutrition, and dimensions of professional nursing.
Life beyond the sea
While nursing at sea is a terrific gig, there may come a point when you want a change of scenery. You would be well qualified to join the navy as a nurse. When it's time to swap your sea legs for the landlubber's life, you have plenty of options back on solid ground.
Are You Ready to Set Sail?
Are you interested in where a future in nursing could take you? If you want to earn an Associate of Applied Science in Nursing, ECPI University offers this degree program at an accelerated rate. For more information on this exciting program, connect with a helpful admissions counselor today.
It could be the Best Decision You Ever Make!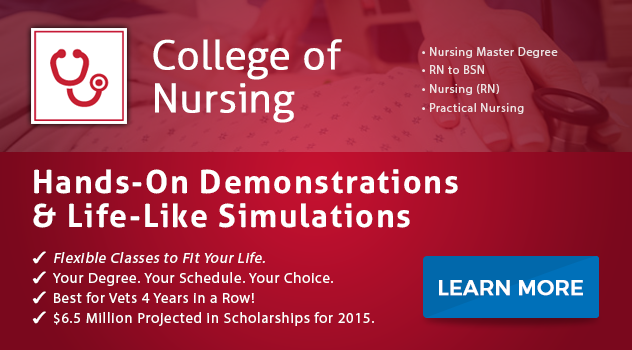 DISCLAIMER – ECPI University makes no claim, warranty, or guarantee as to actual employability or earning potential to current, past or future students or graduates of any educational program we offer. The ECPI University website is published for informational purposes only. Every effort is made to ensure the accuracy of information contained on the ECPI.edu domain; however, no warranty of accuracy is made. No contractual rights, either expressed or implied, are created by its content.
For more information about ECPI University or any of our programs click here: http://www.ecpi.edu/ or http://ow.ly/Ca1ya.