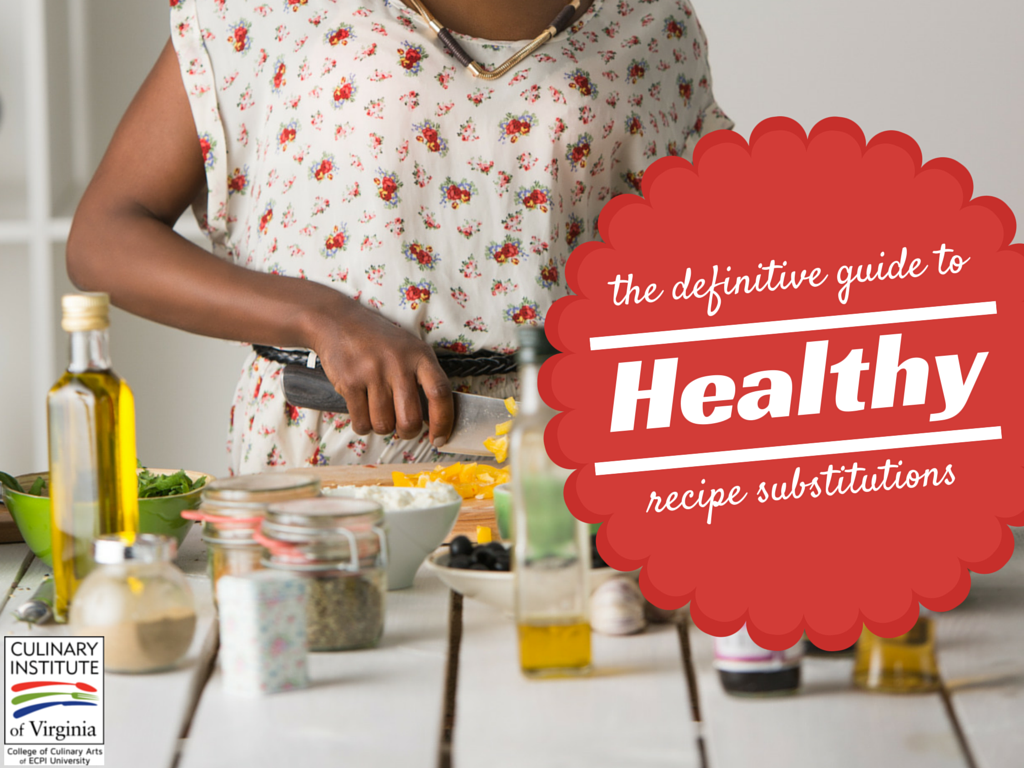 Whether cooking for an individual, family, friends or even strangers, healthy eating isn't just a trend or diet fad, it's important to life and longevity. Understanding nutrition basics isn't enough. Sometimes the best recipes are brimming with unnecessary fats and sugars. By understanding basic food groups and how certain ingredients work in combination with each other, food can be prepared that maximizes its nutritional value, without sacrificing flavor.
Making healthy substitutions means a cook can minimize the amount of empty calories in a meal or dish. Empty calories are gained from solid fats and added sugars, and are a huge part of the average American's diet. Solid fats, like the name implies, are fats that are solid at room temperature (like butter). Added sugars are the sweetening agents and syrups added to many processed foods. When cooking at home, meals can be prepared without all these empty calories through the use of some easy substitutions.
Whether you're a culinary arts expert or just trying to get a healthier outlook on cooking, use this list while shopping or in the kitchen as a guide to making your meals healthier.
Healthy Recipe Substitutions

| Old Ingredient | New Ingredient | Why it's Better |
| --- | --- | --- |
| White Flour | Whole Wheat Flour | Whole Wheat Flour adds texture and nutrients to baked dishes and is a simple substitution to make. |
| Flour | Black Beans | Use drained and rinsed, pureed beans instead of flour in things like brownies. The beans add protein and eliminate gluten. |
| Oil/Butter | Unsweetened Applesauce | Applesauce gives baking a touch of sweetness without the negatives of butter or oil. For best results, substitute half the required oil or butter in the recipe with the applesauce. |
| Butter | Avocado Puree | At room temperature, pureed avocado is about the same consistency as butter. They both function in cooking as fats, but avocado fats are much better for the body. |
| Butter | Mashed Bananas | Another great substitution for butter, mash up ripened bananas. The fruit will also give your cooking added potassium and vitamin B. |
| White Rice | Brown Rice | White rice is produced by stripping the bran layer off of brown rice. This discards the natural fiber and nutrients. |
| Pasta | Zucchini Ribbons | Just saute thin slices of zucchini to use in place of noodles in pasta dishes, for fewer carbohydrates and added nutrients. |
| Canned Beans | Dry Beans | Dry beans take longer to prepare (some need to be soaked overnight), but they're cheaper than the canned variety and don't have all the sodium and artificial preservatives so often packed in the cans. |
| Whole Egg | 2 Egg Whites | By cutting out the yolk the cholesterol is slashed and the protein is doubled. |
| Sour Cream | Greek Yogurt | Yogurt has lean protein and half the calories of sour cream, but almost identical taste and texture. |
| Salt | Garlic Powder | Give a dish a pinch of flavor enhancement without the sodium. |
| Salt | Citrus Juice | There's more than one way to add flavor to a dish without adding sodium. |
| Syrup | Pureed Fruit | Instead of reaching for a bottle of processed sugars, replace the syrup with pureed fruit for natural sweetness. |
| Cream | Coconut Milk | This is a great substitution in stews. It cuts out the fat of heavy cream while still giving a filling, thick texture. |
| Canned Fruit | Frozen or Fresh Fruit | Canning typically adds preservatives and sugars, cut those out by opting for fresh or frozen. |
| Iceberg Lettuce | Arugula, Romaine, or Spinach | Darker greens usually have more iron and antioxidants. Switch out the iceberg salads with a variety of other greens for a flavorful, satisfying side dish. |
| Ground Beef | Ground Turkey (or Chicken) | Using fowl instead of beef can save on fat and grease. Turkey and chicken cook in much the same way, but can be a little dryer than beef. Adding a bit of chicken stock for moisture can help. |
| Buttermilk | Non-Fat Milk and Lemon Juice | This may seem like an odd mixture, but it works. For one cup buttermilk, substitute one cup nonfat milk mixed with one tablespoon lemon juice. |
In addition to choosing the right ingredients, knowing how to prepare food is also important. Consider steaming over boiling vegetables to preserve the flavor and nutrients in the foods. Baking chicken or pan frying is a much better choice than deep frying, cutting down unhealthy fats.
Simple changes in the kitchen can reap a lifetime of benefits for the entire family.
Here to judge a recipe competition (@ Culinary Institute of Virginia - ECPI University School of Culinary Arts) http://t.co/p0uBMd6x

— Patrick Evans-Hylton (@pevanshylton) December 19, 2011
Work Toward a Career in Culinary Nutrition!
If you're interested in learning more about culinary nutrition, contact ECPI University's College of Culinary Arts, Culinary Institute of Virginia. Through our year-round program, you can earn an Associate of Applied Science degree in Culinary Arts and Applied Nutrition in just 15 months. It could be the Best Decision You Ever Make!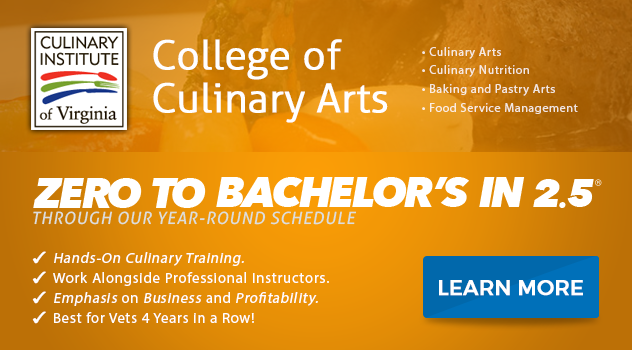 DISCLAIMER - ECPI University makes no claim, warranty or guarantee as to actual employability or earning potential to current, past or future students or graduates of any educational program we offer. The ECPI University website is published for informational purposes only. Every effort is made to ensure the accuracy of information contained on the ECPI.edu domain; however, no warranty of accuracy is made. No contractual rights, either expressed or implied, are created by its content.
Gainful Employment Information
For more information about ECPI University or any of our programs click here: http://www.ecpi.edu/ or http://ow.ly/Ca1ya.