Cyber Security Masters Programs: How Do I Pick the Right One for Me?
These days we spend a great deal of our time online, and it's astounding that cybersecurity isn't given the attention it deserves. These issues only come up occasionally after national consciousness or after a breach of security. However, cybercrime is becoming more and more prevalent than what occasional headlines suggest.
Cybercriminals victimize users who are shopping, banking, and sending or receiving funds online on a daily basis. The sad truth is that there are very few criminals that are caught. The lack of cybersecurity awareness makes many Americans targets for criminals trying to access their personal data.

Cybercrime Requires Sophisticated Cybersecurity Professionals
In the year 2013, there were over 3,000 companies in the United States alone that reported instances of cyberattacks. Both small companies and big corporations like Target and Home Depot were victimized. Vital customer data was stolen and money was lifted from their accounts, intellectual property was also copied and leaked to the public.
Cybercriminals also hacked into their systems and held them for ransom. The rapid technological advancement has brought a greater demand for cybersecurity professionals with a masters' degree in this field.
What you should Look for in a Cybersecurity Master's Program
Cybersecurity Master's Degree Requirements
Each program has different requirements before admission. Ensure that you meet them before applying. In case you find out that you don't qualify, you can contact the school and they should suggest some steps that you can take to meet the requirements.
Flexibility
If you're already employed and want to pursue your master's degree, an online master's degree program is more suitable to help you balance between work, school, and your personal life. However, you have to be clear on how much your program should be online.
Some programs are a 100 percent online while others are hybrid and others will require you to be on campus for a specific period of time, for instance, two weeks during your entire program. Choose the program that is as flexible as you would want.
Length of the Program
Confirm how long it will take you to acquire your master's degree and how quickly the university of your choice will allow you to complete your degree. It's also important to check start dates. Some schools admit students each semester, and this can help you to get started immediately or help you plan your start date. Other schools admit students once per year, which means you might have to wait for a while before you can begin your degree.
Important things when learning this Complex Topic
Hands-on education: Although cybersecurity professionals focus more on understanding the needed knowledge to execute tasks and responsibilities, how to implement and execute is more challenging and more important.
Experienced teachers: Mastering more subjective cybersecurity aspects is important if you're working in this field. Because most cybersecurity professionals tend to have highly technical backgrounds, you will need experienced teachers in communication strategies, learning theories, change management, and human behavior to help you implement a successful cybersecurity strategy in real-world situations.
How Online Education will help you Balance between Work and Other Responsibilities
A master's degree in cybersecurity is a powerful tool that could help you advance your career. However, most people lack the time to go back to school because they work full time and have other personal responsibilities. Online master's education is now more common than ever before.
In fact, several policymakers consider online education as the next wave of the future. Additionally, technology advancement as well as in-person, and online programs will enable you to learn hands-on. Other advantages of online master's degree programs include:
Accessibility: You can attend online classes from anywhere. Not having to run up and down to class during a busy workday can be a benefit.
Access: Experienced instructors are always available and they respond quickly to emails, and they are ready to work with students with different lifestyle needs.
Flexibility: Because you study without any supervision, you can set time to focus on classwork during your free time, as you are not tied to a class schedule.
Documentation: All your documents, training materials, transcripts, and live discussions are all recorded and archived so that you can easily retrieve them from the schools' website or your e-mail for reading, downloading or printing at your own convenient time.
You can learn from home: Traditional students have to go to classes on campus, which means they have to move near the campus or commute. However, by studying online, you won't have to relocate or commute. You can complete all your coursework online from your home. This saves you time and a substantial amount of money.
Are you interested in possibly advancing your career in the world of cyber security? If you want to earn a Master of Science Degree in Cybersecurity, consider ECPI University for your education. With a completely online option and accelerated learning, you could find something that fits into your schedule. For more information, connect with a friendly admissions advisor today.
It could be the Best Decision You Ever Make!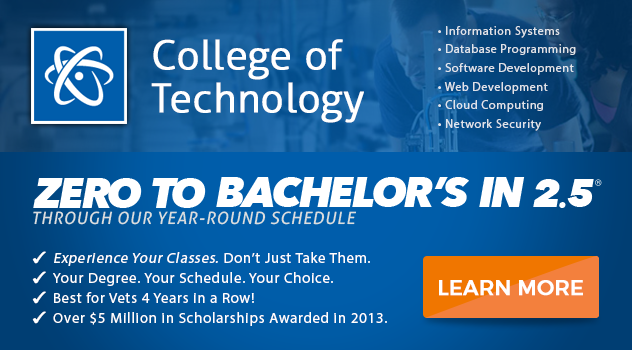 DISCLAIMER – ECPI University makes no claim, warranty, or guarantee as to actual employability or earning potential to current, past or future students or graduates of any educational program we offer. The ECPI University website is published for informational purposes only. Every effort is made to ensure the accuracy of information contained on the ECPI.edu domain; however, no warranty of accuracy is made. No contractual rights, either expressed or implied, are created by its content.
Gainful Employment Information – Cybersecurity - Master's
For more information about ECPI University or any of our programs click here: http://www.ecpi.edu/ or http://ow.ly/Ca1ya.