Cyber Security Masters: Worth It for Someone Who Wants to Become a Manager?
There has never been a better time to pursue a career in cyber security. Attacks on businesses, governments, and citizens remain a constant threat. The need for cyber security experts continues to grow. A shortage of qualified cyber security workers continues to threaten industries around the world. Cybercrime was recently cited as one of the biggest threats to businesses at the World Economic Forum for a reason: cyber criminals are getting more creative, and we need more people who can help stop them.

How Does this Affect Me?
If there's a silver lining to this news, it's that the cyber security industry presents some outstanding opportunities for people with cyber security degrees. There's a reason there is such high demand for cyber security workers. According to the Bureau of Labor Statistics, the number of information security analyst jobs in the United States is expected to grow by 28 percent through 2026, a rate four times faster than the average occupation.
Whether you're pursuing a cyber security degree or you already have a job in the field, you might be wondering what you need to do to climb the ladder in your career. What would it like to be a manager in a cyber security office? What sort of skills will you need to have? Could a cyber security master's degree help you get there?
You will want to consider these questions and more before deciding whether or not to get a master's degree in cyber security. To help you make this big decision, here is what you need to consider if you want to be a cyber security manager.
What skills do I need to be a cyber security manager?
A management position brings with it a set of new responsibilities. In a management position, you would be responsible for making sure your employees fully understand your company's cyber security strategies. Being able to hire and train the right people for the job is essential.
As manager, your team will look to you for leadership both on a day-to-day basis and on days when the job is especially stressful. To be a good manager you need to be able to lead a group of people with diverse personalities and keep your workplace running smoothly.
Management positions also require elite cyber security skills. While many skills can be acquired on the job, you might also benefit from going back to school and pursuing a master's degree.
How might a master's degree in cyber security help me in a management job?
If getting a management job sooner than later matters to you, a master's degree program could help tremendously. A good program should give you expert knowledge in specific areas that firms looking for cyber security managers will find appealing. It might also prepare you to take certification exams that prove your skills and expertise.
When you apply for a management job, a master's degree should do more than show your commitment to learning all you can about cyber security; the things you learned while earning your degree will probably also help you do your best work when you get hired.
What other benefits are there to getting a master's degree?
A master's degree program should let you focus on improving your skills in areas where you need it most. Whether it's leading a team of workers, understanding the business side of cyber security, or mastering your white hat hacking abilities, a formal education could help you tailor your skillset to the greatest possible benefit.
No matter where your career takes you, a formal education could help make sure that you are prepared. Whether you end up pursuing a management job or some other track, your education should ensure that you are equipped to handle whatever comes your way.
Are you interested in furthering your cybersecurity career? Whether you're just starting out or have been established for many years, earning a Master of Science Degree in Cybersecurity could be the answer you're looking for. For more information about this exciting program at ECPI University, connect with a knowledgeable admissions counselor today.
It could be the Best Decision You Ever Make!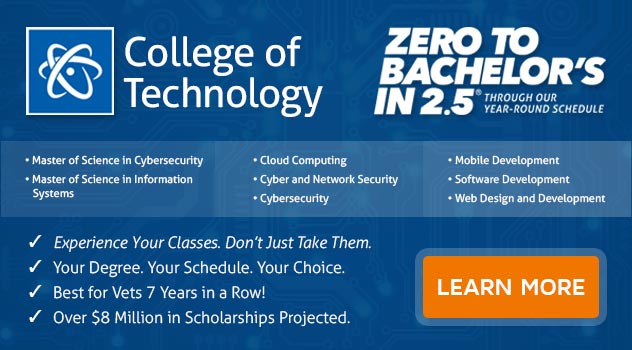 DISCLAIMER – ECPI University makes no claim, warranty, or guarantee as to actual employability or earning potential to current, past or future students or graduates of any educational program we offer. The ECPI University website is published for informational purposes only. Every effort is made to ensure the accuracy of information contained on the ECPI.edu domain; however, no warranty of accuracy is made. No contractual rights, either expressed or implied, are created by its content.
Gainful Employment Information – Cybersecurity - Master's
For more information about ECPI University or any of our programs click here: http://www.ecpi.edu/ or http://ow.ly/Ca1ya.