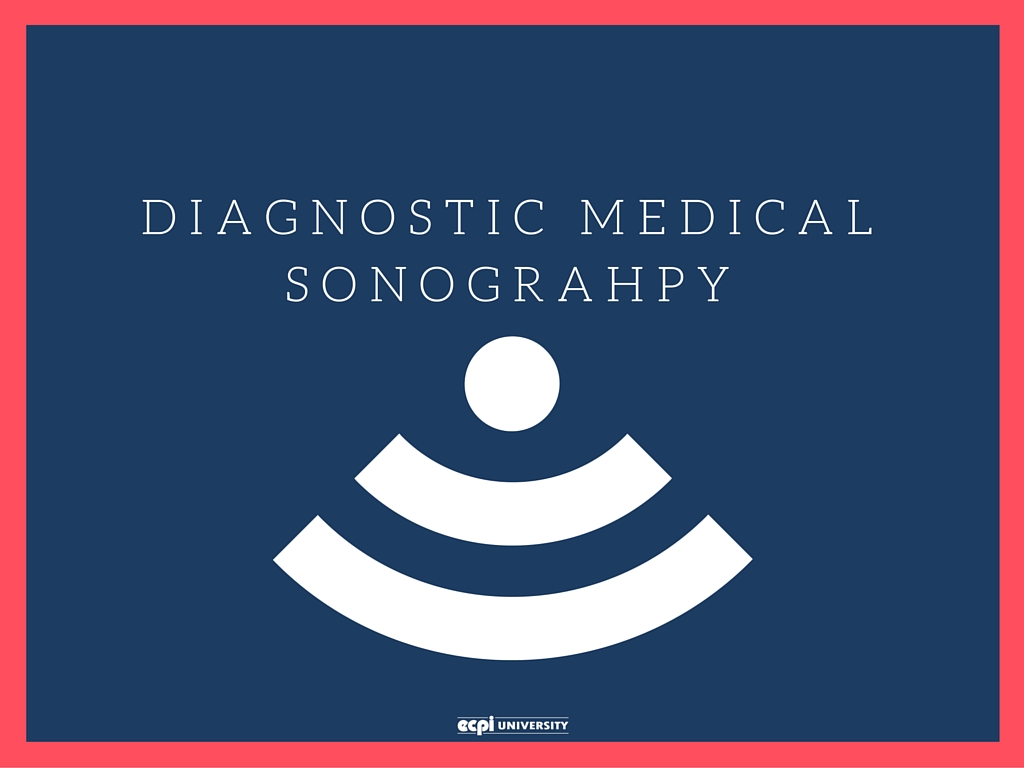 When you hear people say that a particular type of job is a "good career," what do they really mean? Most often people mean that it pays well and jobs in that particular type of work are plentiful. Sometimes, people may mean that the work is also emotionally fulfilling or mentally stimulating. Rarely, however, do all of these factors come together into one career. Diagnostic medical sonography is one of those rare choices.
Job Outlook: Growth of Sonography Jobs
Spending time and money studying a topic you like to learn about, but that offers little possibility for employment, is enjoyable but ultimately not the most constructive use of your resources. That's not a problem in the field of diagnostic medical sonography. According to the Bureau of Labor Statistics, there were 60,700 sonographers employed in the United States in 2014. That's a lot of jobs! But the best news is that between 2014 and 2024, the number of jobs is expected to grow by 26 percent, adding 16,000 jobs during that period. That's a much faster than average rate!
Why is the number of jobs to increase so significantly? One big reason is that as diagnostic sonography technology advances, physicians will be able to use it to diagnose conditions that now must be assessed by more invasive procedures. In addition, as the median age of the U.S. population grows older, there will likely be an increase in the number of patients seeking medical help for conditions that affect the elderly, many of which can be diagnosed using sonography.

Pay Off: Sonographer Salary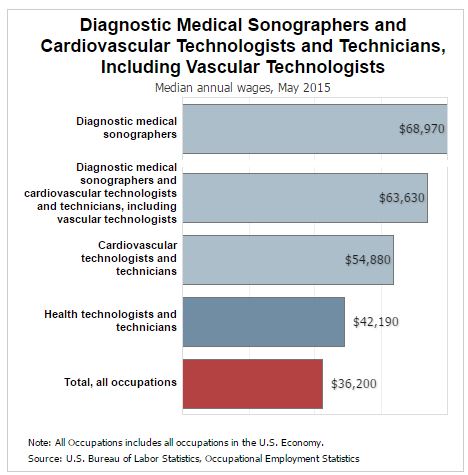 The BLS indicates that, as of May, 2015, the median annual salary for diagnostic medical sonographers was $68,970 per year. The median is the amount that is exactly in the middle of all pay rates, so half of all sonographers earned more than that amount and half less. Some earned as much as $97,390 and others earned more in the range of $48,720.
Most diagnostic medical sonographers work full-time, and most work in hospitals. Other locations hiring sonographers include physicians' offices as well as medical and diagnostic laboratories. While there is some difference in pay among these locations, the difference between the highest paying category (laboratories) and the lowest paying one (hospitals) is only $4,240.
On the Job: What to Expect as a Diagnostic Medical Sonographer
At this point, you may be wondering exactly what you might actually do if you become a diagnostic medical sonographer. The basic definition of this work is using imaging equipment that emits high-frequency sound waves (ultrasound) that reflect back off the body part being assessed to create an image, or picture. For example, an ultrasound tech can use an ultrasound image to check on the growth of a fetus.
There are several categories of medical diagnostic sonography. Besides the well-known use to look at a fetus, sonographers may also work in any of these.
Musculoskeletal: images of muscles, ligaments, tendons, and joints
Abdominal: images of the abdominal cavity and organs such as the kidneys, liver, and pancreas
Breast: images that may show cysts or tumors
Obstetric/gynecologic: images of the female reproductive system
Pediatric: images of children and infants
Sonographers work directly with patients. They take medical histories and give instructions to the patients as to how to position themselves for the procedure. Sonographers may sometimes have to physically help the patient into the correct position. Therefore, diagnostic medical sonography is a good career for someone who likes interacting with people all day long.
You'll also find sonography to be a good career is you like working with technology. As new types of medical equipment become available, you may need to be able to learn to use them quickly to keep up with the requirements of your job. Someone who doesn't like to make changes in procedures or is confused by new technological developments might find that sonography is not an ideal career.
Me and my Sonography class at ECPI MCI! Can't wait to continue our journey! So excited!! #DMS… https://t.co/z6sqsOFAA3

— Lisa Y (@GirlyGirlx1974) July 8, 2015
Becoming a Diagnostic Medical Sonographer
The first step is completing an associate degree program in diagnostic medical sonography. Once you have your degree, certification by one of the two organizations in the U.S. that register sonographers: the American Registry of Diagnostic Medical Sonographers or the American Registry of Radiologic Technicians. Is certification really necessary? Yes, if you want to be considered for the best and highest-paying jobs. Certification indicates that you are qualified to be a sonographer and that you are keeping up with new developments through continuing-education programs.
If you're convinced that diagnostic medical sonography would be a great career path, take a look at the Associate of Applied Science in Diagnostic Medical Sonography program at ECPI University. As a full-time student, you can complete the degree program in as little as eighteen months. Get started today on your new career! It could be the Best Decision You Ever Make!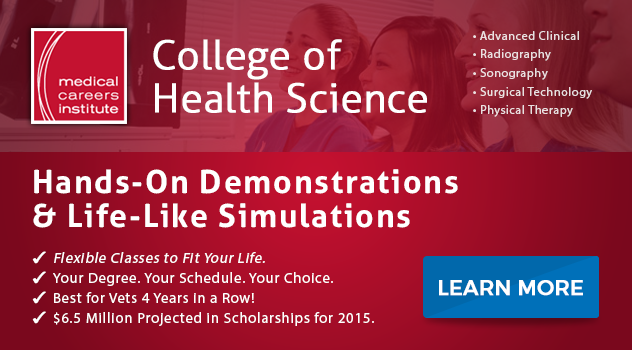 DISCLAIMER – ECPI University makes no claim, warranty, or guarantee as to actual employability or earning potential to current, past or future students or graduates of any educational program we offer. The ECPI University website is published for informational purposes only. Every effort is made to ensure the accuracy of information contained on the ECPI.edu domain; however, no warranty of accuracy is made. No contractual rights, either expressed or implied, are created by its content.
Gainful Employment Information – Sonography - Associate's
For more information about ECPI University or any of our programs click here: http://www.ecpi.edu/ or http://ow.ly/Ca1ya.