Do You Have to Have a License to be a Chef?
Due in part because of the many cooking-related reality shows that have swarmed the air over the past decade, the position of chef has become even more attractive to young people than ever before. But being a chef isn't as easy as washing your uniform and getting made up for cameras. A chef not only gets to be responsible for the menu of a restaurant, but for steering the ship as well. This means that to be a chef, you will need cooking skills, creativity, and leadership.
If this sounds like your dream job, then you're probably wondering how to get started on the path to becoming a chef. Although there are a number of chef licenses that you may want to pursue, they aren't required. Your best option is to follow a career path that starts out with a culinary arts education.
Becoming a Chef
There are a few different paths that you can take to becoming a chef. The following is just one route that you can take to pursue your dream job in the food industry:
1. Complete a culinary arts associate degree
Going to culinary school is an excellent way to develop the knowledge and skills that you will need to eventually become a chef. At a culinary school, you will be given hands-on experience and you will:
Learn how to use the different tools in the kitchen, including how to properly use different pots, pans, knives, and other cooking-related equipment.
Learn how the kitchen is organized and managed.
Develop your palette. Knowing how things should taste and how ingredients change or enhance the flavor of certain foods is vital to learning how to craft new recipes.
Learn how to prepare different meats in different ways.
Learn about kitchen sanitation and safety.
Learn baking and pastry fundamentals.
Learn about nutrition and healthy cooking.
Learn various culinary techniques from teachers who are experienced chefs themselves.
Learn how to plate and present the dishes that you create.
In some cases, a culinary arts program may even provide students with courses that focus on business and management should you be interested in opening up your own restaurant some day.
2. Gain kitchen experience
Some chefs reach their position purely through experience. While you could start from the bottom up and work your way through each position in the kitchen instead of completing a culinary arts program, you'll receive a more balanced culinary education if you complete a program, whereas working up the kitchen ladder can limit your knowledge depending on who you're learning from and what it is you're learning.
That doesn't mean that kitchen experience isn't necessary. It's absolutely vital. In fact, you'll still have to gain experience in the field after you graduate in order to become a chef. You'll most likely need to work as a prep cook and a line cook and then move on to becoming a sous chef before you can become a head chef.
3. Pursue several chef certifications
Even if you have a Culinary Arts degree and a substantial amount of real-world experience, you may want to earn a few chef licenses as well. While chef licenses are not required, they will help to bolster your resume. Voluntary certifications are available at the American Culinary Federation, the Research Chefs Association, the United States Personal Chefs Association and the Culinary Institute of America.
4. Applying your degree
If you choose to go to a culinary arts school in order to pursue your dream of becoming a chef, you're going to have a number of different options that you can chase after graduation. The following are some of the career paths that you can ultimately follow:
Executive Chef - An executive chef is in charge of the entire kitchen and is often in full creative charge of the menu as well, depending on whether you work for an owner or own your own restaurant.
Personal Chef - There are many people who require personal chefs, such as chronically ill individuals and athletes, to help them maintain a specific diet.
Catering Chef - The head chef of a catering company is responsible for serving a large party of people, such as at a wedding, a meeting, or any other type of large-scale event.
As a chef, you could obtain work in a number of different locations besides just restaurants, including hotels, resorts, cruise liners, hospitals, retirement communities, universities, and bakeries, just to name a few.
Are you interested in becoming a chef? If you want to earn your Associate of Applied Science in Culinary Arts, ECPI University's Culinary Institute of Virginia is here to give you the education you need to start your career. For more information about the degree program, contact a helpful admissions counselor today.
It could be the Best Decision You Ever Make!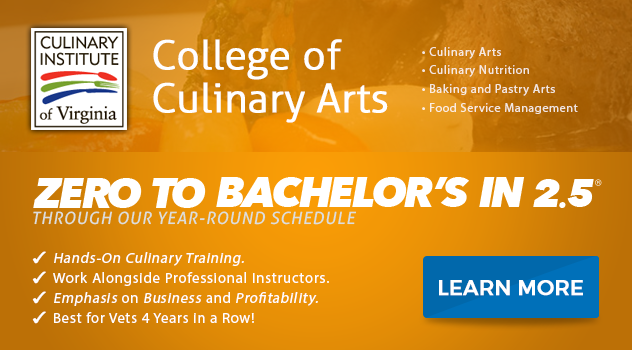 DISCLAIMER – ECPI University makes no claim, warranty, or guarantee as to actual employability or earning potential to current, past or future students or graduates of any educational program we offer. The ECPI University website is published for informational purposes only. Every effort is made to ensure the accuracy of information contained on the ECPI.edu domain; however, no warranty of accuracy is made. No contractual rights, either expressed or implied, are created by its content.
Gainful Employment Information – Culinary Arts - Associate's

For more information about ECPI University or any of our programs click here: http://www.ecpi.edu/ or http://ow.ly/Ca1ya.