Do You Have to Know How to Cook to Go to Culinary School?
Culinary school is a place to learn, and that means that you do not have to know how to cook before you take those classes; you'll be taught what you need to know once you're there. But the idea of entering culinary school can be very intimidating for great home cooks, let alone someone who has the passion, but hasn't learned the skill. It seems like a big deal, but you can prepare yourself for the transition with a few easy steps.
Remember: Not Everyone in Class Wants to Be a Chef
You and your classmates are going to be a diverse bunch. Many of the people there will no doubt want to be professional chefs, but others will have different goals. Some may just want more confidence in the kitchen; others may want to know the great tricks and tips that professional chefs use to make those dishes look so good.
Yet more may want to be private chefs for clients, or they might be dietitians who want to run school lunch programs and who want to get a better sense of how everything in the kitchen will work. So don't worry that you're going to be the lone person who has no idea what knife to use. Chances are there will be others in your class like you. Knowing that alone can take the edge off your nervousness.

Gradually Add More to Your Home Meal Repertoire
As you wait for the semester to begin, look up articles about tricks that chefs use and see what you can add to your cooking routine. These don't have to be fancy moves at all. Even just changing the way you add spices to dishes, such as using a bouquet garni instead of adding spices separately, can give you extra knowledge that may help you in culinary school.
Try learning a few basic skills on your own. You will learn all you need to know about knives and knife care in culinary school, for example, but see if you can pick up a few simple skills yourself. Look up culinary terms and just play around. Don't pressure yourself to get ahead of phantom classmates; just do this for the enjoyment of it. By the time school starts, you may have a bag of little cooking tricks that, while not new or unique, make you feel a bit better about your ability to survive in a school kitchen.
Play Around With Your Food
In addition to looking up simple tricks and skills, take your favorite recipes -- even if they're as simple as scrambled eggs -- and play around a bit. Look up additions or variations. If you know how to boil eggs, look up recipes for soy sauce eggs or tea eggs, which are very easy to make and don't require anything special in the way of ingredients. See what happens when you change the type of oats (quick, rolled, steel-cut, etc.) you use for your favorite oatmeal cookies. Change the "stretching" ingredient in your favorite meatloaf. Just see how these changes affect the final product.
Also, start investigating spices. If the spice jars you have are really old, buy some fresh spices; most aren't that expensive at all. Taste unfamiliar spices and see whether there are foods that come to mind when you try the spices. For example, if you taste turmeric, do you think it could pair well with chicken? Carrots? Other foods? By doing this you'll not only have a better idea of what each spice really tastes like, but it will also get your brain going and thinking of ways to create new dishes.
Study Recipes, Even if You Don't Try Them
Start reading recipes. You can go to a recipe site online and browse if you don't own a cookbook. Look at how the recipes are constructed, the ratios of things like meat to onions, the way the spices are paired, and so on. Look at kale and cookie recipes where the dry ingredients are added to the wet ingredients and vice versa; see if you notice patterns. All of this gets stored away in your head and can be of use in school.
Are you interested in a culinary career? If you want to earn an Associate of Applied Science in Culinary Arts, ECPI University's Culinary Institute of Virginia offers a comprehensive degree program. With accelerated courses, you could earn your degree in as little as 15 months. For more information on this exciting program, connect with a helpful admissions counselor today.
It could be the Best Decision You Ever Make!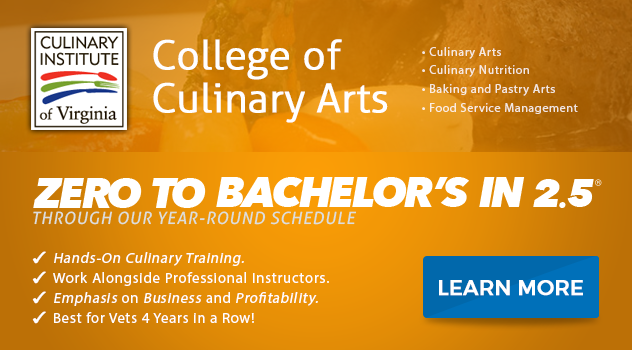 DISCLAIMER – ECPI University makes no claim, warranty, or guarantee as to actual employability or earning potential to current, past or future students or graduates of any educational program we offer. The ECPI University website is published for informational purposes only. Every effort is made to ensure the accuracy of information contained on the ECPI.edu domain; however, no warranty of accuracy is made. No contractual rights, either expressed or implied, are created by its content.
Gainful Employment Information – Culinary Arts - Associate's
For more information about ECPI University or any of our programs click here: http://www.ecpi.edu/ or http://ow.ly/Ca1ya.