Does Being a Chef Require College: How Can I Make the Right Decision for Me?
Professional chefs are responsible for preparing and cooking food. But they also supervise other culinary professionals in the kitchen. Chefs may work in restaurants, resorts, hotels, private residences, and a myriad of other food-service settings. Although most chefs start off through entry-level positions and work their way up through training and experience in a professional kitchen, some complete some postsecondary education programs in culinary arts.
If you have an interest in culture or a love for food and wish to do something creative with your life, then you might want to consider enrolling in a culinary arts program to become a professional chef.

Why Should I Attend a Culinary Arts School?
If you've made up your mind to become a professional chef, then you have two options: you can start at the bottom of the kitchen and work your way up or enroll in a culinary arts school. Although many chefs have pursued the former approach, enrolling in a culinary arts school has enormous benefits. They include:
Learning how to cook: The top reason to join a culinary school is to learn how to cook. You should learn how to use various kitchen equipment and tools found in most professional kitchens, learn various recipes and how to use spices, or even make your own trademark spice.
Get comprehensive education: You might be able to learn how to cook by working your way up in a restaurant, but more often, you won't learn much about the business aspect of things. That's the reason most chefs without formal education in culinary arts often fail. Culinary arts programs will place some emphasis on the business aspect of kitchen management as well.
Receive a degree in a short period of time: If you start off your career at the bottom of the kitchen, it could take you years to get anywhere near the chef position. However, formal education could jumpstart your career as most programs take as little as just over a year to complete.
Access to more career opportunities: Chefs who work their way up the kitchen may not have a variety of career options. With a culinary arts degree, you can pursue other positions such as a nutritionist, personal chef, food writer, food scientist, etc.
Networking opportunities: Working with professional instructors and fellow students at a culinary arts school will provide networking opportunities that you could take advantage of in the future.
Why Formal Education is Important in Learning Restaurant Business
Through formal education in culinary arts, you can learn to prepare delicious meals that keep clients coming back. All across the world, culinary professionals are behind the scenes preparing and cooking every meal we purchase. As the majority of people prefer the convenience of allowing others do the cooking, opportunities for food service professionals continue to broaden. According to the U.S. Department of Labor, business opportunities for culinary arts professionals are expected to increase over the next decade.
If your ultimate vision is to open and run your own restaurant, operate chains of restaurants, or work as an executive chef or manager at a reputable restaurant, a degree in culinary arts could be worth the investment. As the restaurant owner, you could oversee all restaurant employees, maintain inventory, monitor the preparation and serving of various foods, and ensure that the restaurant meets all health and food safety regulations. You could also resolve staffing issues, maintain the restaurant's budget, handle payroll, and make sure that customers are happy.
Although there aren't any specific formal education or experience requirements to become a restaurant owner, having a combination of both prepares you for entrepreneurship challenges. Formal education equips you with the knowledge and skills you need to successfully carry out tasks like menu planning, business operations, and restaurant management.
Are You Ready to Start Your Culinary Journey?
If you love cooking and want it to be your career, a degree in culinary arts could be just what you're looking for! If you want to earn an Associate of Applied Science Degree in Culinary Arts, ECPI University's Culinary Institute of Virginia offers this program at an accelerated pace. For more information about this exciting opportunity, connect with a friendly admissions advisor today.
It could be the Best Decision You Ever Make!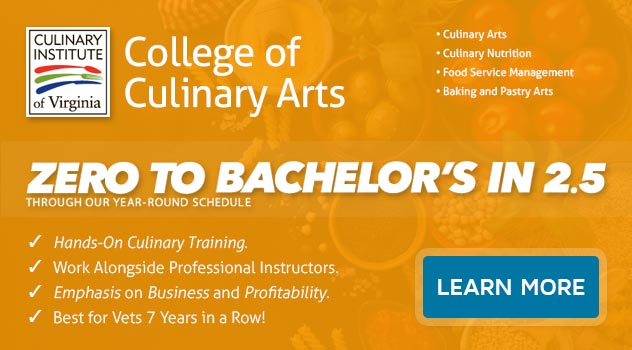 DISCLAIMER: ECPI University makes no claim, warranty, or guarantee as to actual employability or earning potential to current, past or future students or graduates of any educational program we offer. The ECPI University website is published for informational purposes only. Every effort is made to ensure the accuracy of information contained on the ECPI.edu domain; however, no warranty of accuracy is made. No contractual rights, either expressed or implied, are created by its content.
For more information about ECPI University or any of our programs click here: http://www.ecpi.edu/.