Earning a Nursing Degree After College: Is it Difficult to Make the Change?
Nursing is known to be a truly inspiring career that's both highly demanding and highly rewarding. It offers such an opportunity for individuals to do life-changing things that make a difference in the lives of people who need it. Good nurses can greatly contribute to the wellbeing of their patients because, in addition to offering their book knowledge, nurses also have to offer a piece of their heart to patients under their care.
But what makes a good nurse? Typically, a career in nursing requires certain unique qualities, which may come more naturally to an individual or may be learned in nursing school. Here are some traits that a nurse needs in order to be successful.

Caring and Patient Personality
The best nurses are those that truly care for their patients, are non-judgmental, understanding, and have a strong ability to empathize with those who are ill, vulnerable, or scared. A nurses' caring nature can go a long way in improving patient care and can lessening a patient's suffering.
Ability to Handle Stressful Situations
Nurses constantly deal with stressful situations, including long hours, traumatic events, emergencies, and tragic illnesses. They're still expected to successfully carry out their duties with calm and clear minds.
Excellent Communication
As a nurse, you'll work one-on-one with all types of people including patients and their families, physicians, and other nurses. Great nurses have solid communication skills and make sure that everyone else understands their patients' concerns.
Detail-oriented
Good nurses understand that every step in the medical field can have grave repercussions. From reading a patient's chart correctly to administering care, details matter and nothing should be left out. Great nurses are meticulous, pay excellent attention to detail, and are careful not to make errors or skip steps.
Quick Problem-solving Abilities
The ability to think quickly and address problems is a must-have quality for a great nurse. Even better, they should be able to address problems before they arise.
How to Tell If You're Meant to Be a Nurse Even If You Have a Bachelor's in a Different Subject
You already have a bachelor's degree but it didn't lead to a career that you're passionate about and are now exploring a career in nursing. If you didn't realize you wanted to be a nurse, it's never too late to answer the nursing call.
You could earn your BSN and switch careers in as little as 12 months through a fast-tracking nursing program. However, this option may not be ideal for everyone. So, how do you know if nursing is the right track for you?
You're driven: You know that you want to be a nurse and are determined to achieve that goal. You're committed enough to sacrifice your time and comfort for a while and are also willing to devote the next one year to make this happen.
You're ready to become a full-time student: To thrive in this program, you need to be in a position to make sacrifices and devote your attention to the curriculum.
You're a critical thinker: The ideal student for this program knows how to solve problems and has strong critical thinking skills. If you can use logic and reasoning to determine the best course of action, then you have an important quality for surviving the BS to BSN program.
In essence, you should exhibit great self-discipline, be motivated to be successful, be organized, and possess the ability to take directions and work with others.
What to Expect From Nursing School
You'll have a hefty amount of work to finish on a day-to-day basis. Nearly every student gets overwhelmed and you may feel stressed from time to time. Also, be prepared for lots of reading, memorization, and exams. School may be the busiest time of your life and you may end up feeling like you don't even have a life. You might miss a family dinner or a friend's birthday party because you have to meet with a study group or write a report.
But how can you make things as easy and smooth as possible?
Prioritize your studies and tasks by making a list of "must do" items.
Journal before bed
Give up on being a perfectionist
Find a study group
Practice an after-class recap
Space out the large and complex chapters and review them often
Mix exercise into your study sessions
Find out what enhances your mood
Eat well and nurture your body
Earn an Accelerated BSN
Are you interested in changing careers? If you have a bachelor's in another subject and want to earn a Bachelor of Science in Nursing, ECPI University could be the right choice for you. Connect with a friendly admissions advisor to learn more.
It could be the Best Decision You Ever Make!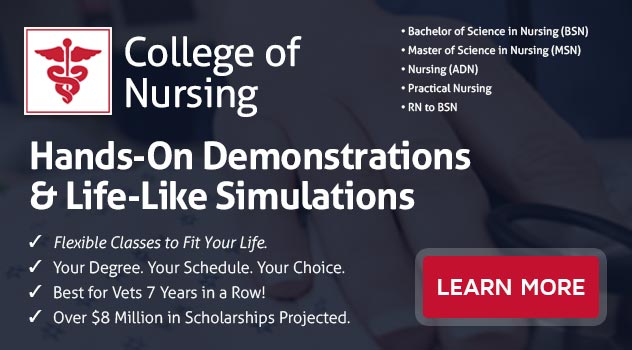 DISCLAIMER – ECPI University makes no claim, warranty, or guarantee as to actual employability or earning potential to current, past or future students or graduates of any educational program we offer. The ECPI University website is published for informational purposes only. Every effort is made to ensure the accuracy of information contained on the ECPI.edu domain; however, no warranty of accuracy is made. No contractual rights, either expressed or implied, are created by its content.
Gainful Employment Information – Bachelor's to BSN
For more information about ECPI University or any of our programs click here: http://www.ecpi.edu/ or http://ow.ly/Ca1ya.