Physical therapy involves an exercise and equipment treatment plan, designed by a licensed physical therapist (PT), to help individuals overcome movement difficulties that interfere with their daily activities.  Physical therapist assistants (PTA) work under the management and direction of the PT, directly helping patients regain movement capabilities and manage pain after suffering an injury or an illness. 
Physical Therapist Assisting Education and Training
Physical therapist assistants must complete an associate degree program from a university accredited by the Commission on Accreditation in Physical Therapy Education (CAPTE) of the American Physical Therapy Association.  Generally, the PTA associate degree combines lectures, hands-on training experiences, and working in the field.  Curriculum requirements typically include classes in:
Anatomy
Physiology
Pathophysiology
Kinesiology
Patient Care
Rehabilitation Techniques
Exercise Therapies
Students learn how to use heat, ice, massage, traction, ultrasound, and electrical stimulus to remedy pain, and increase movement function, strength, and coordination.  Graduates of a CAPTE university are eligible to take the national certification examination required for licensure.
Personality Traits of a Physical Therapist Assistant
PTAs work with a wide range of people, from every age group.  This is a challenging career choice, as recovery is often a slow process, and patients may find the therapy arduous and painful.  Successful PTAs often possess the following traits. 
Firm Composure

Firm composure is necessary to motivate and encourage tired, frustrated patients who want to give up.  PTAs need to persevere through patient discouragement. 
Empathy

Patients at their most vulnerable or lowest point in recovery when beginning the recuperative process of physical therapy.  Empathy allows therapists to understand what outcomes the patient has in mind, including their values, barriers, and difficulties. 
Thick skin

PTAs may experience patient anger, and aggression directed at them during the recovery process.  Therapists must not allow the resulting stress to impair their knowledge, good judgement, and treatment completion.
Physical stamina

PTAs demonstrate and help patients with movement practices.  A physical job, therapists often need to bend, kneel, stoop, turn, lift patients, and support their weight during movements.  PTAs often assist patients during exercise by providing manual resistance to arms, legs, or trunks. 
Interpersonal skill

PTAs work and interact with individuals of every age, culture, and social level.  They also communicate with the patient's family, as well as, other medical professionals involved in treatment. 
Detail oriented

Attention to detail promotes accurate and effective communication between the physical therapist, patient, and PTA, which enhances consistent and reliable treatment.  Job descriptions for PTAs include precise record keeping and the ability to meticulously follow verbal and written instructions.
How Much Does a Physical Therapist Assistant Make?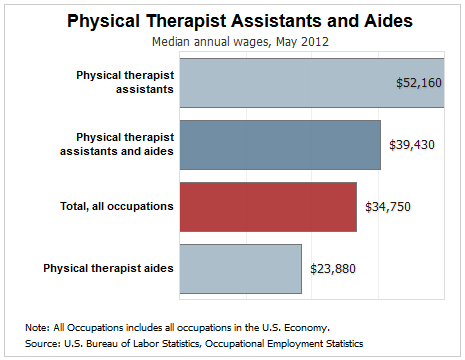 According to the Bureau of Labor Statistics, the median annual salary for this career is $52,160.  Job prospects are very good for PTAs, as PTs are increasingly using assistants to provide many areas of treatment.  PTAs allow physical therapists to take on more patients, and reduce costs associated with the rehabilitation treatment.  Expected employment increases are the result of:
Large aging population
Growing prevalence of chronic conditions
Medical and technological advancements that increase survival rates of trauma victims
Greater access to health insurance
Job opportunities will be greatest in acute hospital settings, skilled nursing facilities, and outpatient orthopedic locations. 
Physical Therapy Assistant Career Opportunities
In 2012, 44% of employed PTAs worked in offices of other health practitioners, and 20% worked in hospitals, according to the Bureau of Labor Statistics.  Employment opportunities are also available in many other types of facilities, such as:
Sports training
Rehabilitation
Extended care
Outpatient
Fitness Centers
Occupational settings
Homes
Schools
ECPI University PTA students - Longest Day. Working to end Alzheimer's! http://t.co/NaQeqozABy

— AlzAssnSEVA (@alznorfolk) July 7, 2014
The Physical Therapist Assistant Program at ECPI University's College of Health Sciences can prepare you for an entry-level PTA position.  What's more, you could earn an Associate of Applied Science in Physical Therapy Assisting in as little as 1.5 years through the University's accelerated, year-round program. 
Upon completion, you are eligible to take the national licensure exam, and can then begin seeking employment working under the management and direction of a licensed physical therapist.  To learn more, contact ECPI University today for more information. It could be the Best Decision You Ever Make!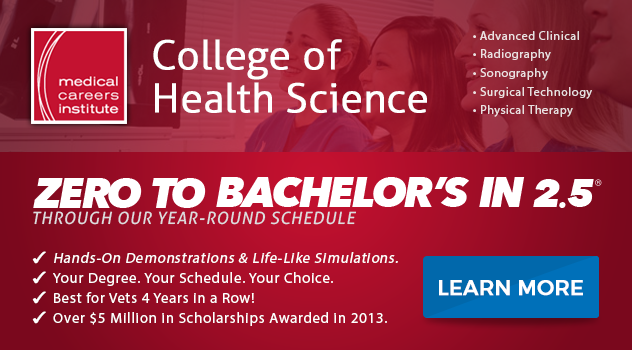 DISCLAIMER – ECPI University makes no claim, warranty or guarantee as to actual employability or earning potential to current, past or future students or graduates of any educational program we offer. The ECPI University website is published for informational purposes only. Every effort is made to ensure the accuracy of information contained on the ECPI.edu domain; however, no warranty of accuracy is made. No contractual rights, either expressed or implied, are created by its content.
Gainful Employment Information
For more information about ECPI University or any of our programs click here: http://www.ecpi.edu/ or http://ow.ly/Ca1ya.