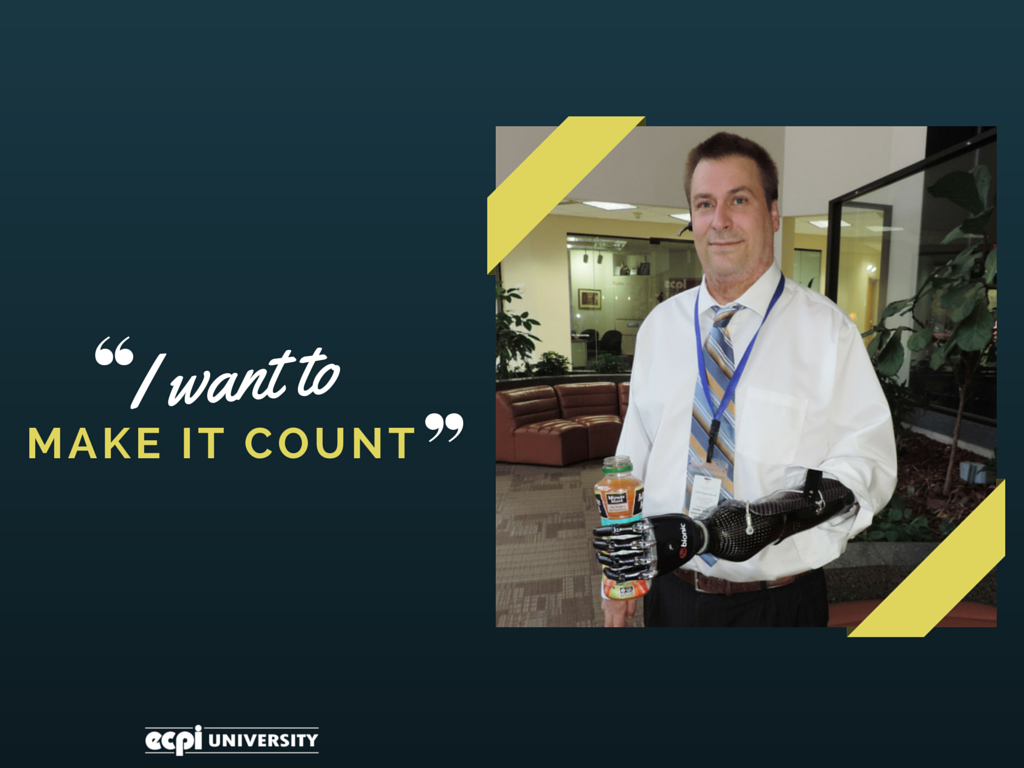 For Database Programming student Cliff Golby, even the simplest tasks can become obstacles. Yet, he takes each one as they come and works his way through it. That's just the way he's wired - giving up is simply unacceptable. That attitude has taken him a long way from where his story began five years ago. Working in his backyard, a gas can exploded in his hand. Engulfed by flames, he dove straight through the cover of a nearby pool. Before the water could extinguish the fire, the vinyl was seared into his skin.
Cliff spent the next four months in a medically-induced coma, and after that, more than a year in the hospital.  Skin grafts helped with outward healing but the nerves and tendons below the surface seemed unwilling to heal. Left with limited mobility in his arms and hands, he was unable to do things the most basic things, the kind of things that require opposable thumbs. Picking up a glass, for instance, was all but impossible.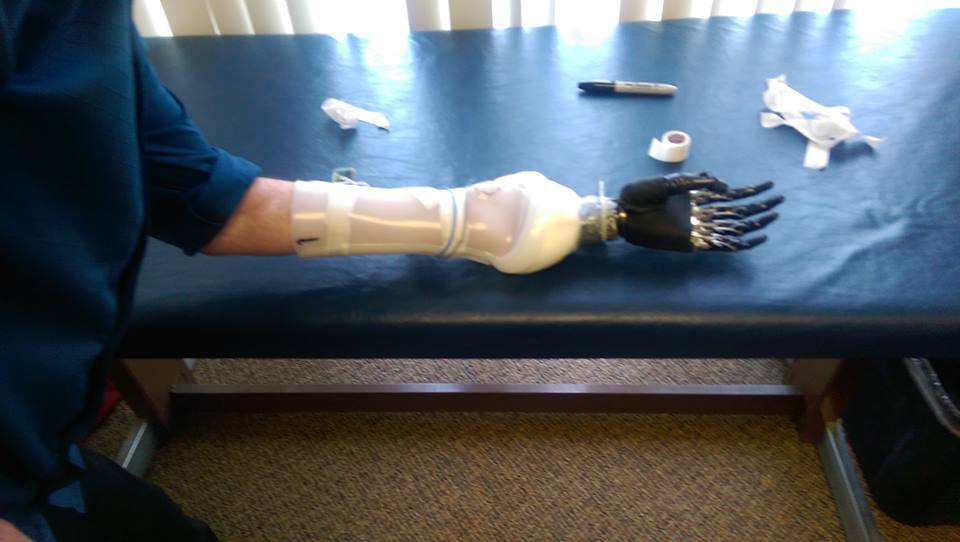 Over time, Cliff made some progress but only recently was he able to really move forward. After battling his insurance company, he was able to receive a mechanical arm. Made by a company called be bionic, it fits right over his own arm.
By using nerves near his elbow, he can command it to do most anything. "The doctor said it could take months to master this thing," says Cliff, "but I have been working with it nonstop and have almost got it figured out in just a week! I feel like I am getting a second chance at life. I've spent five years recovering from my injuries and I don't want to waste any more time!"
That's one reason why Cliff decided to enroll at ECPI University's Virginia Beach campus. Before his accident, he worked in the sprinkler business, eventually running his own company. Now, however, the physical demands of the job make that almost impossible. "I could have just stayed home and lived on disability but that's just not me. I've always been a computer geek and when I learned that I could earn my degree in just 2.5 years, I was ready to go."
Make Every Day Count
Cliff is now studying Database Programming at ECPI University, and he has given his studies the same level of commitment as his recovery. So far, he's making straight A's and has perfect attendance. Cliff is even using what he's learning to write an App for his arm that will increase its efficiency. When he's not in class or studying, he is helping other burn victims get on with their own lives. He goes to local hospitals and rehabilitation facilities to visit with patients, and also stops off at fire departments to talk with young people about being careful around fire and flammable materials.
"I figure with a little bit of luck, I've got 40 more years to live," Cliff says. "I want to make it count. For me, this is like a second chance at whole new life. I'm glad I'm starting it here at ECPI. Everyone here has been so great. It's a new beginning."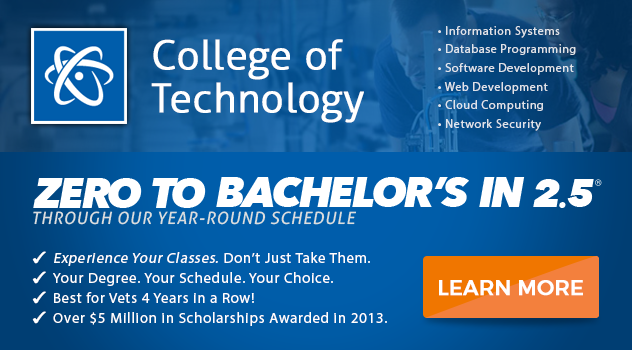 DISCLAIMER – ECPI University makes no claim, warranty or guarantee as to actual employability or earning potential to current, past or future students or graduates of any educational program we offer. The ECPI University website is published for informational purposes only. Every effort is made to ensure the accuracy of information contained on the ECPI.edu domain; however, no warranty of accuracy is made. No contractual rights, either expressed or implied, are created by its content.
Gainful Employment Information
For more information about ECPI University or any of our programs click here: http://www.ecpi.edu/ or http://ow.ly/Ca1ya.