Tech Giant Returns to Campus Searching for New Employees
Texas Instruments (TI) is back on campus with ECPI in Virginia Beach. This marks the third time in the past year that the Fortune 200 Company has come to meet ECPI University's soon-to-be graduates. TI has become a victim of its own success. Even with more than 35,000 employees in 35 countries and 100,000 customers, the tech giant continues to grow. Also, the average tenure for the company's technicians is 20 years, so it's clear that they are very happy but many are beginning to retire.
This week's meetings in Virginia Beach were open to ECPI students across all campuses and any veterans seeking employment. As one of the world's largest producers of semiconductors, TI supplies technological infrastructure to companies around the globe that produce everything from medical devices to entertainment systems to cell phones and more. With more than 4 million square feet of factory space, TI needs technicians to keep all of its automated manufacturing equipment running at peak efficiency.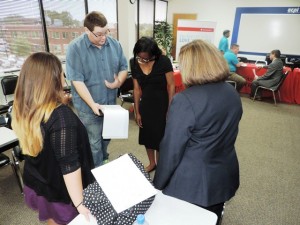 ECPI University students & graduates attending the meetings were able to register to take a pre-screening test when company officials return to campus on August 16. While the test can be challenging, ECPI University provides plenty of opportunities to prepare.
In fact, one current student who has already been hired by Texas Instruments was on hand to meet with fellow classmates and share some test taking tips. Bryan Rosenstock finishes classes this fall and will then head to Dallas, Texas to begin his new career. "I am overjoyed with this opportunity," says Bryan. "There are few schools with career services departments like ECPI's. Getting connected with a company like Texas Instruments is just tremendous. I know I am going to be working somewhere where I have a chance to grow and will be appreciated."
DISCLAIMER – ECPI University makes no claim, warranty or guarantee as to actual employability or earning potential to current, past or future students or graduates of any educational program we offer. The ECPI University website is published for informational purposes only. Every effort is made to ensure the accuracy of information contained on the ECPI.edu domain; however, no warranty of accuracy is made. No contractual rights, either expressed or implied, are created by its content.
For more information about ECPI University or any of our other programs click here: http://www.ecpi.edu/ or http://ow.ly/Ca1ya.