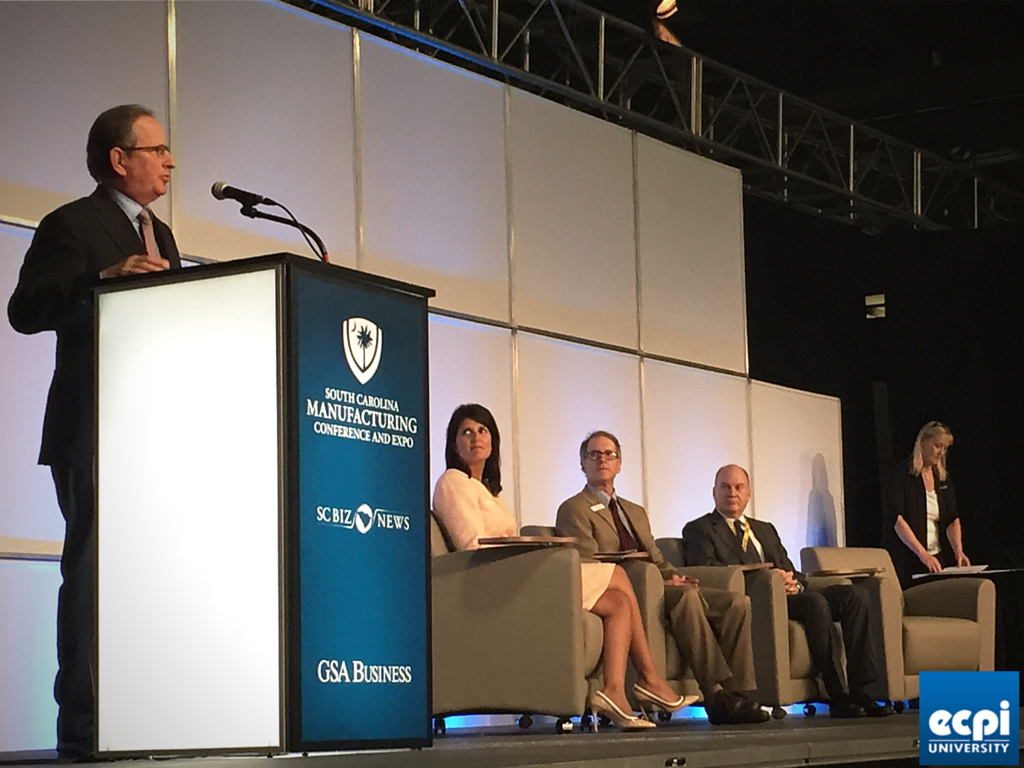 Manufacturing is on the rebound here in the United States, and it's especially hot in South Carolina. This week, hundreds of executives, educators, and workforce development professionals converged in Greenville for the South Carolina Manufacturing Conference and Expo. As a sponsor, ECPI University presented Toray Industries with the Smart Choice SC Award which honors a company that has made a significant economic development announcement for the state during the previous year. Among other things, Toray Industries provides carbon fiber to Boeing for use in production of passenger jets.

Last year, South Carolina manufacturers spent nearly $4 billion building or expanding facilities across the state's growing Upstate corridor, the biggest amount in eight years of tracking by the Upstate SC Alliance, the regional economic development organization. With each expansion, came new jobs.
Yet, workforce development remains a challenge in South Carolina as it does throughout the country. New jobs are a tremendous boon for the local economy. However, they cannot produce any real impact if they are not filled. With a growing skills gap among the available workforce, more and more South Carolina manufacturers are discovering that ECPI University just may be the missing piece to this puzzle.
As a pioneer in the relatively-new discipline of Mechatronics, ECPI University is producing graduates who can do the highly-technical work required in advanced manufacturing. Mechatronics blends three competencies that are necessary to develop and maintain today's highly-automated manufacturing facilities: Electronics Engineering Technology, Mechanical Engineering Technology, and Computer Information Systems. People who possess knowledge in all three are capable of working with robotics and keeping automated assembly lines performing at peak efficiency.
Last year, automobile manufacturer BMW invited ECPI University to join its Scholars Program which provides educational and work opportunities for people interested in pursuing careers in advanced manufacturing. To meet BMW's growing need for skilled workers, ECPI University is helping BMW employees complete their education so they can advance to higher-level positions.
Under the agreement, graduates from Greenville Technical College, Spartanburg Community College, and Tri-County Technical College can transfer their credits and enter ECPI University to earn a Bachelor of Science Degree in Electronics Engineering Technology with a concentration in Mechatronics.
ECPI University's participation at this year's South Carolina Manufacturing Conference and Expo is just another example of the powerful partnerships the University forges with employers throughout Virginia and the Carolinas. It's these types of relationships that create positive outcomes for both ECPI University graduates and the organizations that hire them.

DISCLAIMER – ECPI University makes no claim, warranty or guarantee as to actual employability or earning potential to current, past or future students or graduates of any educational program we offer. The ECPI University website is published for informational purposes only. Every effort is made to ensure the accuracy of information contained on the ECPI.edu domain; however, no warranty of accuracy is made. No contractual rights, either expressed or implied, are created by its content.
Gainful Employment Information
For more information about ECPI University or any of our programs click here: http://www.ecpi.edu/ or http://ow.ly/Ca1ya.