First Steps to Become a Nurse: What Should I Do?
Becoming a nurse is one of the biggest and most rewarding callings in the world. It takes a special person to make an impact on a patient's life on a daily basis. Nurses set a person's mind at ease, they provide comfort, while at the same time promoting healing. Nurses are also responsible for interacting with a patient's family, even in times of distress.

What Can I Expect in my Duties as a Nurse?
If you are feeling the call to become a nurse, it is important to become educated on what nurses do. There are various workplace environments for nurses to work in. Regardless of where you may work as a nurse, all nurses are educated to perform the same duties. These duties include:
The treatment and promotion of healing in patients
Educating patients and their families about their care plan
Making a record of a patient's medical history, while also monitoring a patient's symptoms
A nurse may be needed to help operate medical grade machinery
A nurse may assist a doctor in diagnosing patients, and aid in procedures
I've Heard Nursing Schools Are Competitive
When it comes to embarking on a path to becoming a nurse, it is important to be prepared. You need to be aware of what will be expected of you. Prospective students need to research various nursing schools to see if their program will be a right fit. You need to figure out if this school has the right environment for you to academically thrive in. You also need to figure out if you are in charge of making your own clinical hours, or if your nursing school provides the hours.
Nursing schools have become highly competitive in recent years. Most have waiting lists and only accept students who have exceptional GPAs, and have volunteered in the medical field.
The following are important requirements to fulfill before applying to nursing school:
Work in healthcare: If you have a work history in the medical field, it will help you stand out from other of applicants.
Work as a CNA: Another way you can stand out from other nursing school applicants is by completing a CNA certification and working as a CNA. CNA, or Certified Nursing Assistants work closely with patients, assisting them in their activities of daily living. Becoming a Certified Nursing Assistant usually takes a few months, with a classroom and clinical curriculum.
Submit a completed application: Before you submit your application, make sure it is pristine. Correct any spelling or grammatical errors, as these can deter schools from accepting your application. Make sure you attach an up-to-date and accurate resume. The resume is one of the biggest parts of your application. Be sure that your resume has your up-to-date work and volunteer history. Include any awards and certifications you have acquired through the years. It is a good idea to have a professional review your entire application package before you send it.
Take the Test of Essential Academic Skills (TEAS): This test is highly recommended for all applicants to take. A solid score will help you stand out from other applicants.
Make a great impression during the entrance interview: A first impression is a lasting impression. Show up to your interview early, and have impressive and heartfelt answers to potential interview questions.
What Can I Expect During My Admissions Interview?
Some interview questions may include:
"Why do you want to become a nurse?
"Can you dedicate time to study and complete your clinical hours?"
"Out of all your prerequisites, what class stands out as your favorite?"
When it comes to working in healthcare as a nurse, education is key. You will encounter many situations and it is important to be able to navigate them successfully. The nursing field is one of the hardest and most rewarding career fields in the world.
You will be working as both a healer and comforter for both your patient and their family. The more educated you are about your career field, the more positive an impact you will have on your patients.
Do you hear the call to become a nurse? Are you interested in earning an Associate Degree of Nursing? If so, consider ECPI University for your education. For more information on our accelerated programs, connect with a friendly admissions advisor today.
It could be the Best Decision You Ever Make!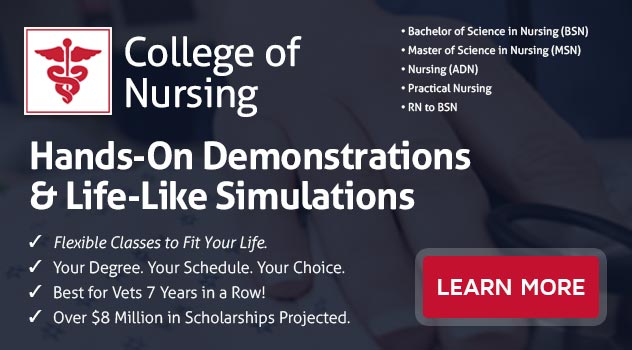 DISCLAIMER – ECPI University makes no claim, warranty, or guarantee as to actual employability or earning potential to current, past or future students or graduates of any educational program we offer. The ECPI University website is published for informational purposes only. Every effort is made to ensure the accuracy of information contained on the ECPI.edu domain; however, no warranty of accuracy is made. No contractual rights, either expressed or implied, are created by its content.
Gainful Employment Information – Nursing - Associate's
For more information about ECPI University or any of our programs click here: http://www.ecpi.edu/ or http://ow.ly/Ca1ya.