First Steps to Becoming a Nurse: What do I Need to Do?
Many areas are struggling because there are too few doctors and nurses to meet demand. According to Pew Research, Montana and Colorado have the highest job rate vacancies at more than 20 percent with many other states not far behind. Also, Baby Boomers are aging but are staying more active and taking better care of their health; including seeking more preventative care.
Because of the nursing shortage, those looking for a rewarding career with good job prospects, should consider a career as a nurse or in the medical field.

What Do Registered Nurses Do?
Registered nurses (RNs) most important job is providing patient care and educating them about their health conditions so they can be proactive in taking care of themselves. They also provide advice on maintaining good healthcare, offering emotional support to both their patients and their family members.
Nurses have a lot of career options and duties may change based on the type of nursing they decide to pursue. Their responsibilities may also change based on the setting they choose to work in, such as:
Nurses enjoy a variety of career options including charge nurse, floor nurse, and even some management positions in long-term care facilities. Upon completion of the Nursing (ADN) Program, graduates could possibly pursue employment in multiple settings including:
Hospitals
Primary Care Facilities
Short- and Long-Term Care and Rehabilitation Facilities
HMO/Insurance/Managed Care Facilities
Public Health Facilities
Home Healthcare Visits
Outpatient Care Centers
Schools
Mental Health Agencies
Hospices
Military and Industry
Nursing Schools
Private Practice
Research Outlets
Starting Your Nursing Career
If you are starting your nursing career or changing careers, you need to figure out how to go about it. Here is a helpful step-by-step process that will help guide you along your path.
Determine if you want to focus on what you want to become. Lay a foundation now, if you want to be a nurse practitioner, educator, or specialize in a particular type of nursing.
One you know what path you want to take, then you will need to research the best school and determine if you are going to continue to work or whether you will be a full-time student.
Once you've completed school, you will need to take and pass a test in order to be licensed.
After you gain your license, you can look for a job and start your nursing career.
What to Expect in Nursing School?
Each state has their own criteria for nursing school, but generally, to earn your nursing degree you will need to take the following classes:
Anatomy and Physiology
Microbiology
Nutrition
Pharmacology
Acute Care
Medical/Surgical Nursing
Maternal/Newborn Nursing
After completing the mandatory classes, you will be qualified to take the RN-CLEX exam administered through the State Board of Nursing.
Full- or Part-Time, Which is Best for You?
There are some careers that can be pursued without having to get a degree, the medical field isn't one of them. Those that decide that a medical career is calling them must take specific courses that give them the knowledge they need. Nursing school, whether full- or part-time is a necessary requirement.
Not everyone has the luxury of going to nursing school full time. Many that are trying to juggle work and school need alternative-style programs that will enable them to fast track their education. Some nursing schools offer year 'round programs that enable students to get their Associate Degree in nursing in around 18 months and a Bachelor of Science Degree in Nursing in only 2.5 years.
The Nursing Education at ECPI University
Are you interested in earning an Associate Degree of Nursing? If you want to become a nurse, consider ECPI University's accelerated program. For more information, connect with a friendly admissions officer today.
It could be the Best Decision You Ever Make!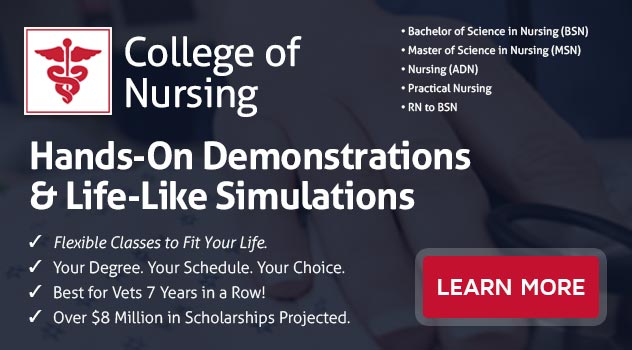 DISCLAIMER – ECPI University makes no claim, warranty, or guarantee as to actual employability or earning potential to current, past or future students or graduates of any educational program we offer. The ECPI University website is published for informational purposes only. Every effort is made to ensure the accuracy of information contained on the ECPI.edu domain; however, no warranty of accuracy is made. No contractual rights, either expressed or implied, are created by its content.
Gainful Employment Information – Nursing - Associate's
For more information about ECPI University or any of our programs click here: http://www.ecpi.edu/ or http://ow.ly/Ca1ya.