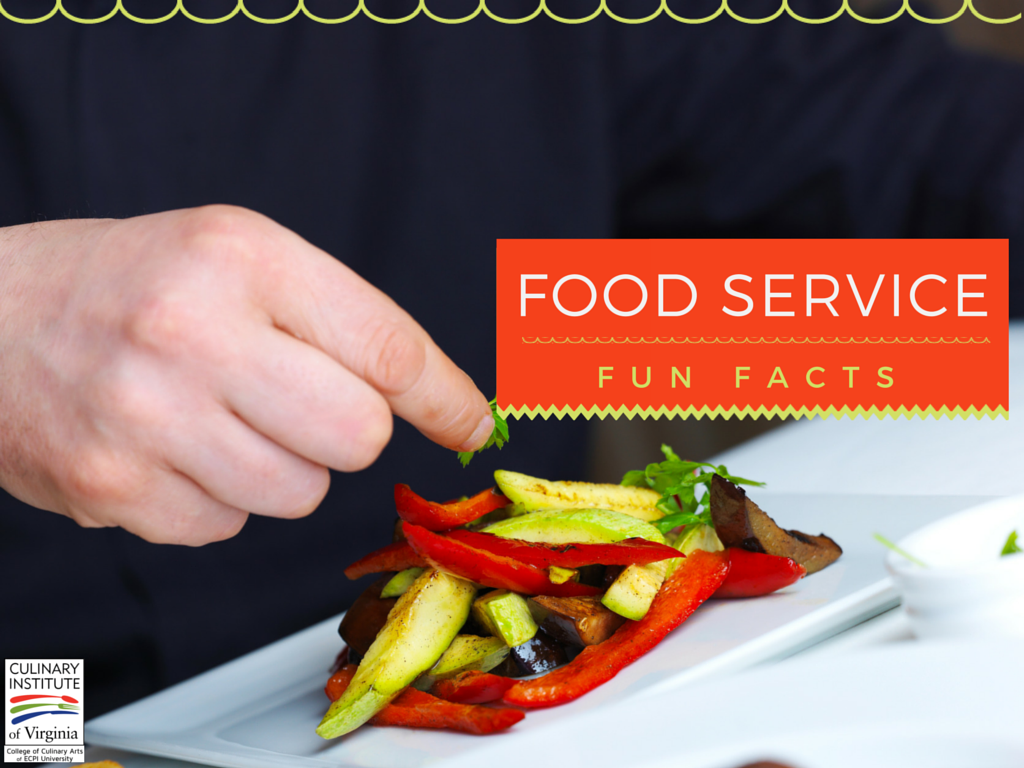 As time passes and technology advances, some jobs become absolute. Think film developers or door-to-door salesmen. However, there are some jobs that are naturally resistant to this trend. For example, occupations such as auto mechanics and dentistry are likely to be safe. Considered under the same logic, food service management is likely a safe bet; after all, people still have to eat.
Food Service Manager Job Description
Many people hear the title "food service manager" and think of a chef. But that is not correct at all. The food service manager has completely different duties. Here are some of the tasks involved:
Oversee methods of food preparation, portion sizes, and garnishing, ensuring that all is consistent with established guidelines.
Smell and taste prepared food periodically to ensure quality and consistency; returning diners that order a familiar dish don't like surprises.
Oversee inventory – when a delivery arrives, they ensure that it conforms to the order placed and that perishables are fresh.
Interaction with customers – managers must be a diplomat in when handling diner complaints or suggestions.
Managing the kitchen and serving staff, taking care of such tasks as scheduling and duty assignments.
They can be in charge of payroll, accounting, and kitchen budgeting.
Interfacing with various city inspectors such as those from the fire department and health services.
If part of the facility's business involves events such as banquets, business presentations, and wedding receptions, the manager interacts with clients, caterers, florists, etc.
Coordinates with tradesmen such as plumbers, electricians, and refrigeration techs to minimize downtime.
Hiring and training new employees and may serve in a mentor role as well.
It's easy to see that this is an important position that carries a good deal of responsibility; the service manager is the glue that holds the operation together.
Food Service Manager Salary & Job Outlook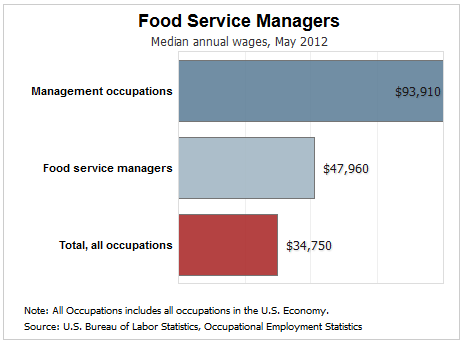 While it's possible to work your way up the ladder without a formal education, a superior route to take is to earn a Bachelor's degree in Food Service Management. This can prepare you with a solid understanding of the business aspects of the profession.
Compensation can vary widely depending on factors such as location, scope of the business, and the nature of the establishment. It's fair to assume that a manager in a high-end restaurant will be compensated higher than a cafeteria although the duties are similar. Just to consider a ballpark figure, according to the Bureau of Labor Statistics, the median annual salary is $47,960 per year while the median hourly pay is $23.06 per hour. The Bureau also projects that this occupation will remain steady through 2022.
Desirable Personality Traits of Managers
The extensive list of duties noted above makes it obvious that a certain type of person excels in the role of a food service manager. Understanding how rules of businesses in general – and in restaurants specifically – work is imperative. Due to the many tasks that must be accomplished without mistakes, a manager must be detail-oriented.
A manager has exceptional people and communication skills. When the pace gets hectic, the manager is the person that keeps everyone on the same page and functioning efficiently. It goes without saying that since the manager is the face of the restaurant that she/he must keep the customers happy.
Physical stamina is required. This occupation requires long, busy hours on your feet. Dedication to the job can be trying at times but it comes with the territory. Expect to work nights, weekends, and holidays; in other words, those hours when the customers are not working.
Culinary graduate makes final 2 in Hells Kitchen! #culinary #training #hellskitchen - http://t.co/7svlswpDRh

— Culinary Career Now (@CulinaryCNB) January 13, 2015
If you're considering following this career path and want to prepare with a superior education, look no further than ECPI University's College of Culinary Arts, Culinary Institute of Virginia.  You could earn a Bachelor of Science in Food Service Management in just 15 months through the school's year-round program.  Check out Culinary Institute of Virginia today . . . it could be the Best Decision You Ever Make!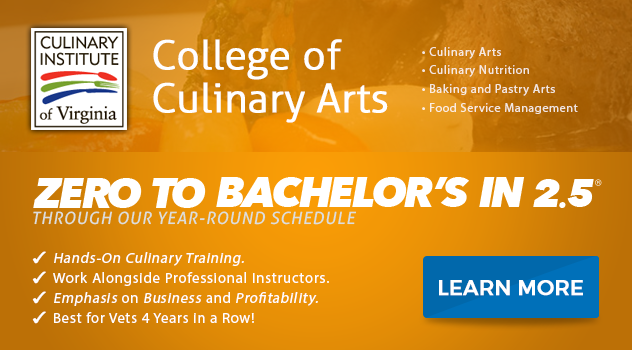 DISCLAIMER – ECPI University makes no claim, warranty or guarantee as to actual employability or earning potential to current, past or future students or graduates of any educational program we offer. The ECPI University website is published for informational purposes only. Every effort is made to ensure the accuracy of information contained on the ECPI.edu domain; however, no warranty of accuracy is made. No contractual rights, either expressed or implied, are created by its content.
Gainful Employment Information
For more information about ECPI University or any of our programs click here: http://www.ecpi.edu/ or http://ow.ly/Ca1ya.