How Can I Become a Nurse Fast: Is an Accelerated BSN Program Right for Me?
A degree in nursing offers several career pathways, but if embarking on a four-year program to earn your degree isn't appealing, you have other options. If you're the type of person who is serious about their education and career and doesn't want to spend more time than needed getting there, you should consider taking an accelerated Bachelor of Science in Nursing (BSN) program.

Types of Accelerated Nursing Programs
To help you determine whether an accelerated BSN program is right, let's look at the some of the types of accelerated nursing programs generally available.
RN to BSN Programs
This program is designed for students who are already registered nurses with an associate's degree, but want to earn their bachelor's. These RNs are usually ready for more responsibility, comfortable with their nursing skills, and ready to manage junior staff. Many nurses see this as the natural next step in their careers.
Second Degree Programs
If you have a degree outside nursing but want to change careers, then you should consider taking a second degree accelerated nursing program. Once you complete the program, you should receive your bachelor's degree in nursing can you can sit for the NCLEX exam to become a registered nurse.
Traditional Track
This avenue is for those who have no prior nursing experience or a bachelor's degree. They are starting out at the beginning, but are on course to earn a BSN, instead of taking the stepping stones of Licensed Practical Nurse (LPN) or Associate Degree in Nursing (ADN).  This is a popular option for those who are certain they want to be a career nurse and are eager to learn as much as possible during their time in school.
Main Difference between Accelerated BSN Programs and Traditional Programs
If you're planning a life-long career as a registered nurse, then a degree in nursing is mandatory. A study by the American Association of Colleges of Nursing found out that 43.7% of involved hospitals and healthcare providers only sought nurses with BSN. Another 78.6% of hospitals showed a preference for nurses with BSN.
This data suggests that if you don't have a BSN now, you could eventually be required to get one. To decide on the best nursing program to undertake, it's essential to understand the difference between accelerated and traditional BSN programs.
The main difference between those two programs is the time taken to acquire a degree. Traditional BSN program is similar to other degree programs and takes four years to get your degree.
Accelerated programs vary, but sometimes offer degree tracks that could allow students to complete their BSN in as little as two and a half years. Admissions requirements are generally similar to that of traditional colleges, although admissions advisors for accelerated programs will be looking for those who are career-minded and able to handle a heavy workload.
How Can I Decide Which Program is Right For Me?
 Only you will know which program you should ultimately pursue. You need to consider several factors when weighing the pros and cons of accelerated nursing programs. Keep in mind, you will be doing the same amount of work, no matter the college you attend, but an accelerated program is like nursing school with the volume turned up.
Ask yourself the following questions and answer them as honestly as you can:
Can I fit nursing school into my life?
Can I handle stress and deadlines?
Will graduating sooner benefit me more?
Do I have a support system I can lean on when things become difficult?
Am I ready for an intense, accelerated workload?
Do I really want to be a nurse?
Time Management Tips When Undertaking Accelerated BSN
Nursing programs are demanding, particularly if you are taking an accelerated nursing program. Most of the times, you'll be juggling online nursing classes, clinical experiences, and simulation lab sessions. The tips below will help you stay organized and succeed in getting your BSN.
Have a working schedule: always start a new semester by reviewing the curricula and marking all important dates such as assignments dates, clinical hours, and exam dates. You can avoid missing important dates by setting phone reminders and checking your calendar regularly.
Stay organized: you can minimize possible frustrations in a nursing school by organizing all your school and personal works at the beginning of each week. Always keep a daily to-do- list and make sure every task is accomplished before the end of the day.
Practice flexibility: remaining flexible minimizes frustration in case things don't go as planned. For instance, an assignment might take longer to complete than anticipated, don't lose focus over having to rearrange your schedule. Go through your daily tasks and reorganize them based on priority and also have a backup plan in case of the inevitable.
Minimize distraction: some distractions such as spending too much time on social media may seem fun, but in the long run, they end up inconveniencing your schedule. Limit your time on social sites and only login once you complete the tasks on your schedule.
Understand Your Needs in Order to Make the Right Decision
Before you make up your mind that you want to undertake accelerated BSN, you need to determine what your passion is and whether it can be turned into a career. As aforementioned, a nursing program is demanding, and unless you are passionate about it, you won't be able to take on the workload and emotional strain of nursing school.
Are You Ready to Help Save Lives?
If you want to earn a Bachelor of Science Degree in Nursing – Traditional Track, consider ECPI University for your education. With an accelerated format and year-round classes, you could graduate sooner and start looking for work while those in traditional colleges are still juniors. For more information about this exciting opportunity, connect with a friendly ECPI University admissions counselor today.
It could be the Best Decision You Ever Make!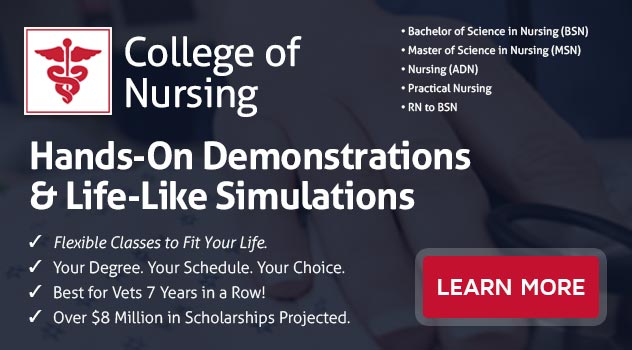 DISCLAIMER – ECPI University makes no claim, warranty, or guarantee as to actual employability or earning potential to current, past or future students or graduates of any educational program we offer. The ECPI University website is published for informational purposes only. Every effort is made to ensure the accuracy of information contained on the ECPI.edu domain; however, no warranty of accuracy is made. No contractual rights, either expressed or implied, are created by its content.
For more information about ECPI University or any of our programs click here: http://www.ecpi.edu/.