How Do Criminal Justice Students Get Experience?
ECPI University's crime scene lab, pictured here, features a realistic mannequin "victim," found in her home.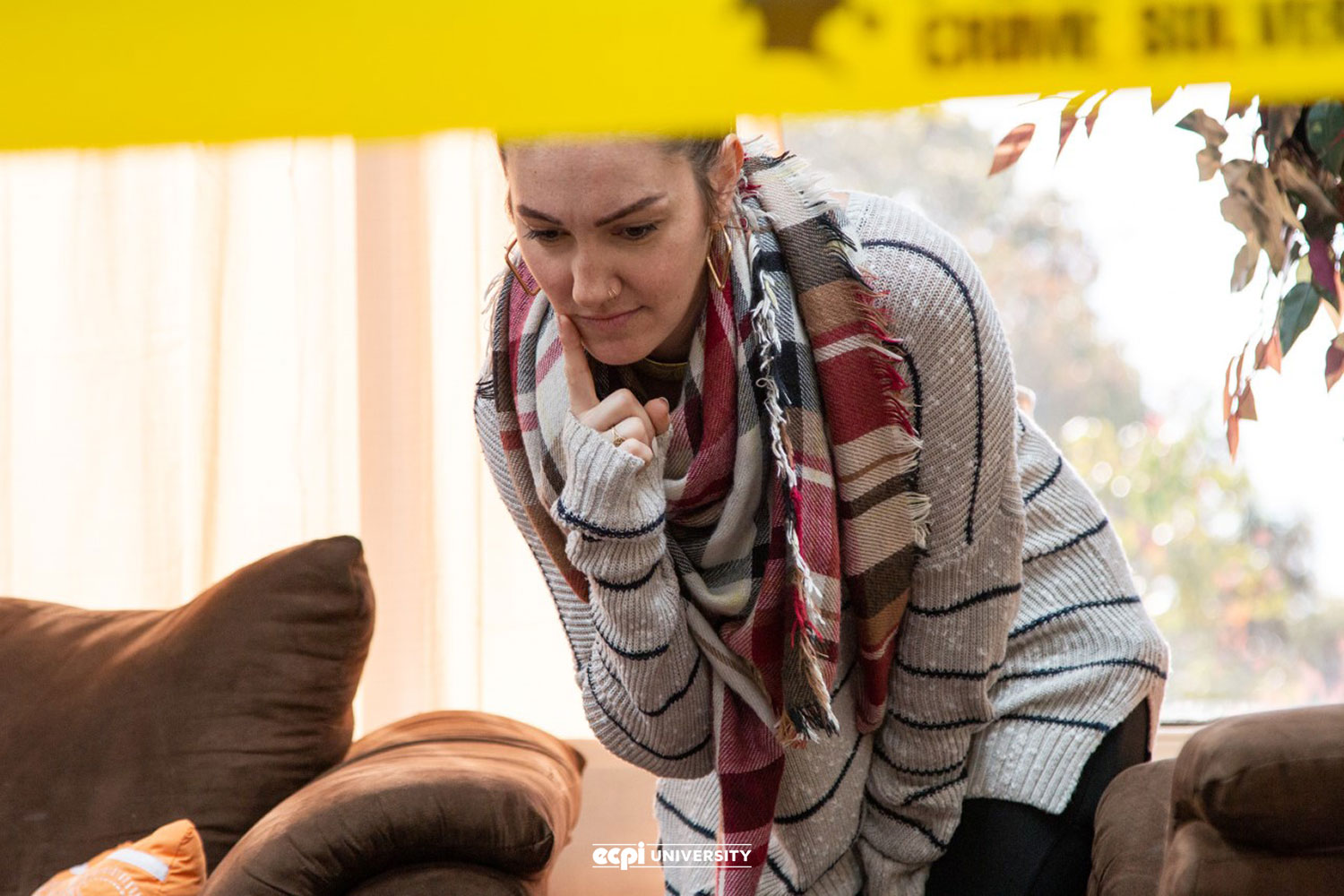 We've all binge-watched a cop procedural show at some point—true crime is a popular entertainment genre with staying power. But criminal investigations are more than a trope on streaming platforms, they're a real job requiring specialized training and education. Criminal Justice professionals apply investigative techniques to crime scenes, collect evidence and interview witnesses, and pursue guilty parties in accordance with the law.
TV would have you thinking this job is mostly running down dark alleys after bad guys. In reality, criminal justice involves more paperwork and mental gymnastics than actual cardio.
CSI: Crime Scene Institution
Every true crime buff knows that most detectives and special agents typically have a background in lower-level law enforcement. What you may not know is that many of them also hold formal educational degrees in criminal justice, or a related major.
Associate and bachelor's degrees in Criminal Justice, Crime & intelligence Analysis, Digital Forensics, and Homeland Security are all wonderful options when you're ready to take this investigation from the TV screen to the streets. A formal criminal justice education could help you flesh out your informal lifelong study of true crime shows, filling in the sensationalized blanks with "just the facts, ma'am."
A Real Life Whodunnit
Criminal Justice students need to learn the basics of law enforcement to build a solid foundation in the industry. But criminal justice is a hands-on field, and nobody wants to be the rookie who faints at their first call.
So how can students get the practical experience needed to keep cool when assessing an actual crime scene? By simulating a real crime scene in the form of a hands-on lab activity. 
Simulated Scene of the Crime
Some—very few—criminal justice degree programs offer precisely this type of hands-on experience in the curriculum. ECPI University's Virginia Beach campus, for example, recently invested in a new lab for the criminal justice degree program that simulates crime scene scenarios with forensic equipment students could encounter in the real-world. By simulating crime scenes and staging evidence, experienced criminal justice instructors like the ones at ECPI University can help their students get a feel for the real deal. 
What might this look like? A crime scene, essentially.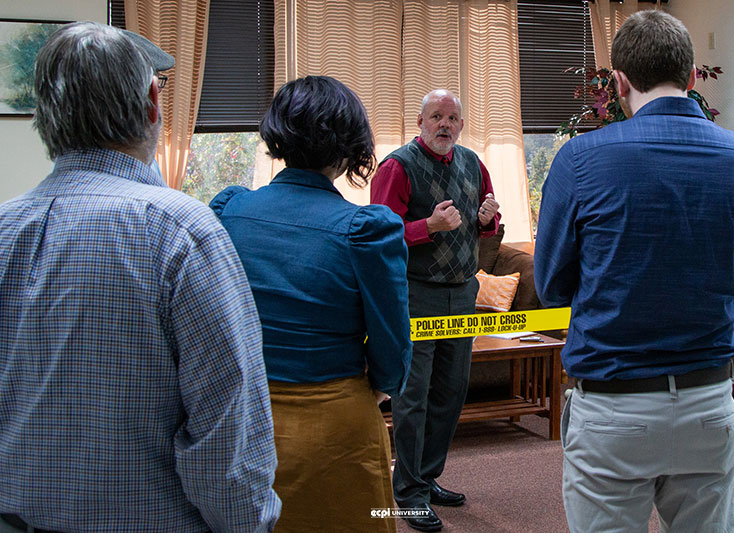 Every detail of a crime simulation must be strategically crafted for criminal justice students to examine. Classroom theory is essential to know, but the real test is whether the students can find and correctly interpret the staged clues, uncover and examine the supposed evidence, and thoroughly comb the scene of the crime.
ECPI University's crime scene lab, pictured here, features a realistic mannequin "victim," found in her home. 
"There are a lot of different teaching modalities," said Don LaDuke, Criminal Justice faculty member at ECPI University (pictured right). "People learn by hearing, they learn by seeing and they learn by doing. I'm a doer. You can tell me all day about something, but until I get my hands on it, that's when I'm going to learn something. I take that approach with my teaching. I like the hands-on component. We learn about crime scenes, situational awareness and documentation."
An excellent criminal justice degree program will also include evidentiary analysis tools and techniques for fingerprinting, witness interviewing, and of course, suspect interrogation. Unlike television, this process could take weeks, months, or even years.
Practicing Interviews & Interrogations
Interviewing witnesses is an important part of solving most cases. Soft skills are crucial for extracting information from people in extreme states of distress (like shock). Interrogating suspects is another important, but very different, part of solving most cases. Certain techniques and methods may be more effective than others, and each case is different. Sometimes an interview may turn into an interrogation. Sometimes interrogation tactics bring new evidence to light.
An industry-driven criminal justice degree program can help you learn the signs of when to interview, when to interrogate, and when to change tactics from one to the other, using hands-on activities to help students learn by doing.
Mastering the Tools of the Trade
The most powerful tools at the disposal of law enforcement officials may surprise you. No, it's not a big gun. No, it's not the symbolism of a badge. No, it's not their partner. As a criminal justice professional, the most powerful tools in your arsenal are your mind, your ears, and your voice.
And a hands-on criminal justice program should encourage you to use them!
Mental Crime Chess
Every crime is like a game of chess. Using the board and the pieces in front of you, can you determine what your opponent was thinking during past moves? Do you know what they're thinking now? Can you predict what they'll do next? Understanding the mental state and motivations of a criminal can make all the difference in how you pursue them—and in the outcome.
A quality criminal justice degree program with realistic lab activities or workshops could help develop these situational critical thinking skills with crime scene simulations like the one above. Students are given free range to examine the crime scene, collect and analyze evidence using real industry-standard forensic equipment, and draw conclusions based on their investigation.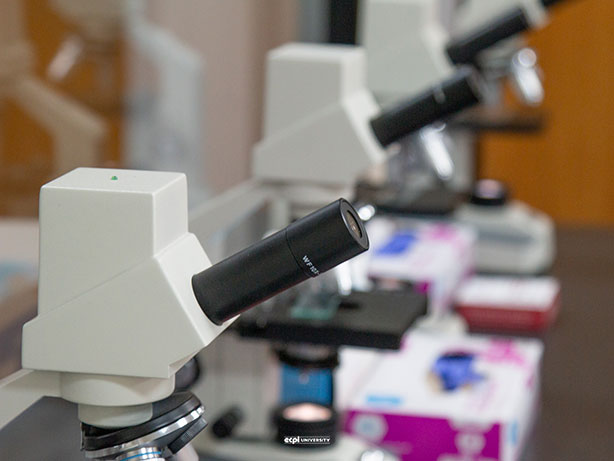 Listen to Understand, Not Respond
We use the word 'criminal' as a broad term for breaking the law, but it is not always intentional, or malicious. Offering a cornered criminal the chance to tell their side of the story can make all the difference in apprehending the suspect, minimizing collateral damage, and closing the case.
A hands-on criminal justice degree program could help develop professional listening skills and teach you how to de-escalate a crisis. Academic institutions may achieve this by bringing in volunteers to simulate various forms of distress, panic, shock, grief, and more, for criminal justice students to gain experience in highly emotional situations.
Speak To, Not At
Many law enforcement calls turn out to be miscommunications or misunderstandings—oftentimes involving an individual with mental health issues who simply needs help. That's why your voice is one of your most powerful tools, and use of force should always be an absolute last resort.
A criminal justice degree program taught by an experienced industry professional should emphasize the full range of tools and soft skills at your disposal, developing real work-ready skills to make a difference.
Forensics & Evidence
Not every criminal justice major wants to be in the field—blood spatter analyst, anyone?
No matter your goals, you'll likely deal with evidence in some capacity. You could learn how to handle evidence without compromising it, how to lift fingerprints from nearly anything, and how to use the same forensic equipment used by real professionals in the industry.
Will You Take the Case?
Not all criminal justice degree programs are created equal, and it's up to you to do your due diligence to find the right school and program for you. A few items for your checklist:
Hands-On: Find a university which emphasizes practical laboratories and simulated exercises for students to gain real-world experience.
Experienced Faculty: Any educational experience is enhanced when taught by a subject-matter-expert who has been there and done that. 
Industry-Standard Equipment: Learning with the same tools used by the pros can only benefit students in the long run. 
Call Off the Search!
ECPI University offers criminal justice degree programs taught by seasoned veterans, with hands-on simulated crime scene labs, using industry-standard equipment. Even better, our courses are accelerated for a faster path to achieving your goals. You could graduate with a Bachelor of Science in Criminal Justice in as little as 2.5 years—and with work-ready skills.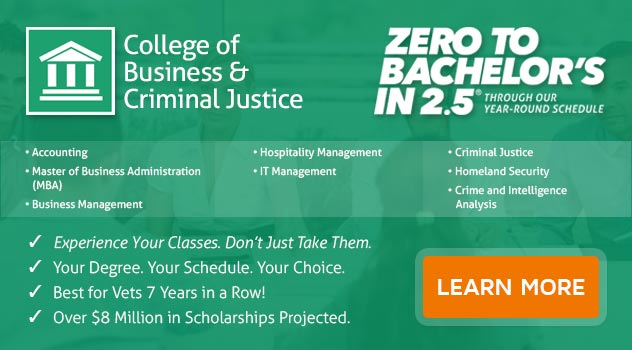 DISCLAIMER - ECPI University makes no claim, warranty, or guarantee as to actual employability or earning potential to current, past or future students or graduates of any educational program we offer. The ECPI University website is published for informational purposes only. Every effort is made to ensure the accuracy of information contained on the ECPI.edu domain; however, no warranty of accuracy is made. No contractual rights, either expressed or implied, are created by its content.