How Do You Become a Sous Chef Through Formal Education?
There is a very clear hierarchy in a restaurant kitchen. The Sous Chef (or Deputy Chef) is a very important role, especially when it comes to the actual preparation of the food as well as assisting the chef in running the kitchen.

Here is the typical hierarchy in kitchens both large and small, though often smaller, less formal kitchens may not include each level of management/service.
The person at the top of the hierarchy is called the Brigade de Cuisine and is responsible for making sure that the kitchen runs smoothly.
The Executive Chef typically manages the kitchen—often several kitchens—if there are multiple outlets. Despite their title, they usually are not responsible for actually cooking the restaurant's food.
The Chef de Cuisine or Head Chef supervises and manages the staff, is responsible for saying on budget and works with the restaurant manager and suppliers to develop new menus.
The Sous Chef or Deputy Chef is a very important role in the kitchen; they share many of the same responsibilities as the Head Chef but are much more involved with the day-to-day operations of the kitchen and kitchen staff.
Do You Want to Become a Sous Chef?
If you are looking for a position as a chef, many choose to become Sous Chefs as they have some authority over the kitchen and often takes the place of the Executive Chef if they are off or on vacation. Often Sous Chefs take that job in hopes of moving into the Executive Chef position.
In order to become a Sous Chef, you will typically study at a respected culinary school as well as have some hands-on experience in a restaurant setting. Many Sous Chefs start their career in low-level positions, some starting out as kitchen helpers and dishwashers just to get some real-life experience working in the industry.
Do You Really Need to Get a Culinary Degree?
While some have contrary thoughts about getting a culinary degree, according to the Website Eater.com, having studied at a culinary school does make a difference. Chef Michael Mina states if someone is just starting out "then yes I'm more inclined to hire someone who has the culinary school background." Chef Suzanne Goin said, "If I see the culinary school background paired with good work experience it tells me that that applicant is dedicated to the field."
Hearing this feedback from highly respected chefs, those looking to become a Sous Chef or pursue a culinary degree should certainly plan on attending culinary school. Those that go to culinary school learn important skills that help them advance in their career. Some of these skills and techniques include:
A variety of cooking methods and principals
Baking and pastry skills
Fabrication of meat, seafood and poultry
Plating and presentation skills
Nutritional information including menu planning, ingredient integrity, nutritional analysis, alternative cooking techniques
Kitchen sanitation and safety skills
Management skills with upper and lower level staff
Food Sourcing, purchasing and storing
Ready to Go Get Your Culinary Education?
Are you interested in becoming a sous chef? If you want to get the education you need to make your dreams a reality and earn an Associate of Applied Science Degree in Culinary Arts, consider ECPI University's Culinary Institute of Virginia. For more information about this exciting opportunity, connect with a helpful admissions counselor today.
It could be the Best Decision You Ever Make!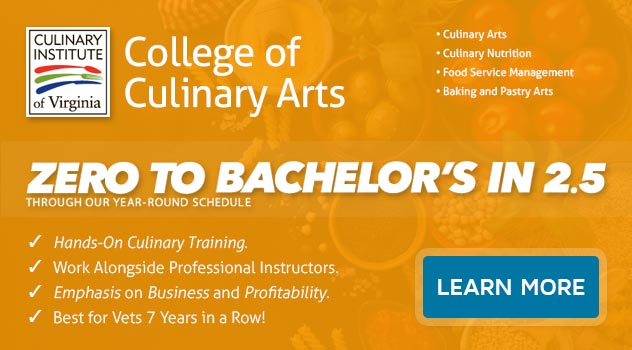 DISCLAIMER – ECPI University makes no claim, warranty, or guarantee as to actual employability or earning potential to current, past or future students or graduates of any educational program we offer. The ECPI University website is published for informational purposes only. Every effort is made to ensure the accuracy of information contained on the ECPI.edu domain; however, no warranty of accuracy is made. No contractual rights, either expressed or implied, are created by its content.
Gainful Employment Information – Culinary Arts - Associate's
For more information about ECPI University or any of our programs click here: http://www.ecpi.edu/ or http://ow.ly/Ca1ya.