IT Management Degree Online: How Long Does it Take?
Information Technology Management can be a rewarding and lucrative career field. But these coveted positions require not only management training, but knowledge of IT functions the employees are responsible for. You might be wondering when you can get your start in this exciting career path. The answer is; sooner than you think with an accelerated college degree program.
What does an IT Manager Do?
Your exact duties will vary based on the type of company you work for and the size of that company. You could be one of a team of IT managers or you could be in charge of an entire department. You could have a specific task, such as managing the helpdesks for a large company. Or you could manage everything digital a smaller company does.
But as a computer and information systems manager, it will be your job to coordinate, plan, and lead computer-related activities within a company. Your biggest goal should be implementing the IT goals and executing the plan for meeting these goals.
What Requirements are there to be an IT Manager?
If you're looking to become an IT manager, you need to know exactly how to get there. First of all, you'll need a bachelor's degree. Although some elect to get a bachelor's degree in a computer science related field and then add in business classes, a degree in IT management can prove incredibly helpful if this is your chosen career path. 
You'll also need some experience. Both in the IT world and in management. This is why it's important to gain lower-level management experience while you're still working. Even if you're just in charge of one person, it shows that you have done this before and you learned from your experience. Five years of experience is usual for someone to move into an IT management position. Your personal career path could have you working more or less, depending on your company and circumstances.
What is the Salary and Career Outlook for IT Managers?
If you're looking to join an expanding field with a great median paycheck, you've found it in IT management. According to the Bureau of Labor Statistics (BLS), IT managers, otherwise known as computer and information systems managers, are estimated to grow 15% from 2014 to 2024. This is more than double the average for other positions.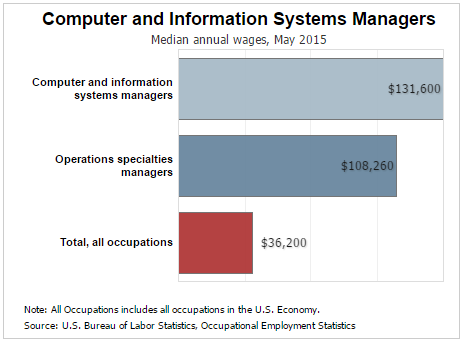 Additionally, the BLS reports that the median pay for a Computer and Information Systems Manager is $131,600 per year. Your rate of pay can be impacted by several factors. These include the field you're working in, your experience and level of education, as well as where you're located geographically. For example, IT managers working in the information field, on average, are paid more than those working in the management of companies and enterprises.
So How Long Will it Take to Earn an IT Management Degree Online?
Traditional college programs can take four years, and sometimes more, to complete. But with accelerated programs, you have the opportunity to earn a bachelor's degree in 30 months, or 2.5 years and do it completely online. There are many benefits to accelerated degrees and, indeed many benefits to online learning. If you're looking to move into IT Management and expand your skills without missing a beat, accelerated learning could be right for you.
Good morning, Tweeters!!!

It's the end of PreCalculus week 4 me

@ ECPI!

THANK GOODNESS!

Diving deep n2 greatness!

Pray 4 me!

Im going in!

♡♡

— ♡TheCheesecakeLady♡ (@mfcdurham) September 23, 2016
If your chosen career path includes becoming an IT manager, consider ECPI University and our 100% Online Bachelor of Science in Business Administration Degree with a concentration in IT Management. Our year-round, accelerated schedule could have you completing your degree in as little as 2.5 years. If you would like to know more, contact a knowledgeable admissions representative today to see if ECPI University is right for you.
It could be the Best Decision You Ever Make!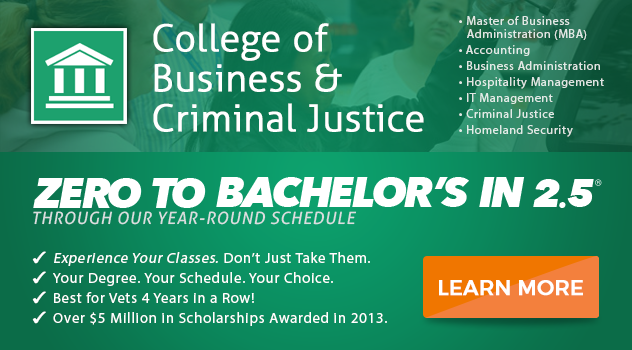 DISCLAIMER – ECPI University makes no claim, warranty, or guarantee as to actual employability or earning potential to current, past or future students or graduates of any educational program we offer. The ECPI University website is published for informational purposes only. Every effort is made to ensure the accuracy of information contained on the ECPI.edu domain; however, no warranty of accuracy is made. No contractual rights, either expressed or implied, are created by its content.

Gainful Employment Information – IT Management - Bachelor's
For more information about ECPI University or any of our programs click here: http://www.ecpi.edu/ or http://ow.ly/Ca1ya.