How Long Does it Take to Get a Masters in Cyber Security Online?
With increasing awareness of the growing cyber threats facing government agencies, organizations, and individuals alike, the field of cybersecurity is experiencing significant expansion. The stakes are incredibly high, the threat is urgent, and there aren't enough highly educated and skilled experts to meet the demand.
Many employers seek a combination of education and experience and are ready to pay high salaries for cyber security professionals with a master's degree or higher. Earning a master's degree in cybersecurity could be the best investment you ever make.
The goal of the cybersecurity graduate programs is to equip you with lifelong learning skills and the ability to defeat cyber threats from theoretical and tactical perspectives. What's more, you could cut down the time spent in school and advance in the field with an accelerated graduate degree program.

Typical Classes in a Cybersecurity Master's Degree Program
Coursework in a master's degree program in cyber security is more intense and focused. The cybersecurity courses are often found in the computer science, engineering, or library science departments, but they're sometimes found in MBA programs in the business department. Coursework in these programs generally covers cryptography, biometrics, digital forensics, cyber law, secure software design, telecommunication systems, risk analysis, and data mining.
The program is designed to prepare students to be sophisticated practitioners and leaders in information technology security. Students are equipped with the skills and knowledge to apply the concepts and principles related to the development and management of information systems that are secure.
Requirements for Master's Degree Seeking Students
The master's degree in cybersecurity is designed for IT executives, professionals, and bachelor's degree graduates who realize the importance of using secure information technology systems to deliver value to customers. Students get practical, theoretical, and applied skills in computer-based information systems and related technologies. They also get a broad perspective of the business aspect of information system technologies.
One of the benefits of earning a cybersecurity master's is the additional leadership and managerial training you'll receive. Usually, these types of business skills are not included as part of the curriculum in most IT undergraduate programs. In order to advance your career and get a high-ranking leadership position, you need to have the right qualities, including strong business acumen. If you want to design state-of-the-art cyber security programs, manage an IT department, or lead an organization in the planning of a cyber-security infrastructure, earning a master's degree could help you land your dream job.
Earning a Master's in Cyber Security through an Accelerated Program
If you already have a bachelor degree and want to earn a master's degree, it is possible to finish your degree in less than the standard study period. In most cases, it takes 2 years to complete a master's degree program (sometimes more).
Through the accelerated alternative, however, you could earn your master's degree in as little as 16 months. An accelerated program is one that features a schedule that allows students to progress through their degrees at a quick pace without sacrificing any education.
The primary difference between an accelerated option and a traditional program is how quickly the curriculum is covered. In an accelerated degree program, students take extra classes during the normal semesters, with no breaks between academic years or semesters. With a year-round schedule, you could finish your master's degree faster than you would in a traditional program.
The Benefits of an Accelerated Master's Program
Save Time: With the accelerated format, you can be able to complete your graduate degree in less than 16 months. You can use the time saved to secure employment or internship opportunities while your peers in the traditional education format are still in school. This will also open more opportunities for you.
Lower Your Potential for Unemployment: In addition to the potential to land you a high-level position, an accelerated master's degree can give you an opportunity to begin earning sooner. A higher level of education comes with a decreased likelihood of becoming unemployed in addition to increased earnings, according to the U.S. Bureau of Labor Statistics (BLS).
Gain a Competitive Edge: Having a graduate degree on your resume can grab potential employers' attention. It can give you a competitive edge over job candidates who did not pursue further education.
Recognition: Being able to successfully complete any degree program is a big achievement. But doing so in record time is even better. The intensity of an accelerated education format comes with very strict requirements. Employers will perceive you as disciplined, dedicated, hardworking, committed, and self-driven- qualities that are desired in cybersecurity.
Are You Ready to Start Today?
Consider ECPI University's Master of Science Degree in Cybersecurity for the education you will need to reach your goals. You could earn the degree in as little as 16 months through ECPI University's accelerated, year-round schedule. Connect with a helpful admissions counselor today to learn more about this exciting program.
It could be the Best Decision You Ever Make!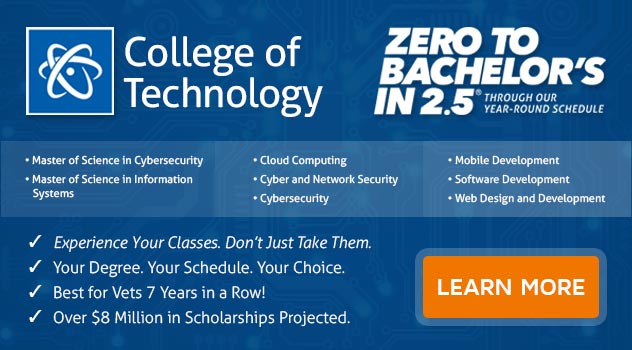 DISCLAIMER – ECPI University makes no claim, warranty, or guarantee as to actual employability or earning potential to current, past or future students or graduates of any educational program we offer. The ECPI University website is published for informational purposes only. Every effort is made to ensure the accuracy of information contained on the ECPI.edu domain; however, no warranty of accuracy is made. No contractual rights, either expressed or implied, are created by its content.
For more information about ECPI University or any of our programs click here: http://www.ecpi.edu/.