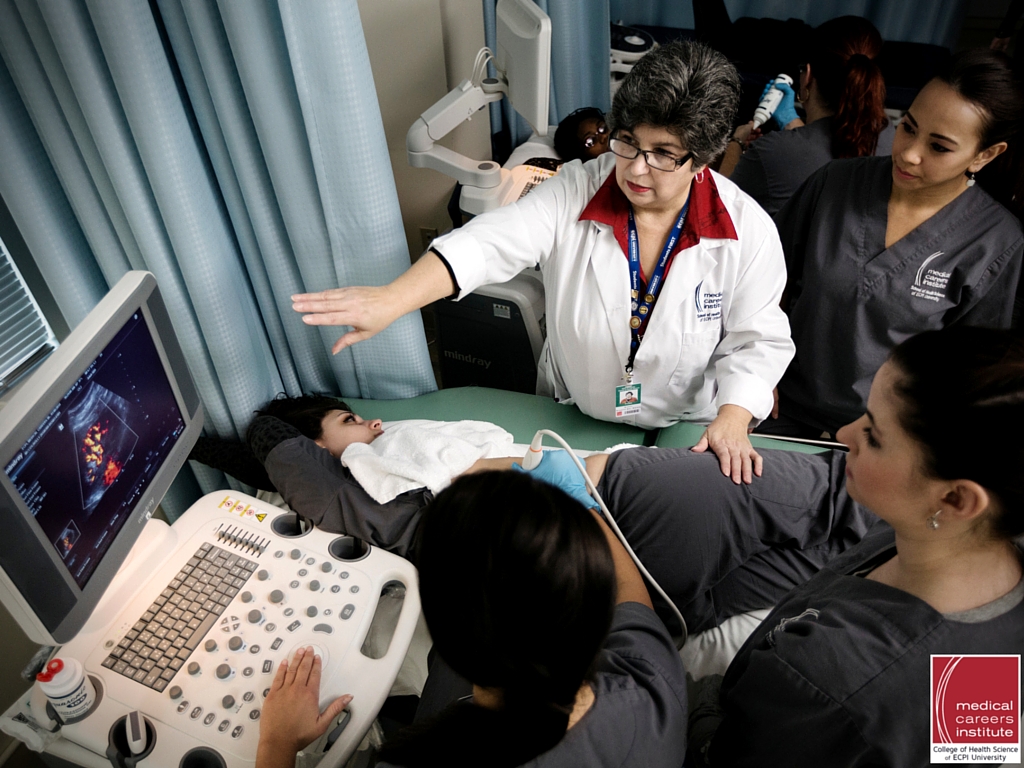 Looking for an interesting job?  Do you like people?  Does learning how to operate complex machines sound like fun?  You might want to consider going to sonography school.
So, Exactly How Long is Sonography School? 
You probably took 5 years to get ready for kindergarten, 9 years from kindergarten through 8th grade, and 4 years to graduate High School.  With all that being said, you will probably be surprised to hear that it could take around 1 1/2 years to get a degree in diagnostic medical sonography.  If you have done all the prerequisites, it is possible that in just 19 months, you may be ready to take the national exam that can qualify you to do an ultrasound on a pregnant mom, or the heart of a cardiac patient.
What Exactly is Sonography?
Sonography uses high frequency sounds (ultrasounds) to make pictures of the tissues, organs and blood flow.   Most people associate sonography with ultrasound images taken during pregnancy.  You may not know that ultrasound images are also used to:
Look for cancer in breast tissue.
Examine the abdomen for abnormalities.
Diagnosis heart conditions and diseases.
Check for blood clots in legs.
Diagnose and treat musculoskeletal problems.
What does a Sonographer Do?
Sonographers place a transducer device against the patient's skin after covering it with a gel that helps the device pick up waves better. The sonographer moves the transducer around as it emits sound waves that bounce back when they hit different internal body structures.  The transducer picks up the waves that bounce back and turns these into a video image which the sonographer records on a computer screen for doctors to analyze. Along with taking the ultrasound images, sonographers may:
Take a patient's history and answer questions about the procedure.
Position the patient and perform the procedure in order to get the best images possible.
Record a summary of observations to communicate with other medical personnel.
Sonographers may also need to manage assistants, perform tasks like scheduling and record keeping, and archive computer images.
Just What Happens in Sonography School?
Sonography programs teach you about the body and how ultrasound machines work.  In sonography school, you learn in the classroom and also have hands-on learning and an opportunity to do a clinical externship. You may learn things like:
How to operate the Ultrasound equipment.
Principles of sonography and the different types of sonograms.
Anatomy and physiology of the human body.
Recording diagnostic data and observations for doctors.
Communication with patients and doctors.
How to position a patient to get the best possible images.
Ethical issues and your responsibilities for patient privacy.
Abdominal Sonography.
Obstetrics and Gynecologic Sonography.

What About Getting Certified in Sonography?
What you learn in a sonography program may give you the opportunity to prepare for exams in sonography offered by the American Registry of Diagnostic Medical Sonographers (ARDMS). The basic exam that you will need to take is called Sonography Principles & Instrumentation Examination (SPI).  After you take and pass that exam, you may want to take specialty exams as well. 
Tell Me, What Kind of Jobs do Sonographers Do?
Sonographers might work in hospitals, medical clinics, diagnostic laboratories, public health facilities or laboratories.  Generally, sonographers specialize in different parts of the body after passing specialty exams. Here are some examples of different sonography jobs:
Breast: evaluating breast abnormalities.
Abdomen: evaluating soft tissues, organs and blood vessels of abdomen
Musculoskeletal: evaluating soft tissues and joints.
Neurosonology: evaluating the spinal cord and brain.
Obstetrics/Gynecology: evaluating the female reproductive system.
Vascular Technology: evaluating the blood flow through blood vessels.
Final Question: Is Sonography a Good Career Choice?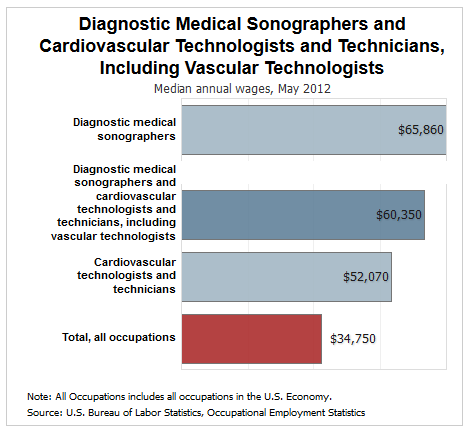 Short answer, yes. According to the Bureau of Labor and Statistics (BLS), Sonographers have a 46% growth rate, which is much faster than average. The median pay for sonographers is $65,860.  
Moreover, Federal health legislation and the aging population makes it likely that employment in sonography will be stable and growing.  In addition, many sonographers work full-time with benefits.
So glad I came to ecpi instead of going back to forsyth tech this is the first time I actually really like school

— Ubuntu (@red2death) August 29, 2013
Does becoming a sonographer sound like a good career for you?  You should consider ECPI University. Because ECPI offers an accelerated, fast-paced program you may be able to complete your degree more quickly. Moreover, ECPI specializes in helping students with busy lives complete their degree by offering small classes, hands-on experience and free tutoring.
If you'd like to learn how long sonography school could take for you, contact ECPI University TODAY to find out about earning an Associate of Applied Science degree in Diagnostic Medical Sonography.  It could be the Best Decision You Ever Make!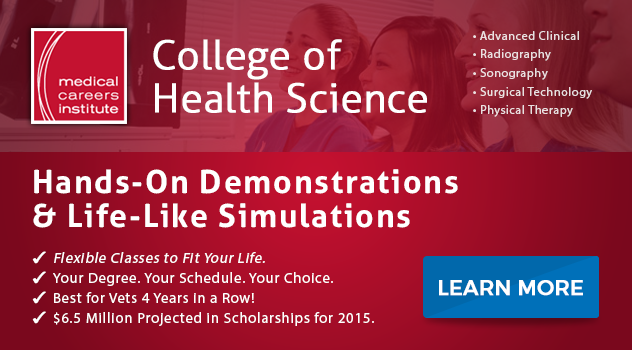 DISCLAIMER – ECPI University makes no claim, warranty or guarantee as to actual employability or earning potential to current, past or future students or graduates of any educational program we offer. The ECPI University website is published for informational purposes only. Every effort is made to ensure the accuracy of information contained on the ECPI.edu domain; however, no warranty of accuracy is made. No contractual rights, either expressed or implied, are created by its content.
Gainful Employment Information
For more information about ECPI University or any of our programs click here: http://www.ecpi.edu/ or http://ow.ly/Ca1ya.