How Many Patients Do Nurses See a Day: What's It like to be a Nurse?
So you want to be a nurse? Awesome. It's time to get yourself a good education, a pair of comfortable shoes, and forget everything you've every seen nurses do on television.
Nursing is a quickly changing profession. According to the United States Bureau of Labor Statistics, advances in technology and treatments means that a nurses' education has never been more important.

And then there are the misconceptions about nurses that are propagated through television and movies. Yes, nurses deal with life, death and everything in between. But not every day is filled with one dramatic episode after another, as programs such as Grey's Anatomy, New Amsterdam, and The Resident would lead you to believe.
Here's a look at what it's really like to be a nurse:
Opportunities Abound
One of the nice things about earning your nursing degree is that you are likely to have a lot of choices when it comes to where they work and what they do -- from hospitals to outpatient clinics to nursing homes and beyond. Not all professions can say the same.
Let's Get Physical
Nurses provide care and comfort. They work by the bed, in emergency departments, and in surgical suites. And they're almost always on the move.
According to a 2006 study, nurses walk between four and five miles over the course of an average 12-hour shift. (This is why nurses are known for investing in comfortable shoes!) In addition, nurses lift and transfer patients, move heavy equipment, are constantly on their feet, and work long hours.
It's a job that is as physically challenging as it is rewarding.
It's Emotional
Nurses get to be there for people during some of the best and worst moments of their lives. Children are born. Health challenges are overcome. People feel pain. And sometimes the patient doesn't make it.
Nursing is an emotional profession. It's also among the most appreciated.
Because nurses are there for people in good times and not-so-good times, they are the most trusted professionals in the country, according to an annual Gallup poll. The care and compassion nurses show to people every day is truly appreciated.
It's Fast-Paced
Nurses work in an array of environments, but all seem to be fast-paced. Depending on where you work, you could be responsible for one patient at a time (in a surgical setting, for example) or up to six patients (in a psychiatric ward). In some settings, such as large, busy hospitals, a nurse could be asked to care for eight or more patients at a time.
Healthcare providers are incredibly sensitive to nurse staffing levels, because they know that research shows that the lower patient-to-nurse ratios lead to better outcomes.
It's Interesting
If you believed everything you saw on TV, you'd probably think that nurses only work in emergency departments or on hospital floors helping people who are gravely ill. And you'd be wrong.
In reality, there are literally dozens of nursing specializations. You can be a clinical nurse, a cardiac nurse, a camp nurse, a school nurse, a community health nurse, a diabetes nurse, or a nurse that specializes in one of any number of other healthcare areas.
Or, if you are interested in business, you could be part of a healthcare organization's leadership team. All of the different specializations are part of the reason a life in nursing is so interesting.
It's Rewarding
In January 2017, Medscape released a report on satisfaction among nurses. The report showed that 95% of nurses surveyed said they were glad they became nurses. The nurses said they simply liked their jobs, enjoyed the relationships with patients and the pride they felt from being part of such a wonderful profession as the reasons why they like their jobs.
And at the end of the day, rewarding work often comes down to your overall happiness--and nurses are happy.
They get to help people. Their work is meaningful. They make a positive difference in their communities, every day.
That's why nurses love their jobs--even after all of the physical and emotional demands, seriousness of the work, and long hours.
Are You Ready to Start Your Nursing Journey?
Are you interested in a future in nursing? If you want to earn an Associate Degree in Nursing (ADN), ECPI University offers this degree at an accelerated rate. For more information, connect with a friendly admissions advisor today.
It could be the Best Decision You Ever Make!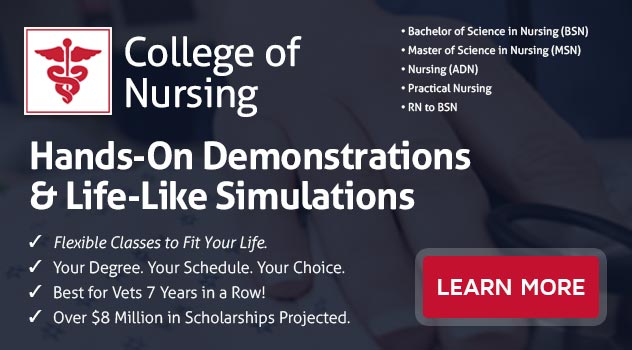 DISCLAIMER – ECPI University makes no claim, warranty, or guarantee as to actual employability or earning potential to current, past or future students or graduates of any educational program we offer. The ECPI University website is published for informational purposes only. Every effort is made to ensure the accuracy of information contained on the ECPI.edu domain; however, no warranty of accuracy is made. No contractual rights, either expressed or implied, are created by its content.
For more information about ECPI University or any of our programs click here: http://www.ecpi.edu/ or http://ow.ly/Ca1ya.