How to Succeed in Culinary School: 4 Tips to Make it Easy
The time you spend in culinary school will be exciting and inspiring. During your coursework, you'll learn new methods of preparing food and become more confident in your abilities. If you want to pursue your passion for creating culinary masterpieces, then enrolling in culinary arts school is a great first step.
However, before you begin classes, it's important to note that culinary arts school, like any other institute of higher learning, takes work and dedication. Even the most passionate and skilled freshman at culinary arts school may stumble if they don't prepare to work hard and become open to new ideas, methods, and working with others. Make sure you are properly prepared for this big career step with the following tips:

4 Tips for Success in Culinary School
1. Develop Strong Study Habits. One of the greatest challenges students have is learning how to manage their time effectively. This is particularly true for those individuals who are juggling work and family responsibilities in addition to their coursework. So when choosing classes and evaluating your schedule, consider your culinary school goals and your overall priorities.
Map our a test schedule, starting with giving yourself two hours of study time for every hour of class time you have (you can adjust this after you see how the 2:1 ratio works for you). Find out what study strategies work best for you, maybe you need to write out your work or retain information best with a study partner.
2. Get Involved. Don't just show up to your culinary arts classes, get involved with them. When you are actively engaged in learning, you will gain a better grasp on the material, which will improve not only your GPA but also your lifelong learning prospects. That said, you don't have to dominate every discussion or volunteer for every head project. But you should sit towards the front of the room where you'll feel more present and more apt to participate in class discussions and projects.
3. Foster Relationships. Connections are everything in this industry, whether you like it or not. Foster relationships now with your classmates, professors, and their assistants. In the short-term, relationships with your teaching instructors will help you better understand the materials in a particular course. Reaching out to such instructors after hours (on their scheduled open hours) is a great way to build good report and find out about key and interesting adjunct material that will help you succeed.
In addition to fostering relationships with your professors, reach out to fellow students. Remember, cooking is not about competition no matter how many reality restaurant shows you watch. Cooking and the culinary arts are about cooperation, about working together with your back of house team members to create delicious menu items.
So drop the solo act now and start reaching out to your fellow classmates to share knowledge and learn how best you can combine your skills with theirs. In the short-term, this will improve your confidence and help you achieve higher grades while in the long-term such relationships can help you network post-school and secure greater job prospects.
4. Build a portfolio. Never forget that it's called the culinary arts. You might not be using oil paint and brushes, but you are still creating beautiful concoctions. Invest in a quality camera and start taking pictures of your best work with detailed outlines of the recipes. Use what you learn in culinary arts school and experiment with your own recipes.
In addition to chronicling and organizing the culinary items you create and master, keep track of all lab and fieldwork you complete. Get written feedback from your professors and any professional chefs you work on and start building a comprehensive resume now.
Remember, students who delay thinking about where to start their career until after their degree is in hand will often come to regret it. All of the above tips will help you not just succeed in culinary arts school, but they will help you leap forward in your career following graduation. Print these tips out, make a list of your own goals, and check in on where you stand every month. Such consistent self-reporting will help you stay on track and improve your career outlook.
Do you want to take your passion for culinary arts to the next level? If you want to earn an Associate of Applied Science Degree in Culinary Arts, ECPI University's Culinary Institute of Virginia offers this program. For more information and to speak to a knowledgeable admissions counselor, connect with us today.
It could be the Best Decision You Ever Make!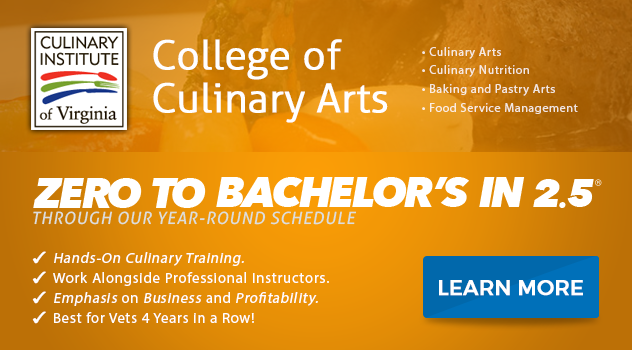 DISCLAIMER – ECPI University makes no claim, warranty, or guarantee as to actual employability or earning potential to current, past or future students or graduates of any educational program we offer. The ECPI University website is published for informational purposes only. Every effort is made to ensure the accuracy of information contained on the ECPI.edu domain; however, no warranty of accuracy is made. No contractual rights, either expressed or implied, are created by its content.
Gainful Employment Information – Culinary Arts - Associate's
For more information about ECPI University or any of our programs click here: http://www.ecpi.edu/ or http://ow.ly/Ca1ya.