Is Being a Chef a Good Career for Someone Who Loves to Cook?
It is easy to spot people who are passionate about food because they are naturally the family cooks, and always gravitate towards serving others. Well, if you have a passion for food, you might be cut out for a career in the kitchen. Here, are reasons why it might be easier for you to become a professional chef.

Learning Could be Easier for You
You need to know that there is a huge difference between cooking as a social skill and being a professional chef. To understand how to navigate the world of professional cooking, you have to go to school. There is a common misconception that chefs cook whatever they want.
The reality is that most restaurants have recipes to be followed. You need the training to understand the basics of making these recipes work. You may indeed get permission to create your recipes when you get to the position of head chef. However, you have to follow instructions as you climb up the hierarchy.
But your previous experience in cooking for both yourself and for large groups of friends and family, could be a benefit. You might have experience doubling a recipe or halving it. You may know the basics of some recipes or already have some knife skills.
You Understand Discipline and Dedication
Being a successful chef does not happen overnight. Being passionate about food does not mean that your restaurant will be an instant hit. Most successful chefs put in decades of work to get to that level. Once you leave the culinary school, you will most likely start your career as a commis chef or a chef de partie. You will have to work under someone until you have understood the recipes and work ethic in that restaurant, then you can begin to climb the ladder.
While most people think that all chefs get to determine their working hours, the reality is that only executive chefs have this freedom. All junior chefs have to stand for long hours and ensure things are in order at all times. Fortunately, if you are passionate and are used to serving others, the long hours will be easy to bear. You'll also know where to get comfortable shoes.
You have Passion and Patience
It's true that not everything you do in the kitchen will be cooking. You could spend your time cleaning, organizing, sharpening knives, or attending to other kitchen matters. But you know that deep cleaning a kitchen is essential to maintaining cleanliness and organizing spices or fridge items means you can find them easier during a hectic dinner service.
You Believe Food is Magical
Although cooking can seem glamourous on TV, if you are not passionate about cooking, you will soon get weary of your career. It could start showing in the quality of the food which you produce.
On the other hand, if you naturally love working with food, every new day in the kitchen will be your opportunity to create magic. Chefs who are passionate about their jobs see the plate as a canvas and the ingredients as the paint they have to use to make a masterpiece. When there is a lot of passion and technical skill behind your food preparation, guests will be able to tell from the taste.
You Value Cleanliness and Orderliness
People who love cooking also love clean and organized cooking spaces. Most restaurants have a strict dress code that chefs have to follow. Someone who has a passion for cooking does not have a hard time following the rules of cleanliness in the kitchen.
Rules include enduring you have your uniform on at all times, wearing the right shoes and keeping all food and work surfaces clean. Most kitchens will have a dishwasher to help with cleanliness, but personal hygiene is also crucial for your career. If you have worked with food before, you understand how important it is to prepare it in clean surroundings. A dirty kitchens could lead to a customer becoming ill or even a health inspector shutting down the entire restaurant.
Why Formal Training is So Important
Passion and love of food can get you far in the culinary world, but formal skill cannot be replaced by enthusiasm. If you want to earn an Associate of Applied Science Degree in Culinary Arts, ECPI University's Culinary Institute of Virginia offers this degree program at an accelerated pace. For more information, connect with a friendly admissions advisor today.
It could be the Best Decision You Ever Make!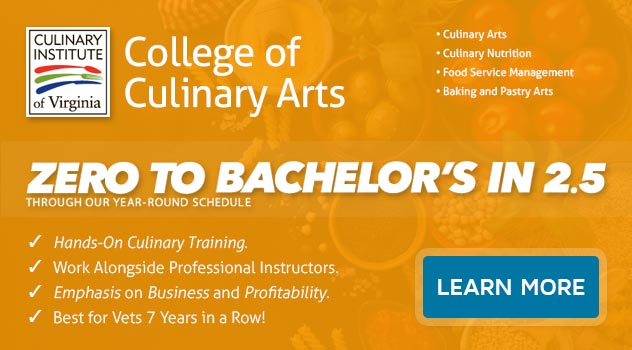 DISCLAIMER – ECPI University makes no claim, warranty, or guarantee as to actual employability or earning potential to current, past or future students or graduates of any educational program we offer. The ECPI University website is published for informational purposes only. Every effort is made to ensure the accuracy of information contained on the ECPI.edu domain; however, no warranty of accuracy is made. No contractual rights, either expressed or implied, are created by its content.
For more information about ECPI University or any of our programs click here: http://www.ecpi.edu/.