Is Mechatronics a Good Career Option for Those Who Like Working With Their Hands?
Henry Ford is widely regarded as the father of the modern assembly lines. He single-handedly revolutionized manufacturing when he perfected the assembly line to produce simple, reliable and affordable cars. This sparked a boom in the invention and use of advanced manufacturing technologies. The use of machines in manufacturing led to faster, higher-quality, and cheaper production in numerous industries.
Currently, manufacturers rely on smart machines to stay ahead of the competition and meet customer expectations while lowering their operational costs. Smart manufacturing calls for special technicians to build, maintain, and repair the machines.
Welcome to the world of a mechatronics engineering technician. Do you love working with your hands? Learn why this could be a great fit for you.

What is Mechatronics?
Mechatronics is an interdisciplinary field of engineering technology. However, it differs from traditional engineering fields by integrating mechanical, electrical, and software engineering concepts. It is focused on designing, building, and maintaining products that borrow from several fields of engineering technology.
This field deals with synchronization of mechanical structures with their control using computer systems. Industrial automation, such as in the use of robots, is a classic example of mechatronics concepts at work.
Is It a Hands-on Profession?
Mechatronics is a very hands-on industry. Your main responsibilities as a mechatronics technician could include:
Assisting in the design of intelligent or robotic equipment
Development of products and constructing prototypes
Assisting other engineers with the design and development of complex projects such as manufacturing plants or ATM machines
Managing mechanical and electrical systems
Testing new devices
Installing new devices
All such responsibilities require you to be practically involved whether as an assistant or taking charge of a project. You will constantly switch from the mechanical part of the job to the electrical and software segments. This involves actively handling the machines, robots, and devices you work on as you design, produce or repair them.
Who is Cut Out to be a Mechatronics Technician?
As indicated above, you will have to work independently or with a team to design, produce or repair automated machines. This calls for certain technical and soft skills that enable you to progress seamlessly in this profession.
The technical skills you need are:
Data sculpting and math skills. You ought to be able to check various structures and identify the datasets that underlie them. You can then use such information to identify significant patterns and explain the relationship between certain data and the data sets linked to them. With such details, you could understand anomalies and regressions in the machines you work with.
System design. You have to understand how small components fit into larger systems in complex machines or automated facilities. This includes a comprehension of how each of the small units communicate and link with the others.
Mechanical capabilities. You should be adept at operating engineering machinery such as grinders, drilling presses, and engine lathes.
IT knowledge. You have to understand data structures, algorithms, and manipulation of computer memory. Such knowledge allows to easily make, run, and repair computerized compartments.
Dexterity. You should be able to use hand tools and soldering rods on small circuit boards and electrical components to develop and repair electronic devices by hand.
The most important soft skills you need are:
Astuteness. You need to record and keep precise measurements to minimize chances of errors in overall factory operation.
Interpersonal skills. You will constantly have to work with other engineers and also under supervision. As such you should be cooperative taking instruction or advice given and coordinate with other professionals to deliver excellent results on assigned duties.
Logical thinking and problem solving. You must be able to read instructions and follow logical sequences when developing engineering prototypes and inspect designs for quality control. However, you should be able to note errors and come up with effective solutions when the need arises.
Writing skills. You should have to constantly report on the progress of any project you have been assigned and such reports should be clear and properly organized.
Why is education important?
You have to get formal training on the four key compartments of mechatronic engineering technology. A degree in the course proves that you understand electrical, mechanical, computer and control systems. Most employers will consider your formal training as well as your employability skills.
Are you ready to take the next step?
Is mechatronics the field you envision yourself working in? Earning a Bachelor of Science in Electronic System Engineering Technology with a Concentration in Mechatronics at ECPI University could be the first step towards a new career. Connect today with a helpful admissions professional to learn more.
It could be the Best Decision You Ever Make!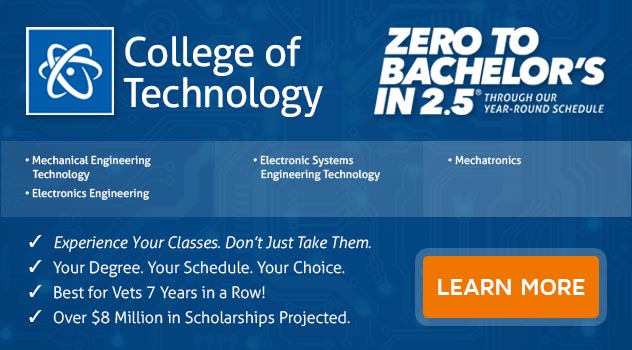 DISCLAIMER - ECPI University makes no claim, warranty, or guarantee as to actual employability or earning potential to current, past or future students or graduates of any educational program we offer. The ECPI University website is published for informational purposes only. Every effort is made to ensure the accuracy of information contained on the ECPI.edu domain; however, no warranty of accuracy is made. No contractual rights, either expressed or implied, are created by its content.
For more information about ECPI University or any of our programs click here: http://www.ecpi.edu/.