Learn Mechatronics Online: Is this the Right Field for Me?
Are you a tinkerer? Do you enjoy working with puzzles, thinking out of the box and solving problems? Are you equal parts mechanically and theoretically inclined? If you answered yes to some or all these questions, then you may want to consider going into mechatronics.
Mechatronics is the scientific term for a combination of different disciplines such as electronics engineering technology and robotics. When you hear the word "robots" you automatically think about the classic bipedal machine, designed to look and behave like humans. In reality, this is only a small part of the mechatronic world.
Mechatronics includes everything in the world of designing and manufacturing of automated equipment. This could be a remote-controlled gate opener to sophisticated appliances found on rockets and space equipment.

Career Options in Mechatronics
Jobs in mechatronics can be divided into two categories; maintenance and design jobs. Design work will also entail manufacturing duties. Therefore, the education you get for each position will be different.
Whichever discipline it is, the end goal is the same. Which is to produce and maintain safe, reliable, and cost-effective automated products for people to use. Mechatronics technicians will work alongside engineers and even scientist to inspect and troubleshoot automated devices.
Mechatronic technicians can apply for jobs anywhere automated equipment is used. Examples of some possible job titles include:
Engineering Consultant
Electrical/Computer Engineering Technologist
Industrial Engineer
Product Engineer
Project Manager
Project Coordinator
Education Requirements
Mechatronics is considered to be an interdisciplinary task. The education will generally reflect that. Degrees will include studies in mechanical, electrical, and software engineering. For those of you who want to become a technician, you usually need at least an associate's degree to break into the field and a bachelor's degree to take on more responsibility. The reason why mechatronics degrees need to cover several different disciplines is simple.
An automated mechanical device or robot consists of mechanical parts, electronic items, and the "brain" or the computer to control it. Later on, when you get a job as an engineer or technician, you do have the option of specializing in a specific area. For example, if your computer skills are better than the other disciplines, then you will be able to chart a career based on that. Whatever career path you choose in mechatronics, the bottom line is that you typically need a degree to pursue it.
Education Options
For those of you, who are thinking about going to college, or already have a career but want to switch to a new field, then it is time to take a close look at getting a degree online. Yes, it is possible to get a degree in a science-based field by attending online schooling. Schools now adapt assignments, tests, even labs for online work. The benefits of getting a degree are many. The main ones are:
Not having to travel to campus every day
Attend classes during off-hours at your convenience
Hold down a job while attending college
Attend to family responsibilities without disrupting your life
Time to Grab Your Future in Mechatronics with ECPI University
Are you interested in the world of mechatronics? If you want to earn a Bachelor of Science in Electronics Engineering Technology with a Concentration in Mechatronics, ECPI University offers this degree program at an accelerated pace and completely online. For more information, connect with a knowledgeable admissions advisor today.
It could be the Best Decision You Ever Make!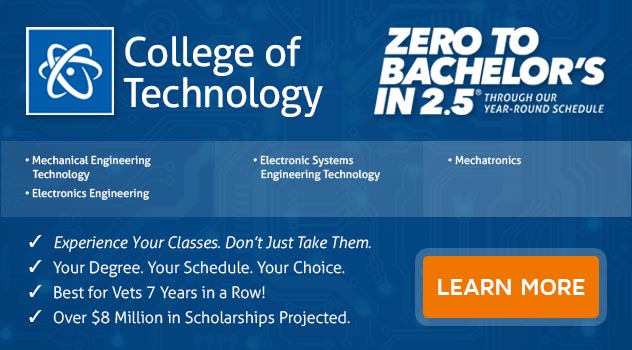 DISCLAIMER – ECPI University makes no claim, warranty, or guarantee as to actual employability or earning potential to current, past or future students or graduates of any educational program we offer. The ECPI University website is published for informational purposes only. Every effort is made to ensure the accuracy of information contained on the ECPI.edu domain; however, no warranty of accuracy is made. No contractual rights, either expressed or implied, are created by its content.
For more information about ECPI University or any of our programs click here: http://www.ecpi.edu/.