Learning How to Become a Chef: Is a Degree the Best Route for Me?
Ready to embark on a culinary career? You may have a lot to learn first. Talent and experience will help you thrive as a chef, but if you have your eye on that tall white hat, knowing how to cook is just one part of the picture. It's also just one part of a chef's formal education.
Professional chefs have dozens of skills and responsibilities beyond preparing delicious dishes, and learning and mastering them is one of the biggest benefits of a culinary arts degree. If you're considering a career as a chef, it's important to know exactly how culinary school could prepare you for the demands of your dream job.
So, what gives educated chefs an edge? Here are some of the most important skills you'll need as a chef – and learn as a culinary arts student:

Perfecting Different Culinary Techniques and Styles
Whether you have restaurant experience or you just follow the culinary world, you probably know that some chefs never get a formal education on their way to the top. Hands-on experience is a huge part of any chef's journey, and it's often the only requirement for finding work as a chef. However, you don't have to choose between learning on the job or earning a degree.
As you pursue your associate's degree, your coursework will include hands-on training from professional chefs in working kitchens. Instead of picking up different culinary techniques and styles from different bosses throughout the years, learn them directly from chefs who are focused on guiding you and sharing their own tips and unique backgrounds.
Interactive lessons give you an opportunity to develop new techniques and establish efficient habits in the kitchen, and externships offer even more opportunity to develop and diversify your kitchen skills.
Developing and Designing a Menu
Restaurants revolve around their menus, and chefs are responsible for developing menus that are both appetizing and on-brand. Much more than just a list of available dishes, a menu tells a story about the experience you're going to provide for diners, from the freshness of your food to the ambiance of your dining area.
As a culinary arts student, you should learn how different menu design choices – such as the number of menu items and amount of white space between them – may change people's perceptions and influence their choices.
Of course, word choice is just as important as graphic design, so vocabulary and tone is an important part of your formal training too. Language affects everything from appetite to financial expectations, and yours should be consistent with the food you serve and the demographic you hope to attract.
For example, according to the New York Times, researchers found that cheaper menus have wordier descriptions, while more expensive menus use longer words (18 cents per extra letter, to be specific). Learning how to become a chef includes learning which words to use – and when.
Making Food and Beverage Purchases
Chefs are responsible for keeping their kitchens stocked and prepared, and that includes making food and beverage orders that reflect their kitchens' current needs. After all, restaurant budgets are often airtight, and you don't want to run out of food – or let ingredients go bad before they're used. Of course, the source of each ingredient is crucial too, because you want to work with reliable suppliers who charge fair prices and deliver fresh, high-quality ingredients.
Chefs must establish and maintain good relationships with all of these suppliers, from farmers and butchers to liquor vendors and brewers. They also need to anticipate their kitchen's food and beverage needs, figuring out which ingredients to order, how many, and when they will need them. During your culinary arts education, you should learn the business aspects of running a successful kitchen, including the ins and outs of sourcing and purchasing your ingredients.
Training and Supervising Kitchen Staff
Restaurant kitchens are especially fast-paced, high-stress workplaces. From the head chef to the line cooks and servers, everyone on the team must pull off time-sensitive tasks while avoiding risks that range from bland and burnt dishes to food poisoning. Chefs are creative, hands-on supervisors, but they're still supervisors, so they must know how to train and manage their staff to handle all these demands every day, and it's a delicate balance that can take years to perfect.
As a chef, it will be your responsibility to make sure your kitchen staff stays on schedule, works together well, and follows proper hygiene and safety rules. During culinary school, you will learn how to plan and delegate all the kitchen tasks that support your own work, from washing dishes to laying garnishes, and how to train employees properly and effectively.
Are you interested in becoming a chef? If you want to earn an Associate of Applied Science in Culinary Arts, ECPI University's Culinary Institute of Virginia offers this degree at an accelerate pace. For more information on this exciting opportunity, connect with a helpful admissions officer today.
It could be the Best Decision You Ever Make!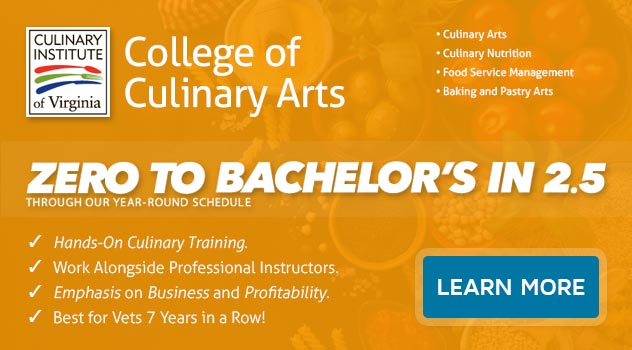 DISCLAIMER – ECPI University makes no claim, warranty, or guarantee as to actual employability or earning potential to current, past or future students or graduates of any educational program we offer. The ECPI University website is published for informational purposes only. Every effort is made to ensure the accuracy of information contained on the ECPI.edu domain; however, no warranty of accuracy is made. No contractual rights, either expressed or implied, are created by its content.
Gainful Employment Information – Culinary Arts - Associate's
For more information about ECPI University or any of our programs click here: http://www.ecpi.edu/ or http://ow.ly/Ca1ya.