Learning How to Cook in College: Could a Formal Degree Help Me Become a Chef?
A vocation as a chef may start with an inner sense of belonging marked with the joy that comes from pleasing people with hearty dishes and a fascination with food. However, for you to become a chef requires more than the zeal that drives you towards making mouth-watering meals.
You may decide to take the long road towards becoming a chef with no formal education, but that could deny you the chance of acquiring valuable skills only obtainable through a degree. Let's take a look at some of the benefits of earning a culinary arts degree and how this could impact your journey as a chef.

Benefits of Formal Degree in Culinary Arts
Much as you may learn everything about cooking while on the job, a college degree takes an all-rounded approach to your training, ensuring that you gain practical skills that will enable you to get started as a chef. Even if it means starting a business of your own. Some of the key classes you will learn apart from cooking include keeping a ledger, people management, and a bit of logistics, how you can brand yourself and stand out as a chef, and how to manage your time.
While pursuing a formal degree in culinary arts, you will benefit from the targeted attention you will receive from your instructors. This is much different from the divided attention of your trainer during an apprenticeship or any other on-the-job training.
A formal degree also sometimes has the benefit of an externship through which you get to learn about the skills of the professionals in the industry and enhance your own techniques and skills in cooking. It will also enable you to obtain some real world experience.
Lastly, learning on the job may not work out for some people since the workplace is a high-stress environment that is not cut out for training newbies. A formal degree, on the other hand, should give you the kind of environment where you can learn peacefully and comfortably make mistakes instead of having the burden of ruining someone's dinner while you're still learning. This alternative to a culinary degree would be intimidating and somewhat risky and would require a lot of self-discipline and self-motivation on the part of the trainee.
Added to that is the fact that you really don't know what kind of mentor you might get when you're learning on the job as opposed to a culinary degree where the instructors have been trained to impart knowledge. Not to mention, there are many culinary instructors at a school. So you could learn from multiple people who have multiple fields of expertise instead of one person who knows how to do one thing really well.
How Culinary Degree Could Help You When You Move into the Workforce
A culinary degree should give you confidence in the skills you have obtained and this goes a long way in assuring your prospective employer that you can deliver the results they require. The knowledge you earn through a culinary degree could help make your transition into a professional kitchen much easier than it would be otherwise. The degree also generally teaches kitchen and safety life skills which are invaluable when you are in the workforce.
Having a culinary degree also opens the opportunity to a variety of options for the upcoming chefs so that they don't only have to work within a restaurant to apply their new-found skills. One can do research and development, or take their skills to the high seas and work on a cruise line.
Chefs with Degrees Generally have More Advantages than Those Who Don't Have
Having a college degree in culinary arts gives you the opportunity to network with other players in the industry, unlike learning on the job. At the college, you should have the occasion to meet other chefs and leaders in the foodservice profession, as well as prospective employers.
A culinary college may also have a job placement office open to alumni throughout the course of their careers. This helps to make looking for a job much easier than when you only received training on the job.
Since a college degree in the culinary arts opens the mind to a multitude of possible career paths, it is much easier for a culinary arts graduate to change careers after making an informed decision. Through the degree, there is a framework that makes it possible to see that there are other jobs involving food and cooking, and the student can stir up hidden passions in the same field. The fact that you have discovered your passion is a sure way to succeed either as an employee or one who is running their own business.
Start Your Culinary Classes at ECPI University
Are you an aspiring chef looking for ways to gain relevant skills and experience? You can enroll for an Associate of Applied Science in Culinary Arts at the ECPI University's Culinary Institute of Virginia. For more information about this exciting opportunity, connect with a helpful counselor today.
It could be the Best Decision You Ever Make!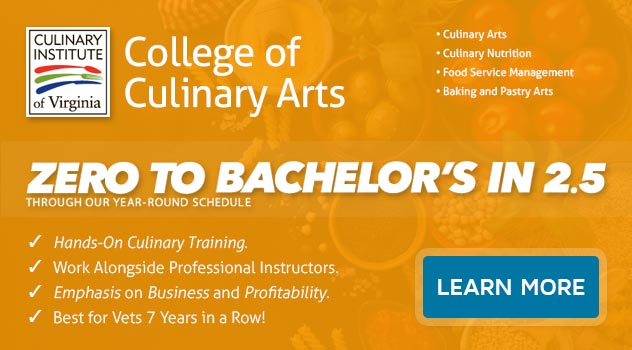 DISCLAIMER – ECPI University makes no claim, warranty, or guarantee as to actual employability or earning potential to current, past or future students or graduates of any educational program we offer. The ECPI University website is published for informational purposes only. Every effort is made to ensure the accuracy of information contained on the ECPI.edu domain; however, no warranty of accuracy is made. No contractual rights, either expressed or implied, are created by its content.
For more information about ECPI University or any of our programs click here: http://www.ecpi.edu/.