National Nurses Week Celebration at ECPI University
Time to Honor Nurses and Convince More People to Join Their Ranks
Every year, the Gallup organization conducts a poll to determine the most respected professions, and for the last 16 of those years, nurses have sat atop the list as being the most honest and ethical of professions. It would be difficult to overstate the importance of nurses and what they contribute to the healthcare profession as a whole. Yes, they bring a great deal of clinical skill to the table, but equally important is the comfort and compassion they extend to patients and their families.
In an article she wrote for The Atlantic, Rebecca Grant talked about her family's experience with nurses when her mother was rushed to the hospital for an aneurysm, saying that "it was nurses that got us through that time with our sanity intact. Nurses checked on my mother—and us—multiple times an hour. They ran tests, updated charts, and changed IVs; they made us laugh, allayed our concerns, and thought about our comfort. The doctors came in every now and then, but the calm dedication of the nurses was what kept us together. Without them, we would have fallen apart."

And that is why it is especially alarming that America is in the midst of a serious nursing shortage. Why? First off, it's not because nursing is an undesirable profession. Most nurses love what they do. There are actually two reasons. One, baby boomers are getting older which means they are creating greater demand for healthcare. According to a report by the American Association of Colleges of Nursing, the total number of job openings for nurses due to growth and replacements is projected to reach 1.09 million by 2024.
Moreover, the American Journal of Medical Quality issued a shortage forecast for each state. It estimates that 30 of them will receive a grade of "D" or "F" by the year 2030. Just look at these five states alone:
Virginia – F
North Carolina – D
South Carolina – D
Florida – F
Texas – F
The other reason for this shortage is a bit shocking. Many colleges and universities appear unable to expand their programs to accommodate more students. According to a report by CNN, nursing schools turned away more than 56,000 qualified applicants from undergraduate nursing programs in 2017.
That's why more and more students are turning away from those schools and enrolling at ECPI University. When Charleston resident Nicholas Roberson began looking at nursing schools, he checked in with his local community college and found they had a two-year waiting list, despite the fact that South Carolina is one of the states suffering a nursing shortage. "I did not want to wait that long," he says. "I felt like if I didn't make a change then and there, I was going to be a pipe welder the rest of my life." So, he enrolled at ECPI University. Now, this former Army Ranger is registered nursing working in the emergency room of a Charleston-area hospital.
So if you've ever considered a career in nursing, take a look at ECPI University. We understand the importance of preparing people to become effective, well-educated nurses. That's why we've expanded our capacity and we're prepared to do our part to address the growing nursing shortage. With campuses throughout Virginia, North Carolina, South Carolina, and Florida, you have plenty of choices for you to earn a Practical Nursing, Nursing (RN) or RN to BSN degree. We also offer a unique program at out Orlando campus called the Bachelor to BSN Nursing Program which offers you the opportunity to turn your Bachelor of Arts (B.A.) or Bachelor of Science (B.S.) degree into a Bachelor of Science in Nursing (BSN) in as little as one year through our fast track nursing program (some perquisites required).
In fact, all of ECPI University's programs are delivered in an accelerated, year-round format. For example, you can earn a Nursing (RN) degree in as little as 18 months or a diploma in Practical Nursing in just 15 months. Therefore, during this National Nurses Week, we celebrate some of the most important people in healthcare, and extend to you an invitation to learn more about ECPI University's College of Nursing. Why not take a moment and connect with one of our helpful admissions advisors?
It could be the Best Decision You Ever Make!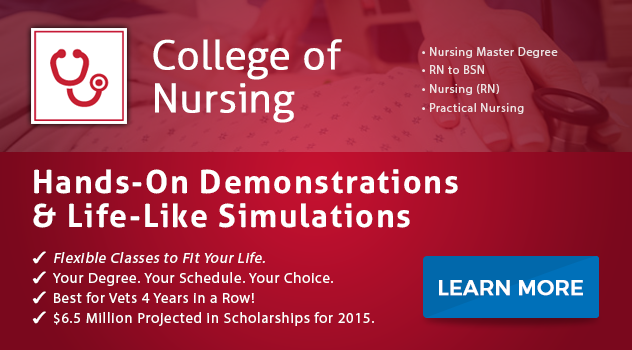 DISCLAIMER – ECPI University makes no claim, warranty, or guarantee as to actual employability or earning potential to current, past or future students or graduates of any educational program we offer. The ECPI University website is published for informational purposes only. Every effort is made to ensure the accuracy of information contained on the ECPI.edu domain; however, no warranty of accuracy is made. No contractual rights, either expressed or implied, are created by its content.
Gainful Employment Information – Master of Science in Nursing
Gainful Employment Information – RN to BSN - Bachelor's
Gainful Employment Information – Bachelor's to BSN
Gainful Employment Information – Nursing (RN) - Associate's
Gainful Employment Information – Practical Nursing – Diploma
For more information about ECPI University or any of our programs click here: http://www.ecpi.edu/ or http://ow.ly/Ca1ya.