New Culinary Techniques and Trends Each Future Culinary Arts Student Needs to Know
A job in the culinary field is exciting, fast-paced and requires a lot of hard work. There are always new food trends coming into focus, so part of a chef's job is to stay ahead of new culinary trends and techniques.

As a newcomer, you should already possess some of the top techniques in the kitchen, following your educational background. Some of the skills you should learn include:
Mise en Place and Kitchen Organization
Cooking Methods & Principles
Baking and Pastry Fundamentals
Fabrication of Meat, Seafood, and Poultry
Applied Culinary Nutrition and Healthy Cooking
What's on the plate in 2019?
As we launch into 2019, the well-respected Michelin Guide, which awards coveted stars to the top restaurants around the world, has published their list of some of the food trends we may expect to see on "food-forward" restaurant menu's this year.
The Increase of Pacific Rim Inspired Flavors: While Pacific rim flavors have continued to gain in popularity, foods made popular in Hawaiian and Vietnamese cultures will more to the forefront. Popular ingredients will include dried shrimp and cuttlefish, spices like cardamon, lemongrass and saffron and fruits like guava, dragon fruit and passion fruit in everything from smoothies to exotic cocktails.
Marine-based Ingredients: Expect to see more food products originating from the sea making their way to our plates. Kelp, seaweed butter, roasted seaweed strips will become more commonplace. Sea fennel, water lily seeds and "faux tuna" created from marine algae will also be showing up on our shores.
Plant-based Protein: Manufacturers are working on plant-based, natural ingredients that taste more like meat and contain more protein and iron typically found in plant-based foods. Ingredients in these "meat" products may include wheat protein, coconut oil, potato protein, soy and pea proteins and rice.
Media outlet Food & Wine shared the trends that some of today's top chefs expect to see in the restaurant industry in 2019:
Increase in Latin American Cooking: Top chef and cookbook author Michelle Bernstein expects to see more chefs from Central and South American opening restaurants in the U.S. featuring cuisines from Mexico, Cuba, and Venezuela.
Smaller Format Restaurants: Chef Daniel Boulud expects to see more, "elevated bars and lounges where drinks and food items are unique and experimental." He feels that counter dining, open kitchens, tasting menus and chef interacting with patrons will rise in popularity.
Sourcing Transparency: With people being more concerned with where their food is coming from, chefs will be more careful about the food they choose to put on their menus, where the food comes from and including that sourcing information on their menus, said chef Jean Imbert.
How Do Chefs Stay Ahead of Culinary Trends?
Staying ahead of trends is important for new and upcoming chefs so they can stay ahead of their competitors. There are many ways in which they can accomplish this, first joining organizations where other culinarians, restaurant owners and chefs make up the membership. Also, searching internet sites for the newest "tastes" coming from different regions of the world.
Travel is also a great way to explore different regions of the world and try local delicacies that deserve to make it onto the menu. New culinary graduates don't need to come up with full entire meals, often a trip to the local farmers market can introduce up and coming chefs into new spices and herbs that they can use to change the taste profile of favorite recipes.
As restaurant owners continue to look for innovative young chefs to join their kitchens, those that show top skills, professional food preparation and the use of innovative flavors will be remembered long after their competition has turned out their traditional plates.
Choosing the Right School to Start Your Culinary Career
Culinary professionals can position students well for a wide range of positions in many different venues like:
Restaurants
Hotels/resorts
Cruise lines
Catering
Hospitals and retirement communities
Corporate dining
Bake/pastry shops
Schools/educational settings
Getting a proper culinary education can put you ahead of other job candidates vying for "your job."
Are You Ready to Take the First Step?
Are you interested in culinary arts and want to make a career out of it? If you want to earn an Associate of Applied Science Degree in Culinary Arts, ECPI University's Culinary Institute of Virginia offers this degree at an accelerated pace. For more information, connect with a friendly admissions counselor today.
It could be the Best Decision You Ever Make!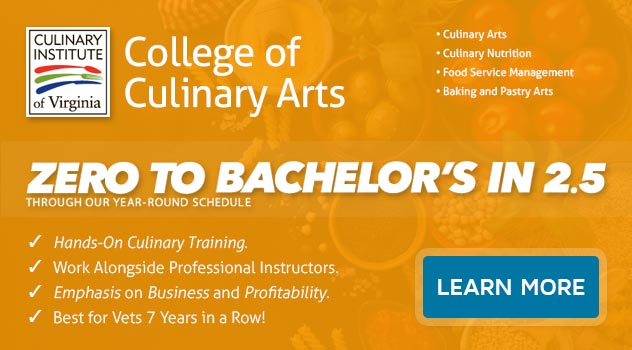 DISCLAIMER – ECPI University makes no claim, warranty, or guarantee as to actual employability or earning potential to current, past or future students or graduates of any educational program we offer. The ECPI University website is published for informational purposes only. Every effort is made to ensure the accuracy of information contained on the ECPI.edu domain; however, no warranty of accuracy is made. No contractual rights, either expressed or implied, are created by its content.
Gainful Employment Information – Culinary Arts - Associate's
For more information about ECPI University or any of our programs click here: http://www.ecpi.edu/ or http://ow.ly/Ca1ya.