Occupations in Advanced Manufacturing in North and South Carolina
North and South Carolina have long been centers for manufacturing, particularly of textiles and apparel. The industry has been in decline over the last quarter century, however, as many jobs have gone overseas, and mills and manufacturing plants have shut down. That said, the Carolinas have been hard at work reinventing themselves in recent years through advanced manufacturing technology. The results in terms of jobs and business growth are encouraging, as the manufacturing industry evolves in new and exciting ways, and adapts to a changing world.
Today, industry leaders are predicting a bright future and a resurgence of manufacturing in both states -- thanks largely to advances in technology.

Manufacturing in the Carolinas Today
To be sure, the factories and plants that are being created today don't look a lot like the ones of yesteryear. They're cleaner, more efficient, and rely on high-tech processes to make them function.
Robotics is just one type of advanced manufacturing technology that is fueling the revolution in how goods are produced. Robotics has been employed in the auto industry for many years to replace low-tech workers doing repetitive tasks, and is helping to keep automobile manufacturing in the Carolinas competitive.
In fact, one of South Carolina's more spectacular manufacturing success stories is in the auto industry and helps lend support for industry leaders' optimism: Since BMW first built a plant in Charleston in the early '90s, yearly production of BMWs has risen to $10 billion, and has helped boost South Carolina to the position of no. 1 U.S. exporter.
Closely allied to the auto manufacturing industry in South Carolina is the production of automotive parts, components, and commutators, as well as high-tech sensors and tires.
North Carolina, in addition to production of textiles and apparel now using advanced manufacturing methods, is a leader in aerospace products and parts manufacturing, as well as pharmaceutical manufacturing, and manufacture of a wide spectrum of goods -- everything from high-quality electronics and power tools to carbon fiber and advanced composite parts.
A New Kind of Worker
The major difference between low-tech manufacturing of a generation ago and today's high-tech manufacturing is the skilled worker. As mentioned above in regard to robotics, the low-skilled, repetitive tasks that factories were noted for throughout much of our industrialized history are mostly gone and robotics has replaced those who performed the tasks.
What is needed now is highly skilled workers with expertise in not only mechanical engineering but also electronics engineering and computers. Mechatronics offers an example of a field where designers, engineers, and technicians work across disciplines to create and produce new systems and controls that combine electronics, mechanical engineering, and computer technology.
Workers in advanced manufacturing are needed in a variety of capacities, in addition to robotics. Here are some of the types of technology you might work with:
high performance computer -- using supercomputers for modeling, simulation, and analysis
rapid prototyping -- techniques that help to rapidly fabricate a scale model or a part or assembly by means of a three-dimensional computer-aided design. 3D printing maybe used to produce the part.
information technologies (IT)
automation
green and sustainable processes/technology
scalability -- ability to manufacture high or low volume
Skills Gap
Obviously, the workers who are most needed for these industries will need a higher level of training than factory workers of the past will. As Baby Boomers retire, and a new workforce enters the field, manufacturers are reporting a skills gap -- that is, there are simply not enough qualified workers to fill jobs. Manufacturers are finding ways to overcome this shortage by collaborating with trade schools and specialized vocational training centers to produce the workers they need. Often, they're helping students complete courses of study leading to associate or bachelor degrees in fields related to advanced manufacturing, such as mechatronics.
Are you interested in a future in advanced manufacturing? If you want to earn a Bachelor of Science Degree in Electronics Engineering Technology with a concentration in Mechatronics, ECPI University offers this program at an accelerated pace. For more information about this exciting degree, connect with a knowledgeable admissions representative today.
It could be the Best Decision You Ever Make!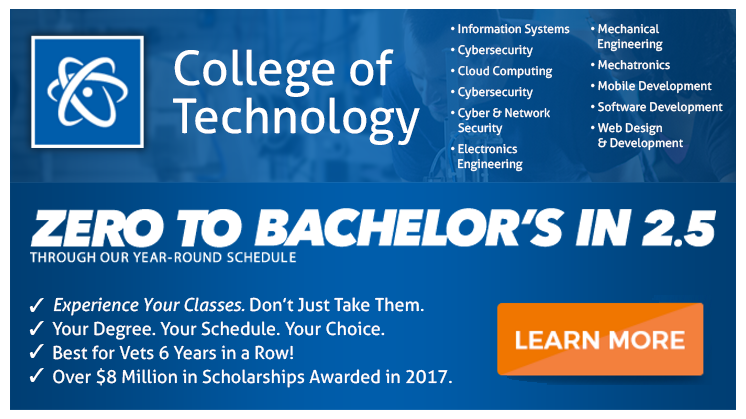 DISCLAIMER – ECPI University makes no claim, warranty, or guarantee as to actual employability or earning potential to current, past or future students or graduates of any educational program we offer. The ECPI University website is published for informational purposes only. Every effort is made to ensure the accuracy of information contained on the ECPI.edu domain; however, no warranty of accuracy is made. No contractual rights, either expressed or implied, are created by its content.
Gainful Employment Information – Mechatronics - Bachelor's
For more information about ECPI University or any of our programs click here: http://www.ecpi.edu/ or http://ow.ly/Ca1ya.