Public Vs. Private Sector Cybersecurity Work: What Education Do I Need For These Jobs?
The current economic and social environment is driven by data. From company information to personal records, data is used to derive valuable insights that can help businesses make better decisions. However, the security of this data still remains in question.
There have been many cases where cyberattacks on popular companies have caused significant financial loss. For example, the data breach that affected Starwood customers of the Marriot chain of hotels affected nearly 500 million guest accounts. Data breaches can also prove very costly. When Equifax was hacked in 2017, it spent $400 million in recovery costs.
These incidences show just how important securing public and private data is. If you enjoy working with data systems, network security, and digital administration, a career in cybersecurity may be a good fit for you.

Cybersecurity in the public sector
With data security becoming a top concern among people and businesses, the government is under increased pressure to respond. Public cybersecurity professionals are in the frontlines of developing policies and procedures that can be applied across multiple industries.
Within this field, you may be involved in protecting networks, systems, and data that is critical to national security. You may also actively survey the current data environment that federal, state, and local governments use to conduct business.
Public cybersecurity professionals work within larger teams to detect and repel potential threats to public data. They're also relied on to provide industry insights and recommendations that can help secure government information.
Cybersecurity in the private sector
The cybersecurity field has expanded significantly in recent years. As companies harness big data and analyze it in real time, they've become increasingly vulnerable to data security threats. Hackers are also developing more sophisticated strategies for gaining access to company information.
The consequences of even a single data breach can be extensive. For example, customer credit card numbers, addresses, and other sensitive information may end up in the wrong hands. Corporate data such as budgets, sales forecasts, and supplier information may also be compromised during an attack.
When working in private sector cybersecurity, you'll collaborate with private companies to help secure weak points in their digital networks. Your responsibilities may include troubleshooting systems, detecting incoming threats using advanced software, and actively monitoring the operational environment of your company (or client companies). Cybersecurity professionals also develop data recovery plans in the event that a threat affects sensitive corporate data.
Public vs private cybersecurity
There are many similarities between working in the public and private cybersecurity sector. Your role will essentially be the same, with the difference being who you work with and the specific strategies used.
For example, public cybersecurity professionals may implement large-scale data security practices that protect federal, state, or local government networks. You may also be involved in more security policy decisions at this level as the government aims to improve its responsiveness to cybersecurity threats.
Private cybersecurity professionals are often focused on a particular company/industry. They work on more specific projects that are geared towards the threats that a business is facing.
How a formal education can help advance your career
As hackers continue to develop sophisticated techniques for gaining access into public and private data, the demand for cybersecurity professionals is at an all-time high. If you're looking to start a career in this field, having a formal education will help you become a competitive candidate. You will learn how to detect and prevent incoming attacks, while also developing a timely response to compromised data.
There are many different strategies hackers use to access sensitive information. From phishing to malware and SQL injections, a formal education will increase your knowledge of these threats and how to prevent them.
The curriculum consists of hands-on lessons in software installation, network maintenance, cybersecurity policy, and disaster recovery. By the time you graduate, you'll have a deep knowledge of how hardware and software systems can be used to prevent cybersecurity attacks.
Are You Ready to Get the Cybersecurity Education You Need?
Are you looking to become a public or private cybersecurity professional? ECPI University offers a Bachelor of Science Degree in Computer Science and Information Science, with a Major in Cyber and Network Security. Our program is taught at an accelerated rate, helping you to finish sooner and start looking for work faster. Connect with a helpful admissions counselor today to discuss your options.
It could be the Best Decision You Ever Make!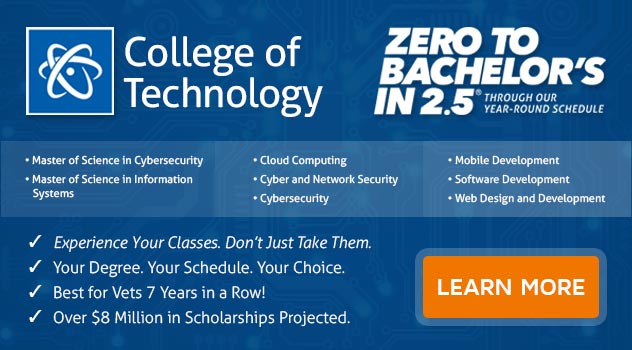 DISCLAIMER - ECPI University makes no claim, warranty, or guarantee as to actual employability or earning potential to current, past or future students or graduates of any educational program we offer. The ECPI University website is published for informational purposes only. Every effort is made to ensure the accuracy of information contained on the ECPI.edu domain; however, no warranty of accuracy is made. No contractual rights, either expressed or implied, are created by its content.
For more information about ECPI University or any of our programs click here: http://www.ecpi.edu/.