Second Career as a Chef: The Right Step for Me?
Second careers are more common than you think. Some people have third, fourth, and more careers. So becoming a chef after spending years in another field isn't as much of a scary leap as it feels. Though you may be nervous and not sure if you should take the plunge, you shouldn't let the idea alone of starting a new career be the thing that stops you. People can make big changes at any stage of life and succeed beautifully, including becoming a chef.

Soothing Those Common Worries
A few thoughts tend to run through everyone's heads before they go to culinary school. One is certainly about cost and whether the second career will require them to take a big pay cut. That's always a risk, but it's a risk that could happen anywhere and anytime. You could stay in your current career track and move to a new department in the same company, only to find the budget get slashed and you get laid off to save money. With that sort of risk possible anywhere, you may as well go ahead and move into a field that you really want to be in.
Another worry is ageism. Are you going to be overlooked for jobs because of your age? An ethical employer won't care how old you are as long as you can deliver the food required for the position.
Will your co-workers respect you? This is another issue that gets blamed on being older but that is really something that can happen at any age. Chances are if your co-workers don't respect you at an older age, they wouldn't have respected you at a younger age. So forget about how your age might affect starting a second career. If you want to move into a new field, do so regardless of age. It's your skills that people really want to see.
Are you wondering if you can succeed after many years away from school? Yes, of course you can! You learn new things daily; the only difference now is that you're not in a classroom. If you head to culinary school, you could quickly get up to speed and find your niche.
Formal Education Can Be Your Stepping Stone
Going to culinary school to learn about a second field in food is one of the best routes for those looking at second careers. The structured coursework ensures you learn what you need to know and more -- you aren't stuck in a corner dealing only with bread, for example.
It also exposes you to more career options, like pastries and nutrition. Maybe menu planning turns out to be your specialty, or you find that you like the smaller, more intimate cooking that goes with being a personal chef.
Formal education also lets you fail, safely. Your classes are places where you can let that first soufflé fall without much embarrassment. You will have to learn to do everything correctly, of course. However, if something doesn't work, you get a chance to figure out why.
Culinary school also gives you a thorough grounding in all the basics so that you head to food service jobs with a background in food and how to prepare it. Part of the apprehension of starting new program is based in not knowing much about the field and how it really works. Education led by experts is the best way to combat and get past that apprehension.
What About Learning on Your Own?
You could always just get a dishwashing job and work your way up, but that can take a long time and be overly restrictive. Culinary school introduces you to a broad range of foods, cooking rules, and subfields and allows you to create a path that is truly yours.
Interested in a second career as a chef? If you want to earn an Associate of Applied Science in Culinary Arts, ECPI University's Culinary Institute of Virginia offers this degree program at an accelerated rate. For more information, connect with a friendly admissions counselor today.
It could be the Best Decision You Ever Make!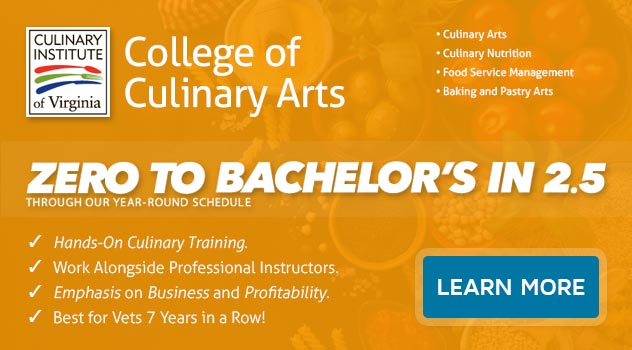 DISCLAIMER – ECPI University makes no claim, warranty, or guarantee as to actual employability or earning potential to current, past or future students or graduates of any educational program we offer. The ECPI University website is published for informational purposes only. Every effort is made to ensure the accuracy of information contained on the ECPI.edu domain; however, no warranty of accuracy is made. No contractual rights, either expressed or implied, are created by its content.
Gainful Employment Information – Culinary Arts - Associate's
For more information about ECPI University or any of our programs click here: http://www.ecpi.edu/ or http://ow.ly/Ca1ya.