Should I Become a Nurse: Key Questions You Need to Answer Before Applying to Nursing School
Some people discover very early on exactly what they want they want to do with their lives. Unfortunately, this is not the case for everyone. For some people, it takes some deep soul searching to figure out what they want. Key among these decisions is in which career to pursue.
If you are at this stage in your life and wondering whether you should pursue a career in nursing, it is important to pause and reflect. Take your time and absorb as much information as you can about the profession before you apply for nursing school.

The field of medicine, nursing included, takes a certain type of person to do all that is required in the practice while having personal gratification and fulfilment out of it. Being a nurse is incredibly rewarding, after all, you are helping people in need. However, even though the Bureau of Labor Statistics reports that demand for nurses is on the rise, the career is not for everyone. Here are some few questions you should ask yourself before you decide to take the dive.
What do You Personally Want out of a Career?
We all want different things from aspects of our lives – careers included. While some people are looking for channels to express their creativity, others are looking for avenues to help others. As a nurse, your desire ought to be to help others. This is because nurses do not work the traditional nine to five. They often have to work the weekends and overnight. Therefore, think about what matters to you most and what you want out of your career.
Are You a Team Player?
The medical field comprises of a diverse variety of professionals including doctors, administrators, technicians, therapists and social workers. Successful nurses enjoy working with others. They are glad to lend a helping hand to colleagues and those around them. They also know when and how to ask for help and to involve everyone in an activity.
As such, good communication and listening skills are a huge bonus. Think back times you had to work in groups, whether at school or work. How did you do? Was it something you enjoyed doing?
Which Age Group do You Identify With?
As a nurse, you will be providing care directly to patients. As such think about which patient population you would prefer to work with. Some people prefer working with the elderly, others the children while others enjoy working with everyone. If you have a particular interest in a certain population, that desire will propel you through the career and also form the basis of your specialty in future.
Can You Perform in Stressful Situations?
No day in the life of a nurse is ever the same. You can report to work to see off a patient who is finally being discharged and end the day caring for five people with emergencies or life-threatening situations. Workloads can increase very quickly at any time of day or night and without warning. If you are the type of person that can navigate through all these situations without letting the stress or pressure get to you, nursing could be a great career path for you.
Can You Handle Seeing Patients Suffering or Dying?
Working as a nurse can be very fulfilling. You interact with people from all walks of life and in most cases witness the purest forms of love. Unfortunately, there is also a flip side to that.
Often times, you will witness tragic situations and not all patients pull through. You will have tough days just as much as you will enjoy some. Therefore ask yourself; can you handle the emotional aspect of the job? Does the sight of blood and suffering patients affect your professionalism? How can you react if the patient you are caring for dies? If these situations are unsettling to you, you might need to stop and think.
Are You Easily Offended?
Nurses are a great source of solace for most patients. However, they are also a channel for some people to vent. Not every patient will be kind and cooperative sometimes because of the difficult situation they are going through. As a nurse, you need to have the mental fortitude to take everything in your stride and treat every patient professionally without letting emotions get the better of you. If you are a person who does not take things personally, nursing is a good fit for you.
What are your Long-term Career Goals?
As a career, nursing has many facets. Some people opt for direct patient care. There are also other opportunities such as forensic nursing, public health and case management. Before you start this journey, decide what your short-term and long-term career goals are.
How Can Earning a Degree in Nursing help you Achieve your Goals?
After you have considered all the different aspects above that make good nurses successful and decided that it is the right fit for you, it is time to get all the skills, knowledge and expertise you need for the practice. It is important to acknowledge that nurses perform a variety of tasks some of which are very critical. Small mistakes can cost lives. Formal education will equip you with all you need to prevent errors and provide the best care possible. It also lays a foundation for your career progression.
Nursing can be an incredibly fulfilling career. It can also be very demanding. If you are ready to follow your calling to be a nurse, earning a Bachelor of Science Degree in Nursing – Traditional Track at ECPI University could be your next step. Our classes are taught at an accelerated pace, on a year-round schedule. Connect with our helpful admissions officers today for more information.
It could be the Best Decision You Ever Make!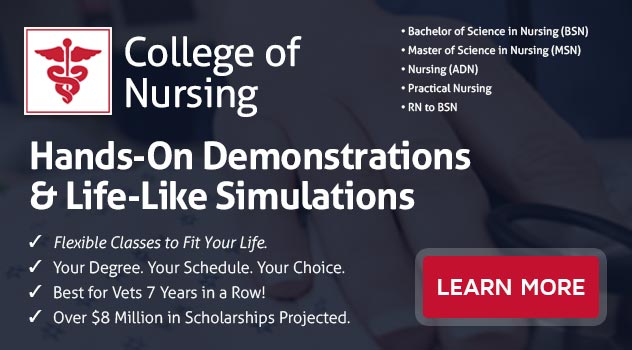 DISCLAIMER – ECPI University makes no claim, warranty, or guarantee as to actual employability or earning potential to current, past or future students or graduates of any educational program we offer. The ECPI University website is published for informational purposes only. Every effort is made to ensure the accuracy of information contained on the ECPI.edu domain; however, no warranty of accuracy is made. No contractual rights, either expressed or implied, are created by its content.
For more information about ECPI University or any of our programs click here: http://www.ecpi.edu/.