In our era of modern celebrity, the line between fame and accomplishment is often blurred.
We overlook, for example, that some celebrities are famous without having accomplished anything. Simply because someone is well known does not mean they are particularly good at their chosen profession. This is particularly true of famous chefs, who must be distinguished from chefs who are the best at their art. 
Chef = Ego
To be a chef in today's competitive market takes a certain amount of ego, surely, if only to survive the rough and tumble of long hours in busy kitchens. More valuable than ego, however, is a solid culinary education in technique, knife skills, plating, and the myriad details needed to run a restaurant's kitchen. Seeing how some of the best chefs built upon their culinary educations can give you a potential road map to success. 
Anthony Bourdain's Choice Words on Culinary School
He is famous, but he is also a great chef. He is not, however, a particularly diplomatic personality, as indicated in his book, Medium Raw: A Bloody Valentine to the World of Food and the People Who Cook, from HarperCollins Publishers. He holds nothing back, and recommends against aspiring chefs attending culinary school, but not for the reasons you would expect.
"I'm not telling you that culinary school is a bad thing. It surely is not. I'm saying that you, reading this, right now, would probably be ill-advised to attend—and are, in all likelihood, unsuited for The Life in any case. Particularly if you're any kind of normal."
Bourdain is simply saying the work of a chef is so special, so challenging, and so frustrating that only a dedicated, very eager young person has a chance of succeeding in the highly-competitive field.
He later says—and we must edit here because Bourdain sprinkles his writing with salty words—"...having established ahead of time that you are one [salty adjective] individual—that you'd never be happy in the normal world anyway—culinary school becomes a very good idea...If nothing else, you'll come out of culinary school with a baseline (knowledge and familiarity with techniques). The most obvious advantage of a culinary education is that from now on, chefs won't have to take time out of their busy day to explain to you what a [salty adjective] brunoise is."
No need to look it up—brunoise is a knife technique for julienning vegetables. 
Julia Child on Becoming a Fun, Fearless Cook
Talk about old school. Julia Child, through her televised cooking show, brought French cooking into American households at a time when spaghetti was sold in cans. She attended Le Cordon Bleu, in Paris. In 1949, she enrolled, found herself first in a "housewife" level class, and eventually settled into a year-long course for professionals.
She failed her first graduation exam but passed on her second try. Her kitchen sits in the Smithsonian Institution, as does her diploma from Le Cordon Bleu. 
Said Julia, "This is my advice to people: Learn how to cook, try new recipes, learn from your mistakes, be fearless, and above all have fun." She learned "how to cook" at a top European culinary school. 
Do as I Say…
A recent article at Eater leaped into the fray with interviews featuring major chefs and restaurateurs on the value of culinary school:
Mario Batali—"[Culinary school] is a great start from which a good and awake cook can pick up a lot of valuable info. I went to the Cordon Bleu in London in 1984 and then went to work for Marco Pierre White..."
Barbara Lynch—no culinary school background; "I think any degree is a sign of dedication and commitment, but I feel the same way about a resume that celebrates extended periods at one job, and continuing education through stagiaire opportunities."
Michael Mina—Culinary Institute of America, Class of 1989; "Culinary school sets a good foundation to continue learning on the job. In school, candidates develop the basic concepts and techniques of cooking."
Marc Murphy—Peter Kump's New York Cooking School, Class of 1990; Culinary school can give entry-level candidates an edge for all the technical training and skills required to be successful within the restaurant...You still have to be willing to work hard. It's a great industry to be a part of but it's not an easy one!"

Culinary Arts Education: The Best of Both Worlds
Combine the best of culinary education and practical experience and couple your zeal for cooking with a 15-month program at Culinary Institute of Virginia. Earn an Associate of Applied Science Degree in Culinary Arts and follow the advice of the best chefs: work hard and be a lifelong learner. And keep your own ego in check until the Food Network calls.
Contact us today—it could be the Best Decision You Ever Make!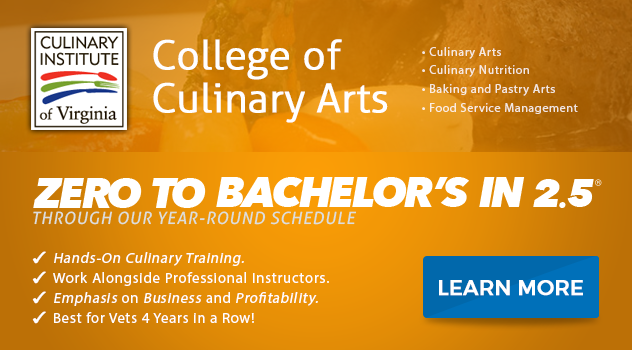 DISCLAIMER – ECPI University makes no claim, warranty or guarantee as to actual employability or earning potential to current, past or future students or graduates of any educational program we offer. The ECPI University website is published for informational purposes only. Every effort is made to ensure the accuracy of information contained on the ECPI.edu domain; however, no warranty of accuracy is made. No contractual rights, either expressed or implied, are created by its content.
Gainful Employment Information
For more information about ECPI University or any of our programs click here: http://www.ecpi.edu/ or http://ow.ly/Ca1ya.