Starting Your Own Catering Business: Skills You'll Need to Succeed
If you have a love for cooking and entertaining, then one of the best options for you to consider is to start your own catering business, which combines both. However, being sociable and knowing how to cook aren't going to be quite enough to get a catering business off the ground, not to mention to make it succeed. If owning and operating a catering business is something that you're seriously considering, then you should strongly consider pursuing a food service management degree.

How You Can Benefit From a Food Service Management Degree
It helps to have a knack for the culinary arts if you are planning on starting your own catering business. Some people are naturally gifted cooks and bakers that have learned their skills in the kitchen from their parents or grandparents. Obviously, a degree in the culinary arts will help no matter how skilled you are, since you will learn about techniques and develop skills that can only be learned in a classroom.
However, if you want to actually run your own business in addition to cooking and/or baking, then you'll want to get a food service management degree. The following are some of the essential skills you will need to have in order to own and operate your own catering business and that you will learn in a food service management program:
Organizational skills - Organizational skills are vital to running any business, and this is especially true when it comes to a catering business. When it comes to the service you offer, you need to be able to schedule events ahead of time and ensure that you not only have the necessary staff available to work events but that you meet the individual needs of each client. You're also going to have to keep track of all kinds of paperwork as well.
Financial skills - Financial skills generally need to be taught, especially when it comes to budgeting, forecasting, accounting, revenue management, and cost controls. Without these financial skills, you can quickly lose sight of your budget and find that even if you're getting a lot of work, that you may be losing money on the jobs you're taking.
Leadership skills - You will have to hire employees who not only cook or bake food (you won't be able to handle this job yourself, especially if you're catering for large groups of people or for large events), but also to work events. Your organizational skills will come into play often while leading your team, but you're going to need to know how to plan out large events strategically, as well as how to motivate your staff and ensure that they remain productive.
Marketing skills - Without any kind of marketing skills, you're going to have a tough time finding clients for your catering business. You'll need to learn how to effectively advertise your business using the budget that you have. A good food service management program will teach you about traditional marketing methods (such as using flyers, running ads in the paper, and more) as well as online marketing methods (such as the use of a website and social media).
Customer service skills - Certain events can become quite stressful for your clients, which means that you will have to show patience and understanding. Events like weddings and award ceremonies require you to pay careful attention to the client's individual needs in a respectful and friendly manner. Additionally, you will need customer service skills in order to establish a regular clientele and to attract new clients to your business. Again, your organizational skills will play an important part since you will often find yourself balancing several clients at once.
Without these skills, your catering business is not likely to flourish, even if you manage to get it off the ground. Fortunately, you will learn all of these skills in a food service management program.
Food Service Management Courses
Some of the classes that will teach you the skills that you will need to learn in order to own and operate a successful catering business include:
Accounting classes
Leadership in food service classes
Food service financial management classes
Hospitality marketing classes
Floor service cost controls classes
Wine and beverage management classes
Project and special event management classes
Facility management classes
Is it your dream to be a food service manager? If you want to start your own catering business and want to begin with an Bachelor of Science Degree in Food Service Management, ECPI University's Culinary Institute of Virginia is here to help. With accelerated courses, you could earn your bachelor's in as little as 2.5 years. For more information on this exciting program, connect with a trained admissions advisor today.
It could be the Best Decision You Ever Make!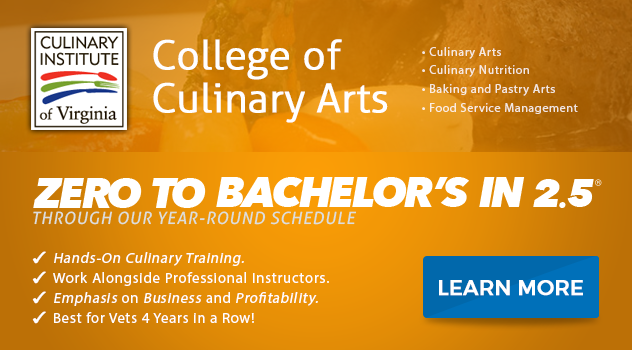 DISCLAIMER – ECPI University makes no claim, warranty, or guarantee as to actual employability or earning potential to current, past or future students or graduates of any educational program we offer. The ECPI University website is published for informational purposes only. Every effort is made to ensure the accuracy of information contained on the ECPI.edu domain; however, no warranty of accuracy is made. No contractual rights, either expressed or implied, are created by its content.
For more information about ECPI University or any of our programs click here: http://www.ecpi.edu/ or http://ow.ly/Ca1ya.