Electrical engineering technology, or EET, is an exciting career to investigate for someone good at science and math. Electrical engineering technologists play an important role in many businesses, often working in high-tech manufacturing plants where they maintain robotics and other process automation systems.
What Is Electrical Engineering Technology?
Electrical engineering technologists assist engineers in designing computers, communications devices, medical monitors, navigation systems, and nearly all electronic equipment. This involves designing prototypes and building complete electrical systems. They also work on electrical instruments and testing equipment that monitor all kinds of systems. Engineering technologists help engineers to solve design problems that arise when implementing an electrical system. They are also called in to repair malfunctioning electrical systems.
Careers in Electrical Engineering Technology
One finds electrical engineering technologists in any field where electronics are critical. These fields include:
Computer systems. From constructing circuit boards to assembling computers, electrical engineering technologists are needed to help design, manufacture, and install computer systems.
Communications systems. Today's communications systems would not be possible without electrical engineering technologists. From cellular phones to wireless transmission of information, electrical engineering technologists assist in making these systems available to people around the world. Computer networks also require wireless technology so electrical engineering technologists have an important role in interfacing computer networks.
Instrument Design. Instruments and sensors are critical for obtaining information and controlling processes. These sensitive electronic instruments are useful in medical devices and navigation systems. Electrical engineering technologists help design, build, calibrate and maintain this complex technology.
Manufacturing. Today's manufacturing plants are completely high-tech with automated processes and robotic components. Electrical engineering technologists are required both to optimize the way plants work and to develop the manufacturing processes for specific products.
Personality Traits of Electrical Engineering Technologists
Aptitude in Math and Science. The program of study to become an engineering technologist requires many courses in math and science. In addition, engineering technologists solve problems through the application of a scientific design process. An interest and aptitude in science and math is essential.
Critical Thinking. Engineering technologists have to use critical thinking skills to solve problems. Whether it is identifying solutions to design problems, implementing an electrical system or repairing essential equipment, this career calls for critical analysis and problem solving skills.
Creativity. Electrical engineering technologists also need creativity in order to look at problems in a new light to come up with innovative solutions. Often times, engineering technologists must think outside-of-the-box for a creative design that solves a problem.
Oral and Written Communication Skills. Engineering technologists must communicate with engineers and technicians both in writing and orally. They must be able to speak the highly-technical language of design engineers and translate this to those who will deal with the electrical systems on a day-to-day basis.
Collaboration. Electrical engineering technologists work together with teams of engineers, project managers, and technicians. They must have excellent people skills to collaborate on important projects.
Learning how to solder this morning. I'm in love. #Nerd #soldering @ ECPI College of Technology http://t.co/qoUd4NS4J8

— Ash (@OatzTheGreat) December 12, 2014
Becoming an Electrical Engineering Technologist
At ECPI University, we offer a Bachelor of Science degree in Electronics Engineering Technology. Through our accelerated, year-round schedule, you could complete your degree program in as little as 2.5 years. Contact us for more information about ECPI University—it could be the Best Decision You Ever Make!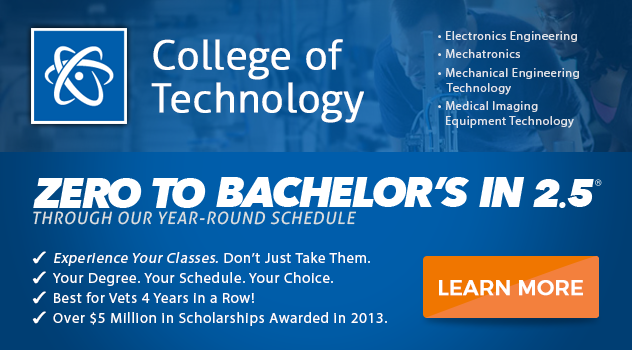 DISCLAIMER – ECPI University makes no claim, warranty or guarantee as to actual employability or earning potential to current, past or future students or graduates of any educational program we offer. The ECPI University website is published for informational purposes only. Every effort is made to ensure the accuracy of information contained on the ECPI.edu domain; however, no warranty of accuracy is made. No contractual rights, either expressed or implied, are created by its content.
Gainful Employment Information
For more information about ECPI University or any of our programs click here: http://www.ecpi.edu/ or http://ow.ly/Ca1ya.