Studying Cyber Security Online: Is This the Right Move for Me? What are the Benefits?
One of the biggest decisions you will have to make in life is the career that you want to pursue. Many students make the mistake of following a career direction because it's popular or lucrative and forget that true success in any career comes from passion.
If you are passionate about digital technology and want to help others keep their data and content safe from hackers, a cybersecurity degree could be right for you. However, do you have what it takes to pursue a career in cybersecurity? What are the benefits and challenges of following this career path? Let's take a look!

What Skills do You Intend to Gain?
The first important question you should ask yourself when going for this degree is what skills you will gain from it and how they will help your career. With a degree in cybersecurity, you typically learn:
The techniques and practices to be used in safeguarding data both at a personal and corporate level
How to assess whether organizations have implemented and are practicing data safety measures
How to monitor and protect networks from malicious cyber-attacks
How to create security procedures to prevent a breach of data security
The skills you gain during your degree program could also help you pass certification exams. When it's time to graduate, you could find yourself with not only a degree, but also cybersecurity certifications to help further validate your skills.
What Does the Job Market Need?
Another crucial consideration to make when choosing a career path is the state of the field that you want to venture. Fortunately, cybersecurity is one of the few areas where the demand for trained personnel is on the rise. Most occupations are registering a decline in the demand for skilled labor. On the other hand, cybersecurity jobs such as information security analyst are predicted to have a 28% increase until 2026, according to the Bureau of Labor Statistics. The demand for professionals means that the few trained and qualified applications could be gainfully employed and well compensated for their skills.
Where Does Your Passion Lie?
Passion is essential when making a career choice. The key to success at work is enjoying what you do. After all, you spend one third of your life at work. If you hate your job, you are going to be miserable a significant portion of your life. Cybersecurity is the ideal career for those who enjoy spending their time on their computer. Other skills and competencies which will come in handy in this field include:
Attention to the detail: the world of IT is all about details. Successful cybersecurity experts are people who can notice even the smallest glitches and flaws in systems and have them fixed before they become a problem.
Trustworthiness: As a cybersecurity expert, companies will be entrusting you with their most critical data. They will be expecting you to make decisions on data masking, erasure, backups, and authentication decisions and processes. This is data that could bring down the company or give their competitors an edge if it fell in the wrong hands. A trustworthy expert would not compromise this safety.
Primary expertise: Data security is what you will learn when you advance in computer science. To be effective as an employee, you need to know a little bit of everything. You have to be willing to learn software development and testing, data communication hardware, people skills, and other soft skills which will make work easier for you.
Interpersonal Skills: Data security in any organization depends on how well employees listen to and respect the IT staff. To be successful, you have to command a certain level of respect among your peers. This area of study, therefore, needs someone with excellent interpersonal skills.
What are the Benefits of Studying Online?
The best universities in the country are now making it possible for students who cannot make it for the daily on-campus classes to attend online classes. The benefits of taking an online class as opposed to the daily class include the following:
Reduced cost of learning because you do not have to incur costs such as accommodations, travel, meal plan, or other related bills
You meet with fellow students from different parts of the country and beyond, which creates an excellent networking opportunity
The classes offer flexibility, and you can generally study while working
You will have an opportunity to learn a subject whose expertise may not be available in your locality
Enrolling for a Cyber Security Online Degree
Are you interested in learning more about cybersecurity? ECPI University offers a Bachelor of Science Degree in Computer and Information Science with a Major in Cyber and Network Security - Cybersecurity Track. This program runs on a year-round schedule and at an accelerated pace. Helping you to move from the classroom to the workplace faster. For more information on this program, connect with a helpful admissions officer today.
It could be the Best Decision You Ever Make!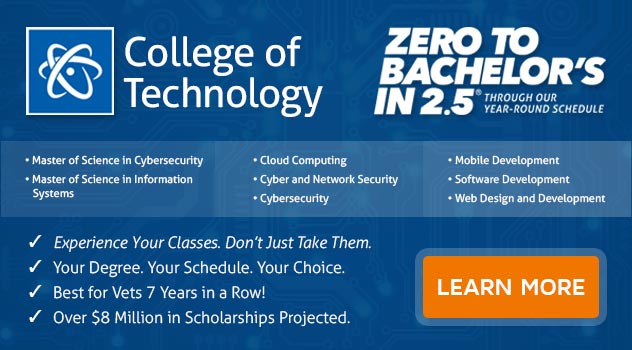 DISCLAIMER – ECPI University makes no claim, warranty, or guarantee as to actual employability or earning potential to current, past or future students or graduates of any educational program we offer. The ECPI University website is published for informational purposes only. Every effort is made to ensure the accuracy of information contained on the ECPI.edu domain; however, no warranty of accuracy is made. No contractual rights, either expressed or implied, are created by its content.
For more information about ECPI University or any of our programs click here: http://www.ecpi.edu/.