Studying Electronics at Home VS. Getting a Bachelors in Electronic Engineering Technology
Electronic engineering technology is here to stay and it continues to get even more intricately woven into the modern lifestyle. Numerous industries now rely on it to support their communication systems in wired, wireless, and satellite-connected devices and machines. This field also happens to be an exploration zone for creative and analytical individuals with problem-solver mindsets. If that description fits you, then it is no surprise that you might be interested in a studying electronics engineering technology.
The future for professionals in this field is bright with promise as numerous businesses keep embracing automation and keep pursuing constant innovation to stay ahead of their competitors. This has also pushed numerous people to learn quick ways of getting electronics knowledge especially through online videos or short courses. Is it a great option? Let's explore.

What is Electronic Engineering Technology (EET)?
EET is a field of electronics involved with the design, development, testing, and supervision of manufacture and maintenance of electrical implements. It is an advanced branch of electronics that seeks to expose the principles of electronic engineering and enable their application in modern technology. Some modern marvels of electronic engineers include; radar and navigation equipment, electric automotive crafts, communication implements, power generation implements and robots.
This field is growing and the possibilities are endless. However, you need to have the necessary skills, both soft and hard, to land a job. Let's explore the ways you can acquire these skills.
Self-teaching
In the digital age, information access has exploded. We now have more information than we could ever read or process available on our phones. You can, for instance, choose to educate yourself through videos or short causes made by electronic engineering technicians. However, despite this option being flexible, it is highly unreliable, and you lack certificates that are admissible to numerous employment opportunities.
Formal Education
The first thing that employers check from job applicants in an electronic engineering technology position is their credentials. This means that when you have a degree in this field you could get priority consideration and your chances of landing the job are likely to be higher. Also, when enrolled in a formal school you could experience the benefits outlined below.
Benefits of Formal Education in this Field
Thought-out Curriculum: Formal education is designed to progressively address your learning needs in the field. This means that you could learn concepts in levels of increasing difficulty as compared to random things on the internet. You typically have better chances of understanding the content when it is guided by instructors. Not to mention, you can't ask YouTube videos questions. Even if you try the comment section, you're not guaranteed to get a response you could learn from.
Relevant Training: Formal schooling in this course allows you to gain the information needed in the marketplace. This implies that you get content that is properly curated to have more impact in your future job placement as opposed to watching videos online that may never be helpful to you.
Deeper Understanding: Proper electronic engineering technology training combines a lot of concepts which can span across several subjects. They will be very complicated to manage on your own at home and online videos and articles rarely offer majority of the information you may need. As such, you learn vague concepts and have a hard time internalizing or even applying them in the field.
How Formal Training Could Impact Employability Later
Employers are keen on employing properly trained individuals with formal education and credentials because of the following key advantages that such professionals have:
Soft skills: At a formal school, you are taught how to communicate and make effective presentations. Such skills are needed to enhance interactions with your colleagues in the workplace, along with your supervisors or company management, staff, and clients. School teaches you to listen and internalize instructions as well as to also articulate complex verbal and written techniques.
Working potential: A formal schooling system should teach you to be more diagnostic and analytical. Also, due to the structured assignments and exams, you should develop a capability to finish projects. You learn to work with others in the process and also have a detail oriented approach to work employing the essential methods to enhance superb results.
Intense technical expertise: The formal setting allows you to have practical exposure to the technical aspects of an electronic engineer's job. You get to familiarize yourself more with the job and better your mechanical skills to be great at using the work equipment in the field.
Are You Ready to Start Learning Today?
A passion in technology along with great creativity and strong analytical skills are great assets that can propel you into success as an electronics engineering technician. However, serious jobs require serious qualifications and earning a Bachelor of Science Degree in Electronics Engineering Technology from ECPI University could be a great starting point. Get in touch with one of our helpful admissions officers to know how you can enroll.
It could be the Best Decision You Ever Make!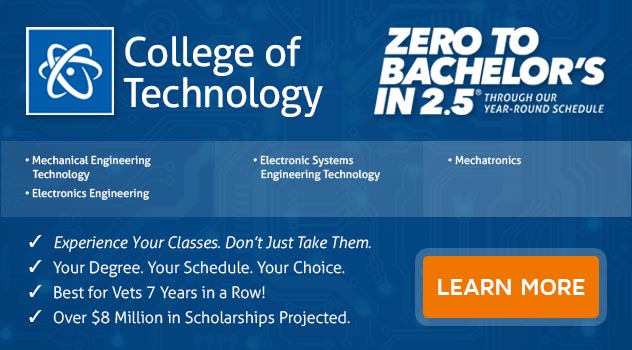 DISCLAIMER - ECPI University makes no claim, warranty, or guarantee as to actual employability or earning potential to current, past or future students or graduates of any educational program we offer. The ECPI University website is published for informational purposes only. Every effort is made to ensure the accuracy of information contained on the ECPI.edu domain; however, no warranty of accuracy is made. No contractual rights, either expressed or implied, are created by its content.
For more information about ECPI University or any of our programs click here: http://www.ecpi.edu/.