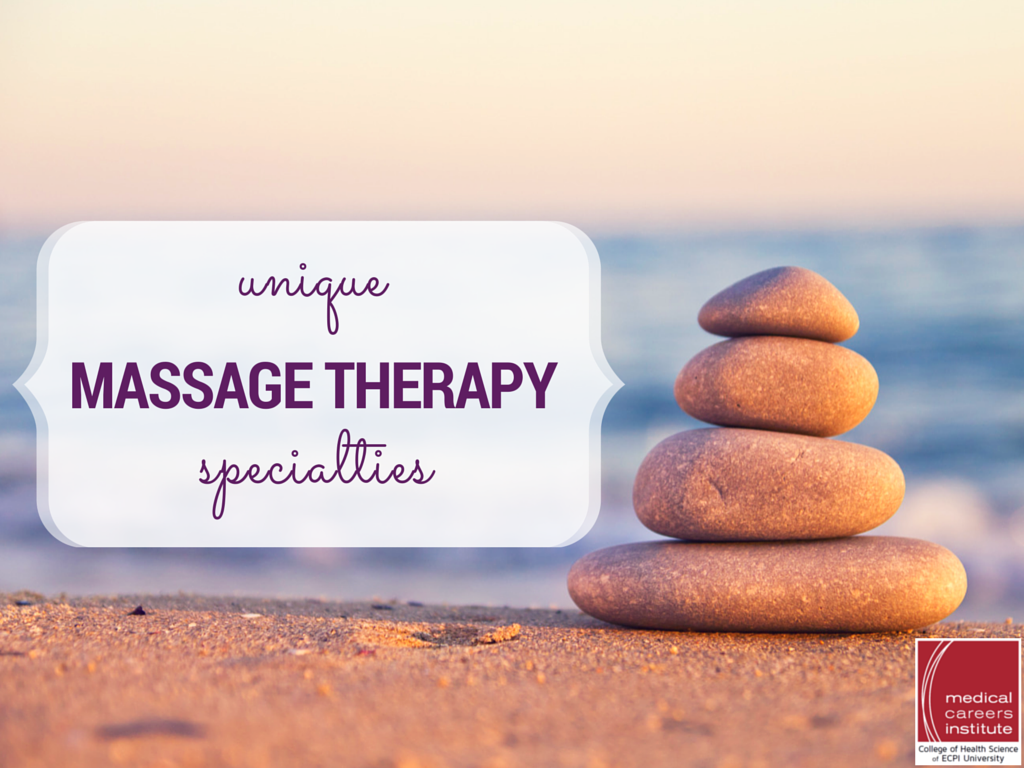 Who doesn't love a good massage?
Today, people are more active than ever, and they're finding that regular massages can help them recover quickly from sporting activities and maintain the flexibility that allows them to keep up with their workouts and hobbies.
Not only that, massage is increasingly being used in medical facilities to offer an alternative to medication therapy. Pain management centers, hospitals, physical therapy offices, chiropractors, and rehabilitation centers all employ massage therapists to help their patients.
What does this mean for you? The massage industry is growing and the field has diversified, making it a great career choice with many options for individuals with an associate's degree in massage therapy.
Explore Some of the Different Massage Modalities
There are many different style of massage for patients with different needs. Here are a few of most popular techniques being used today:
Swedish Massage: This relaxing form of massage is what most people envision when they visit a massage therapist. The primary goal of this style of massage is to relax the body. However, there are additional benefits that make this a very popular treatment. A good Swedish massage increases oxygen in the blood, improves circulation, and helps to decrease toxins in the body.
Sports Massage: Athletes frequently develop tight muscles that cause discomfort and inhibit movement, often impairing their abilities on the field. Sports massage is designed to be used in preparation for athletic events and for recovery afterwards. Since lack of flexibility and tight muscles can cause injury, many athletes schedule regular appointments to keep their bodies primed for optimal performance.
Deep Tissue Massage: This robust form of treatment includes penetrating techniques such as cross-fiber friction and slow, deep pressure strokes. Deep tissue massage is highly effective for breaking down adhesions caused by prior scar tissue and releasing general tightness in muscles. Patients learn to withstand the occasional discomfort of these massages because of the euphoric feeling they often experience after a session.
Reflexology: This soothing type of massage is focused on specific reflex points and is generally applied to the hands, feet, and calves. This therapeutic modality is often used to relieve pain caused by conditions such as plantar fasciitis and carpal tunnel syndrome.
Geriatric and Pregnancy Massage: Specialized treatment for older patients help maintain mobility, while those who are pregnant can get relief from lower back pain and edema. Treatments for these patients are highly individualized to the patient's current needs and are modified accordingly.
Trigger Point Therapy: This is one of the hottest areas in massage today. Patients often suffer what's known as referred pain when the cause of the discomfort is tightness in another location in the body. Therapists identify the various "trigger points" in the muscles and apply pressure to give patients relief.

Job Outlook and Earning Potential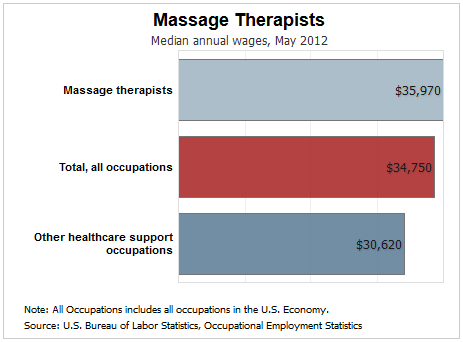 Massage therapists find work in spas, gyms, wellness centers, and health care environments. Some therapists are hired by professional sports teams to give athletes regular treatments. Still others establish a private practice, sometimes working out of their home.
How much money can you earn as a massage therapist? According to the Bureau of Labor Statistics, in 2012, the median annual salary in the field was $35,970 per year. The future job outlook is excellent, as employment is expected to grow 23 percent between 2012 and 2022. This is much faster than average for all occupations.
Curriculum
A massage therapy program includes courses in medical terminology, Eastern modalities, anatomy, kinesiology, pathophysiology, massage techniques, and spa administration. In addition, you'll take courses in composition, mathematics, psychology, and computer applications. Clinical experience will supplement your coursework, allowing you to experience first-hand what it's like to be working on an actual patient.
Massage Therapy Certification
A degree in massage therapy can prepare you to take and pass the National Certification Exam administered by the National Certification Board for Therapeutic Massage and Bodywork. Once you've successfully passed this exam, you'll be eligible to apply to the North Carolina Board of Massage & Bodywork Therapy to be issued a license, or, alternatively, the Virginia Board of Nursing for certification as a massage therapist in Virginia.
Many thanks to the incredibly hard working crew from ECPI Richmond for the wonderful post-race massage.

— Pat Pannett (@BritishPat) November 11, 2012
Take the Next Step with a Degree in Massage Therapy
Would you like to learn more about becoming a massage therapist? If so, contact ECPI University's College of Health Science, Medical Careers Institute today to find out how you can earn an Associate of Applied Science Degree in Massage Therapy in as little as 15 months. Financing options are available. Take the first step now and find out how you can become a massage therapist in a little over a year! It could be the Best Decision You Ever Make!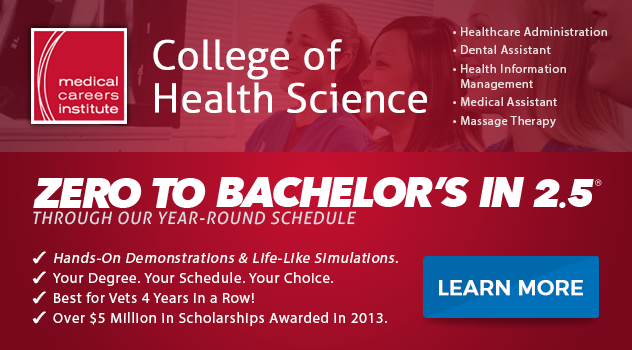 DISCLAIMER – ECPI University makes no claim, warranty or guarantee as to actual employability or earning potential to current, past or future students or graduates of any educational program we offer. The ECPI University website is published for informational purposes only. Every effort is made to ensure the accuracy of information contained on the ECPI.edu domain; however, no warranty of accuracy is made. No contractual rights, either expressed or implied, are created by its content.
Gainful Employment Information
For more information about ECPI University or any of our programs click here: http://www.ecpi.edu/ or http://ow.ly/Ca1ya.