Ways to Stay Motivated in College
No one ever says that college is easy. Sometimes it's difficult to keep motivated while moving through your classes. When your goal is a college degree, achieving it can require a lot of time, effort, and dedication. Here are some tips and ideas to keep you going when the going gets tough.
Set Goals – Both Big and Small
It's important to gage your progress as you study and learn. You can set small goals you can meet within the course of a term and then set larger goals you can meet within the course of several terms, or your entire college career.
For example, you could set a mini goal of getting an A on your next test and a major goal of getting an A for the entire class. Rewarding yourself for reach goals and reflecting on why you missed out on a goal can be key to growing as a student and learning how to master college life.
Plan Out your Schedule and Manage your Time
Nothing is worse than realizing a big project is due the night before you have to turn it in. Keep this from happening by managing your schedule and using your time wisely. It's important to keep ahead of your classwork and make sure you give yourself adequate time to complete assignments. It might take some trial and error at first, but it will be well worth it once you get yourself into a groove.
Give Yourself Downtime
Even workaholics need some time to rest. Make sure you have time off to do something fun, creative, or new with the people you care about. Giving yourself time off lets your brain reset and keeps you from experiencing student burnout.  Don't be afraid to take a night off and relax.
Use Your Support Network
At this point in your life, you probably know who is your biggest cheerleader. When you need a pep talk, go to them and ask for their help. Sometimes you need a little help motivating yourself and some kind words can go a long way. Don't be afraid to reach out to someone positive in your life when you need a pick-me-up.
Get to the Root of the Problem
If you're feeling unmotivated about a particular assignment, could it be you don't understand the material or the instructions? If you feel unmotivated in general, are you overcommitted or anxious about your work? If you're having problems with motivation, think about what could be wrong and how to fix it.
Sometimes you might need to cut back on activities so you're not so exhausted and lethargic when it comes to school work. Other times you might need to ask for help on a topic or an assignment to get you moving. Whatever the problem is, remain dedicated to finding the solution.
Think of the Big Picture
What are you doing all of this for? Do you want a better life for you and your family? Do you want to learn and improve yourself? Do you want to obtain the degree you know you can earn?
Keep your goals and aspirations in the forefront of your thinking when things get tough. You might not always feel like writing a paper or completing a math assignment, but do you want more opportunities and possibilities? The best motivation can be the end result of all your hard work.
Do you think you're ready for college? If you want to start or go back to earning your degree, consider ECPI University for your education. With an accelerated schedule and year-round learning you could earn your bachelor's degree in as little as 2.5 years. If you want to discuss your future with a knowledgeable admissions advisor, be sure to make contact today.
It could be the Best Decision You Ever Make!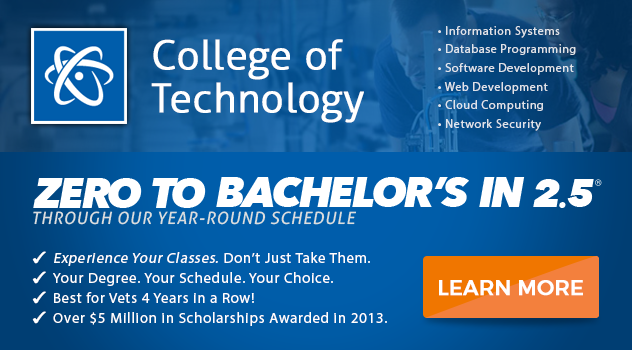 DISCLAIMER – ECPI University makes no claim, warranty, or guarantee as to actual employability or earning potential to current, past or future students or graduates of any educational program we offer. The ECPI University website is published for informational purposes only. Every effort is made to ensure the accuracy of information contained on the ECPI.edu domain; however, no warranty of accuracy is made. No contractual rights, either expressed or implied, are created by its content.
For more information about ECPI University or any of our programs click here: http://www.ecpi.edu/ or http://ow.ly/Ca1ya.